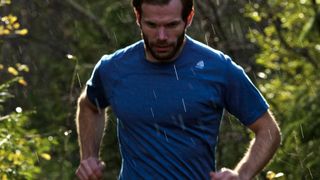 Introduction
Feeling the chill? If you're planning on keeping your healthy regime going throughout these cold and dark winter months then you'll need an awesome base layer.
There are plenty of ways to keep your core temperature where it should be for all kinds of sports and exercise, or indeed for just popping to the shops to buy brandy.
For the uninitiated, a base layer is exactly what it sounds like. It's the layer you wear first before you put on anything else and one that keeps you warm and soaks up your sweat.
Choosing a base layer is not very complicated. You've a choice of merino wool, all synthetic or a wool/poly mix. The merino ones tend to be better at keeping you dry as well as warm, and feel nicer against the skin.
Here's our guide to buying the right base layer no matter what activity you're undertaking.
• The very best down jackets should be your next 'layer'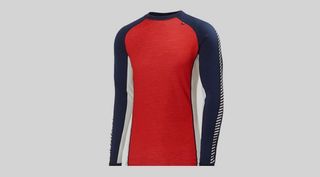 Helly Hansen Warm Ice Crew
Helly Hansen claims the Warm Ice Crew base layer is the 'best' of its kind.
Whether that's true or not, this is a textbook base layer.
Lifa fibre technology "imitates polar bear fur" to do its utmost to keep you dry, while the merino exterior worries about keeping you toasty. Flatlock stitching ensures there's no itching or chafing.
We also like the styling, even though, as it's a base layer, it's conceivable that nobody is ever going to see it. And we like that its name, Warm Ice Crew, sounds a bit like a radio-friendly grime act.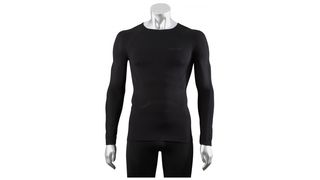 Falke Base Layer Shirt
Featuring an ergonomic tight fit, fast drying technology and a 3-D structure, the Falke Base Layer Shirt has been designed to keep your joints warm while exercising, while also wicking away sweat from the body. The shirt features an ultra-lightweight construction that alternates open mesh cooling zones at the armpits and crook of the arm with thermal warmth zones for joints too. Naturally, the shirt is also seamless and non-chafing.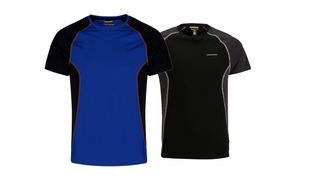 Craghoppers Vitalise Base T
Some of these layers are super technical and not a little costly. This one, by contrast, provides solid insulation, moisture control and wicking and costs bugger all.
You also get these two very choice colour options: blue and black, or black and off-black. These tops also have a 'recommended kit' award from the Department of the Environment. So that's nice.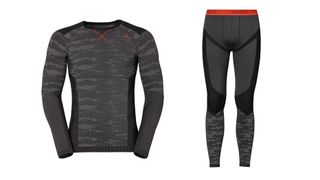 Odlo Evolution Blackcomb
An award-winning baselayer, no less (it scooped the ISPO Gold award in the Baselayer category), Odlo's Evolution Blackcomb uses Greentec fabric, with 38% recycled polyester
A three-dimensional circular knit technology is deployed in 'the exact areas where these functions are most needed', so body heat is maintained, while more moisture is moved away from sweat-prone areas. A choice of camo and 'animalier' jacquard patterns is available.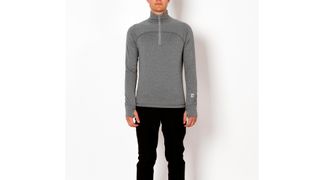 66º North Egill
The Egill uses Polartec Power Wool, a mix of man-made fibres and wool designed to give 'the best of both worlds.' The poly-nylon mix means it dries quickly and is machine washable, while wool keeps you warm even when it does get wet, and aids breathability and wicking.
The result is 66º North's lightest base layer, designed for athletes but also suitable for cold people in general,as long as they're reasonably wealthy - this is a highly technical base layer and not an economy purchase.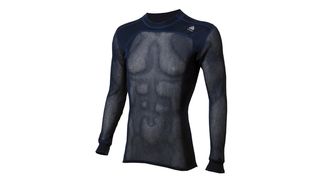 Aclima Coolnet
One for all-year use is Aclima Coolnet. As the name suggests, the mesh net-like construction helps with ventilation and comfort, while keeping it elastic for sticking close to your body, regardless of how in or out of shape you are. Perfect for the sweatier activities.
The fact that it's basically got boobs drawn on it does strike one as ill-advised, however.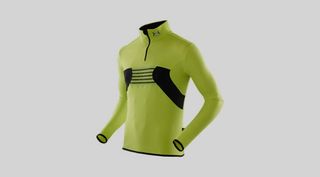 X-Bionics Racoon Ski
As the name suggests, this particular base layer is for skiing, but not for looking like a racoon.
No, it gets that name because of its ability to maintain warmth by staying close to the skin. Apart from weighing virtually nothing, you get 3D-BionicSphere technology for getting the sweat away faster and water-repellent material.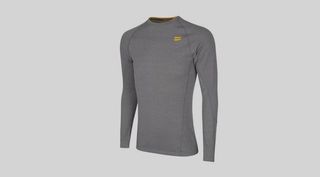 TribeSports Performance Thermal
As base layers go, the TribeSports Performance Thermal looks understated, but it happens to be reasonably priced and extremely comfortable.
In fact, you can wear it on its own if you so desire, thanks to the strong material with 4-way stretch. Each garment takes 54 minutes, in case you wanted to know.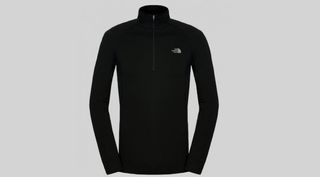 North Face Warm
There are plenty of North Face base layers worth looking at, but we like the versatility of a zip.
The Warm 1/4 has flatlocked seams for comfort, hypoallergenic qualities, double-layer fabric design for keeping your body heat in and odour resistance.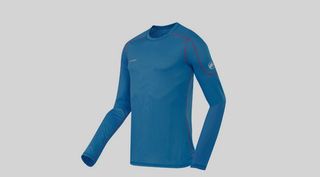 Mammut Go Dry
The Go Dry long-sleeve base layer from Mammut uses a 'waffle' structure made from man-made materials try and keep you warm and dry, regardless of how sweaty or bad the elements get.
It's suitable for all sports and activities; just throw it on and off you go.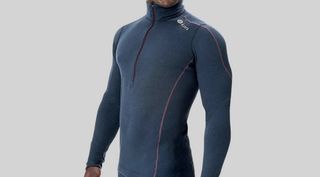 Kora ShoLa Zip
Yak wool is the base material for Kora's ShoLa Zip, making it 40 per cent warmer than a Merino equivalent. It's also said to be better at dealing with water vapour and more permeable for letting air through.
Happy at sub-zero temperatures but still usable in warmer climates, it's a potent – albeit pricey – option for the exercise enthusiast or anti-hypothermia protestor.