It is a sad truth of today's increasingly intrusive society that staying safe and secure online has never been harder, with governments, private companies, and a plethora of criminals and snoopers trying to dig into your private affairs on a daily basis. That is why you need one of the best VPN services on the market.
Simply put, going online - especially on a shared or public network - means there's always a chance someone could be trying to intercept your data or track your browsing, and those times when we find ourselves online are frequent everyday events. From public transport to coffee shops, and restaurants to businesses, there are now more chances to connect than ever and, as such, more potential security holes for people to start rooting through your private data and files.
The solution is to create a private network that's for your eyes only: a VPN. And these VPN providers are the best in the business.
What is the best VPN service?
There are lots of VPN services on the market today, with each offering different packages, so picking the one that is right for you is crucial.
We think the best VPN service right now is IPVanish. With it taking absolutely zero logs your privacy is 100 per cent guaranteed, and with a maximum of 5 recorded devices that it can be used on, you will be covered across your hardware portfolio.
The 5 best VPNs for you
Before we get to the detailed analysis of each VPN service below, here we have put together some useful information for those currently looking to acquire a VPN, including what a VPN is, how secure a VPN is, how much a VPN should cost, and what features you should be looking out for.
Best VPN services: what is a VPN?
A VPN is short for Virtual Private Network. It's a network that you don't share with the wider world. It's a kind of tunnel that only you have access to, keeping the data you send and receive far away from prying eyes.
Best VPN services: how secure are VPNs anyway?
The main reason to use a VPN is security - in theory, the data that travels across your VPN should be impossible for anybody else to intercept, so it can protect your online banking or confidential business communications - but there are other benefits too. VPNs can make it much harder for advertising to track you online, and they can overcome geography-specific blocks that prevent you from accessing some country-specific services such as online video.
When we say that in theory VPNs can't be intercepted, that's because VPNs are like any other form of security: if you use them on a device that's already been compromised by malware such as keyloggers or other security threats then they can't do their job properly. If you're on Windows, then good quality, up to date anti-virus software isn't a luxury. It's absolutely essential.
Best VPN services: can VPNs really make you anonymous online?
VPNs can make your browsing private, but that doesn't necessarily mean you're anonymous. VPN services can and do log traffic (even the ones that say they don't log do need to log some information, or they wouldn't be able to function properly), and those logs can be requested by the authorities. Think of a VPN as being like curtains: people can't peek through your curtains if you've got them closed, but curtains won't hide your house.
What that means in practice is that VPNs are fine for bypassing geo-blocks, for protecting your online banking and for keeping business communications free from interception. However, if you're using the internet to fight repressive regimes or to do anything else that could attract the attention of the authorities where you live, a VPN is not a magic wand that'll make you invisible.
Best VPN services: what's the difference between a VPN and a proxy?
A proxy server is another way to conceal your real location. By transferring data through a proxy server the data appears to be going to that server, not you - so for example if you're in the US and the proxy is in Switzerland, the website or service will think it's talking to a machine in Switzerland. The main difference is that VPNs protect all your traffic while proxies tend to be limited to specific types of data, such as peer to peer networking or web browsing.
Best VPN services: why should I pay for a VPN when there are so many free ones?
Because as the cliché goes, you get what you pay for. Or rather, with free services you tend to get what you don't pay for in the form of advertising, lower priority connections, blocks on data hungry apps such as peer to peer networking, session limits and in most cases, a lack of any guarantees about service availability or quality.
If you only want to protect a laptop from time to time in a coffee shop a free VPN will be fine, but for anything more serious we'd recommend a paid-for product.
Best VPN services: how do I choose a VPN?
To choose the best VPN for you, don't just look at the price, not least because many services offer massive discounts if you take out a longer term subscription. Start with the basics: how many simultaneous connections can you have? Are there particular security protocols you want to use? Does the provider have servers in the places you'll want to use it from and the places you want to connect to? How much data will they log about you, and how long do they keep it for?
Wherever possible try before you buy. In some cases there won't be a free trial, but most reputable VPN providers offer a money back guarantee if the service doesn't meet your expectations.
The best VPN services to choose from today
There are hundreds of VPN services available online, but we think you're better off with a much shorter list: our list features the VPNs we've tested and that we think represent the best in their class for particular kinds of applications.
Some are great for peer to peer sharing, others for serious security, and still others are great for unblocking geo-blocked content. As most VPN services are global we've listed their price in US dollars, which tends to be the default. In most cases you'll see the correct currency for where you are when you click through.
It's worth noting that some VPN services are victims of their own success: some are so good at what they do, in some countries just using them is likely to have the authorities knocking on your door. Be careful out there.
Read on for our pick of the best VPN services right now.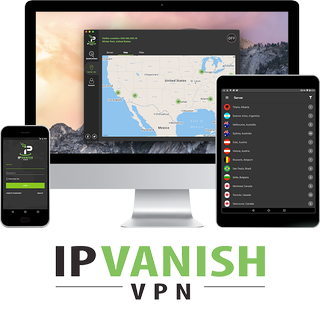 1. IPVanish
The best VPN for peer to peer sharing such as torrents
Specifications
Number of servers: 850
Server locations: 60+
IP addresses: 40,000+
Maximum devices supported: 5
Reasons to buy
+No traffic logs+Fast
Reasons to avoid
-Pricey-No free trial
[57% Off] IPVanish (Official Promotion) - Get up to 60% Off our #1 Rated VPN Service with IPVanish's top-tier network delivering fast speeds. Zero logs gives you total privacy.
IPVanish isn't going after the budget market here, and doesn't even offer a free trial - although there is a seven day money back guarantee if the service doesn't live up to your expectations.
It promises to be the world's fastest VPN, with more than 40,000 IP addresses, 850 servers in 60 countries, unlimited peer to peer sharing and up to five simultaneous connections.
There's a no logging policy, too, which means the service isn't gathering stacks of data about what you're doing.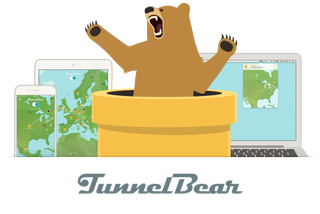 2. Tunnelbear
VPNs don't get much easier than this
Specifications
Number of servers: 1,000
Server locations: 20+
IP addresses: N/A
Maximum devices supported: 5
Reasons to buy
+Brilliantly simple+Wide device support
Reasons to avoid
-Not for power users-Distance can be slow
Tunnelbear is designed for a very specific group of people: people who want a VPN but don't want to mess around with configuration or become IT experts to make their connections more secure. And it caters brilliantly for that market, with a very straightforward interface and jargon-free writing.
It's not for power users - there isn't much you can change - but with up to five simultaneous connections, servers across 20 countries and decent performance on US and Canadian websites.
Longer connections can be slower, though: it's when the relatively small number of server locations makes itself obvious. There's a free version that limits you to 500MB of monthly traffic, and if you pay annually the price of the full version drops from $9.99 to $4.99 per month.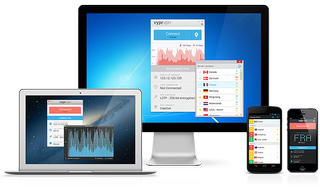 3. VyprVPN
Screamingly fast and very solid to boot
Specifications
Number of servers: 700+
Server locations: 70+
IP addresses: 200,000+
Maximum devices supported: 3-5
Reasons to buy
+Very fast+Good annual plans
Reasons to avoid
-No refunds-Monthly plans are pricey
VyprVPN Deal: get 25% off VyprVPN annual plans (£49 for 1 year). Get VyprVPN here
Switzerland is famed for its privacy-friendly legislation, and that's where VyprVPN operates from - although its servers operate in 72 other countries to deliver unlimited data.
If you're used to VPNs absolutely killing your data speeds you'll be positively surprised by VyprVPN: we found that our data speeds actually increased when we enabled the VPN, with improvements of up to 2.5x.
Not only that but there are plenty of useful options including auto-connect, a kill-switch and enhanced security via the service's proprietary Chameleon protocol and its own DNS. The trial period is just three days, though, so you'll need to test it out quickly.
4. NordVPN
Lots of servers, lots of connections, lots of security
Specifications
Number of servers: 1,015
Server locations: 59
IP addresses: N/A
Maximum devices supported: 6
Reasons to buy
+Good software+Six connections
Reasons to avoid
-Free trial is hard to find on website-Expensive if paid monthly
NordVPN offer: Get a massive 72% discount when you buy two years worth of Nord VPN for only $79, that's only $3.29 per month. Get this exclusive offer from NordVPN.
Central America isn't the first place you'd think of when it comes to cutting edge technology, but NordVPN is up there with the best of VPN services. It has 1015 servers in 59 countries, supports up to six devices simultaneously, runs 2048-bit encryption and has a feature list including an automatic kill switch, dedicated IP addresses, strong DNS leak protection and the ability to pay in Bitcoin.
For relatively short connections performance was superb, although we did notice a little latency creeping in from time to time for very long distance connections. However, browsing remained snappy and performance wasn't degraded significantly. We'd recommend hunting the site for its free trial and if you like it, signing up for the 2-year plan: that makes NordVPN extremely cheap.
5. ExpressVPN
Go offshore for excellent privacy protection and unblocking
Specifications
Number of servers: 1000+
Server locations: 94
IP addresses: N/A
Maximum devices supported: 3
Reasons to buy
+Apps for everything+Great support
Reasons to avoid
-Just 3 connections-No trial
With 145 locations in 94 different countries, ExpressVPN delivers great performance - and it's put the effort into its software too, with dedicated apps for Windows, Mac, Linux, iOS, Android and BlackBerry.
Not only that but there are solid online tutorials too, so even if VPNs are dark magic to you they'll have you up and running in no time. P2P is fully supported and there's a kill switch that keeps your IP address hidden in the unlikely event that the service isn't working properly.
It's reasonably priced and delivers a good service. However, there's only support for three simultaneous connections and there's no free trial available, although there is a 30-day money back guarantee if the service doesn't meet your requirements.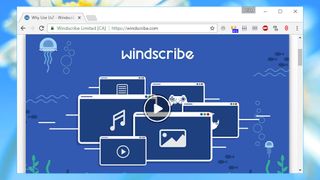 6. Windscribe
No no, no no no no, no no no no, no no there's no limits
Specifications
Number of servers: N/A
Server locations: 40+
IP addresses: N/A
Maximum devices supported: Unlimited
Reasons to buy
+Unlimited device connections+Free plan that offers 10GB of monthly data
Reasons to avoid
-No Android client-Long-range connections can be flaky
Some VPNs limit you to 3, 5 or 6 devices at a time. Not Windscribe: it supports unlimited connections, and there's a free plan offering 10GB of monthly data; however the free plan is limited to just one connection.
There are apps for Windows, Mac and iOS but not Android, and the service also offers browser add-ons with useful features such as ad-blocking. Short range performance (to US sites) is good, but we noticed lag with transatlantic connections.
However, if you're looking to protect the data from a whole bunch of devices - an office, perhaps, or just a smart home - the support for unlimited connections is a real boon.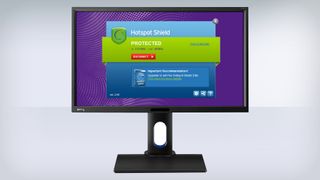 7. Hotspot Shield
Incredibly cheap if you're looking for a long term relationship
Specifications
Number of servers: 2,000
Server locations: 20
IP addresses: N/A
Maximum devices supported: 5
Reasons to buy
+Cheap+Great speeds
Reasons to avoid
-Wants lifelong commitment-Limited options
How much should a VPN cost? Hotspot Shield can be as little as £119.99 for a lifetime or £5.99 a month if you'd rather sign up for a year.
For your money you get a decent range of features including up to five devices, private browsing, virtual locations and good if not stellar performance: we did notice a slight increase in latency when Hotspot Shield was enabled, although it wasn't too dramatic. There's a seven-day trial that gives you more than enough time to put it through its paces.
8. ZenMate
One of the easiest VPN packages around
Specifications
Number of servers: N/A
Server locations: 30+
IP addresses: N/A
Maximum devices supported: N/A
Reasons to buy
+Really user friendly+14-day guarantee
Reasons to avoid
-Too simple for some-Average performance
There are cheaper VPNs out there, there are faster VPNs and there are more customizable VPNs. But when it comes to user friendliness, ZenMate is hard to beat.
It's delivered in jargon-free language and keeps things simple, although that simplicity might annoy more demanding users: for example, you can't specify individual cities in the server location, just their countries, and you can't specify which security protocol to use.
If that sounded like gibberish to you, then you're the target customer and you'll like ZenMate a lot - so much so that you'll probably forgive the fairly average performance. As ever, the best prices are for annual contracts - that works out as £4.99 per month, compared to £8.99 if you go for monthly billing.
9. PureVPN
No need to scream if you want to go faster
Specifications
Number of servers: 500
Server locations: 180
IP addresses: 95,000
Maximum devices supported: 5
Reasons to buy
+Loads of servers+Two-year plan is cheap
Reasons to avoid
-No trial-Failed our DNS leak test
Here's something you don't get to say very often: enabling this VPN made our downloads much faster. Our downloads were 80% faster using PureVPN's servers and our uploads were 4% faster, although we did record a 5% increase in latency - so it takes a fraction longer to get going, but once you get going it's spectacular.
Less spectacular is its ability to handle DNS leaks - it failed in our tests - but if performance matters then you really ought to check PureVPN out. There's no free trial, but a two-year plan cuts the cost from $9.95 per month to a much more attractive $2.45 per month.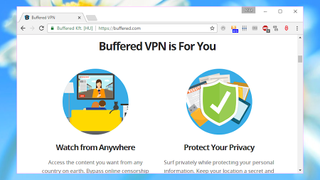 10. Buffered VPN
The VPN that makes every ping sing
Specifications
Number of servers: N/A
Server locations: 37
IP addresses: N/A
Maximum devices supported: 5
Reasons to buy
+Low latency+Decent refund policy
Reasons to avoid
-No mobile app-Quite pricey
Buffered VPN is one of the more expensive VPNs, with a monthly fee of $12.99 - although that drops to $8.25 per month if you pay annually, and there's a decent refund policy that enables you to get your money back as long as you haven't used more than 10 hours, 100 sessions or 10GB of bandwidth. But price isn't the USP here: it's latency.
Where many VPNs have a noticeable effect on connections because they're bouncing data all over the place, Buffered VPN has very low latency. Its sustained performance is pretty good too: we averaged 95% of our usual download speeds over transatlantic connections. The service supports mobile devices but there isn't a mobile app and setting up mobile devices is best suited to more tech-savvy users.