The best Samsung phones in 2022 cover all the bases: from cheap and cheerful to fantastic flagships, there's a Samsung phone to excite and delight everyone. The current Samsung crop ranges from excellent, affordable smartphones to the stunning Samsung Galaxy S21 Ultra.
Samsung's best phones are among the very best phones made by anyone. The 2021 Samsung Galaxy S21 and Galaxy S21 Ultra are stunning smartphones packed with cutting edge technology. But you don't need to look at the absolute top of the range to get a great Samsung. There are lots of mid-range models that do great things for a lot less cash. Samsung doesn't just make some of the best high-end phones. It also makes some of the best Android phones at every price point.
In this guide we'll show you Samsung's very best phones and focus on the features that really matter – so whether you're looking for state of the art features or a phone to cover the everyday essentials, you'll find both kinds of phone here. And of course you'll also find the best deals on Samsung phones too.
Don't just buy on price, though. The best Samsung smartphone is the one that does everything you want it to do not just today, but years to come. It's a good idea to think about what you're likely to want in the future and to choose your Samsung phone accordingly.
Samsung isn't the only firm making great phones, mind you. That's why we've put together dedicatedguides for particular kinds of phones, so for example our best small phones guide is perfect for those with small hands or small bags and our best gaming phones feature is perfect for gamers who need serious horsepower in their hardware.
Let's discover the Samsung phones we think you'll love, and the deals we think you'll love even more.
The best Samsung phones you can buy today in 2022
With both style and substance, the Samsung Galaxy S22 is a people-pleaser. Not only does it look fantastic and feel durable but it also packs in powerful hardware and the latest Android 12 with One UI 4.0 software.
You can buy it in one of four colours, those being Phantom Black, Phantom White, Pink Gold or Green. All of them look great, and because the phone is made from Armos Aluminium, it should stay looking great over time.
The 6.1-inch screen is equally as good-looking, it's everything you'd expect from Samsung's flagship series, and you'll be able to use it for everything from gaming to photo editing. Speaking of photography, the camera system should do you well too, there are loads of different features to play around with to make your shots look like they were snapped by a pro.
While it may not be the most impressive Samsung phone, it is without a doubt, the best Samsung phone for most people because the price won't make your eyes water, and it's small enough to slip into your pocket which many phones aren't. Take a look at the Samsung Galaxy S22 review (early verdict) to find out more about it.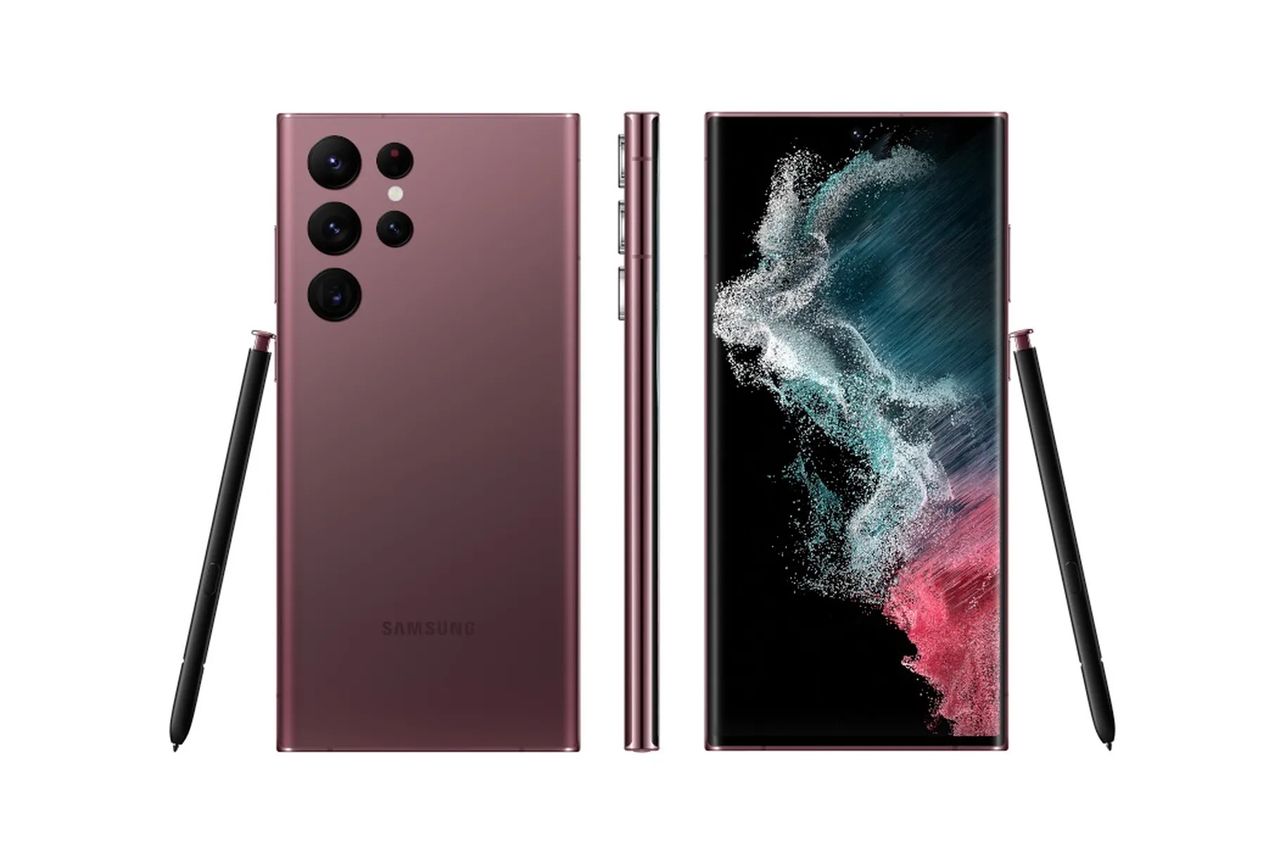 The star of Samsung's show is the Samsung Galaxy S22 Ultra. It won't be for everyone because it's very expensive but if you're willing to splash out then you will not regret it.
A fresh sophisticated design sets it apart from the other phones in the S22 series, and there are new elegant colourways to match. Unlike its predecessor, it comes with the S Pen hidden in the body of the phone which is endlessly useful.
If you're a smartphone enthusiast, a creative or a professional, this handset looks set to be one of the best you can buy in 2022. You can use it for work, play or life admin - and the huge 5,000mAh battery means you won't need to worry about running out of juice.
Under the hood, the latest 4nm processor is paired with up to 12GB of RAM and up to 1TB of storage so it should cope with just about any task you could throw at it. And as you'd expect, the camera system is stellar with loads of cool features to try out. Want to know more? Here's the Samsung Galaxy S22 Ultra review.
Not everyone is willing to spend an eye-watering amount of money on their next phone. If that sounds like you, the Samsung Galaxy S21 FE could be the best choice.
FE stands for Fan Edition - it takes all the best parts of the S21 and packs them into a more affordable device. You won't be missing out on much because there are really only a few areas where they've cut back to keep the cost low.
You still get a dazzling display with FHD+ resolution and a 120Hz refresh rate. Adding to that, the performance is delivered by a top-tier CPU and you get strong battery life even if it does take a bit of time to charge.
Granted, the rear camera system has been simplified, so you won't get quite the same level of detail as you do from the phones above. But in saying that it still manages to produce impressive point-and-shoot photography, especially when the lighting is good.
Big into selfies? The selfie snapper has actually been boosted to a whopping 32MP here so you're guaranteed flattering shots of yourself and your friends.
If you want an affordable handset with a few high-end features, the Samsung Galaxy A52 5G will be worth considering. Not only does it have a large 6.5inch Super AMOLED display that is stunning to look at, but it also has a 120Hz refresh rate which makes for silky smooth scrolling.
For point-and-shoot photography, you can't get much better for this price. it takes great shots of people and landscapes on the default settings and the 32MP front camera follows suit with super clear social-media worthy selfies. So what's the catch? Well, it doesn't quite match up against its flagship counterparts when it comes to performance and the design is thicker too.
Overall though, it'll be well suited to those on a budget who want a large display, excellent camera and long-lasting battery.
The Galaxy Z Flip 3 is going to really appeal to some people, and really put other people off – it all depends what you think of that clamshell fold and form factor. Here at T3 we really dig its compact (when folded) sizing, which is very bag and pocket friendly.
Samsung hasn't skimped too much on specs here either – the Galaxy Z Flip comes with the Snapdragon 888 chipset, 128GB/512GB of storage space and 8GB of RAM on board, which while falling short of the spec on the Fold 3, is still flagship level. It also has a few software tricks up its sleeve, with the ability to split the screen in half, top to bottom, if needed.
Where the phone falls short of flagship, and indeed where it falls short in terms of the money needed to ring it up, is in the camera department. You very much get a mid-tier camera system, which while perfectly good for shooting photos and videos, cannot match up to rival flagship phones with one screen that cost under half the Flip 3's price. If that is a trade-off you're willing to take only you can decide.
Apart from that, though, this is a fantastic, compact folding phone from Samsung.
The headline news about the Samsung Galaxy S21 is the price: Samsung has dropped the price of the entire S21 range so they're $200 cheaper than last year's S20s, with the S21 coming in at the same price as Apple's iPhone 12. But there's more to the S21 than its price tag. Its new processors deliver powerful CPU and graphics performance as well as better battery life, and its 120Hz display is designed to deliver super-smooth motion in video, games and apps.
The S21 is a stylish phone with serious horsepower inside, and while the cameras are largely unchanged from the S20 the camera software delivers some clever new features including better low-light photography.
This isn't the most powerful Samsung smartphone – you can find out all about that one in the next entry in our list – but it is still a very powerful device. We think it's the best all-rounder for most people.
To see how this phone differs from our number one premium Samsung phone choice, then check out our Samsung Galaxy S21 vs Samsung Galaxy S21 Ultra comparison feature.
Like the new Samsung Galaxy S21, the Samsung Galaxy S21 Ultra is cheaper than last year's model. It boasts a significantly improved CPU and GPU for much faster performance, a large 6.8" screen delivering 1,440 x 3,200 at refresh rates from a battery-saving 10Hz to a silky smooth 120Hz, a large 5,000mAh battery and support for Samsung's much-loved S Pen (which is available separately).
But the real draw here is the camera assembly, which has four cameras compared to the three in the rest of the S21 range. And what an assembly it is: there's a 108MP wide camera, a 21MP ultra wide camera, two 10MP telephoto cameras with 3x and 10x optical zoom, and a maximum zoom of 100x. The front camera is 40MP.
In terms of software the Samsung Galaxy S21 Ultra is also on point, coming with the very latest version of Android, which is Android 11. All said, the S21 Ultra is the best phone Samsung has ever made and, if you can afford it, it will definitely not disappoint.
If you're unsure whether you want to spend big on a single or dual-screen Samsung phone then be sure to scope out T3's Samsung Galaxy S21 Ultra vs Samsung Galaxy Z Fold 2 comparison feature.
There's a lot to like about the Samsung Galaxy Note 20 Ultra 5G, and if you can manage the cost, it's undoubtedly one of the best Samsung experiences you're going to get this year. It features a brilliant design, a more than capable camera, and internal specs that mean it will outpace almost every phone on the market.
The biggest reason for buying the Galaxy Note 20 Ultra 5G, though, is of course that S Pen – scribble on the lock screen, control the camera remotely, unleash your creative side, and more. If you need a phone with a stylus for serious work on the go, this phone has you covered.
5G is on board, as the name of the phone suggests, which means you're covered for years when it comes to next-gen connectivity – and considering you've got the Exynos 990 or Snapdragon 865 Plus chipset (depending on region) running everything, this isn't a phone that'll be slowing down anytime soon.
As we've said, the price is a little on the eye-watering side, but for something you're going to use every day for years to come, you might consider it worthwhile. The triple-lens rear camera with 5x optical zoom deserves a mention too, as it's capable of capturing some fantastic snaps in any kind of lighting.
The Samsung Galaxy S21 Plus might be the lowest placed of the S21 handsets in our list, but we're still very much fans of the handset, which is a great pick if you're looking for polished, big-screen phone experience.
If you just take the Galaxy S21 Plus on its own, without any context at all, there's a lot to like – it takes fantastic photos, the screen and design look superb, and you'll struggle to find many better-specced Android phones full stop.
The 6.7-inch screen is a hefty one, so make sure you really want a display this big before parting with your cash, though. This handset very much operates like a standard size S21 though in every other aspect.
Yes, the Samsung Galaxy S21 Ultra delivers even more impressive tech than the S21 Plus, but truth be told that phone is only for enthusiasts and those with the deepest of pockets. For most phone users this is a better buy, as it delivers 95 per cent of the experience for markedly less money.
As with the Galaxy S20, we're seeing sharp drops in the price of the Samsung Galaxy S20 Plus now that the S21 version is out – and the similarities don't end there. Like the non-Plus version the specs of the S20 Plus are almost identical to its predecessor and it has an absolutely fantastic camera.
There are some key differences, though. The S20 Plus has more curved edges on its display, and while it lacks the variable refresh rate of the S21 Plus its 6.7" dynamic AMOLED has a 120Hz refresh and a higher resolution, 3,200 x 1,440 (although that 120Hz is only available at 1080p resolution).
The other key difference here is the chipset, which is a Snapdragon 865 or Exynos 990 compared to the Snapdragon 888 or Exynos 2100 in the S21 Plus. You're unlikely to notice much difference in performance but the newer chipsets are more energy efficient and come with a slightly larger battery, so they'll last longer between charges.
None of these things are deal-breakers to us: until the S21 range launched the S20 Plus was one of the best smartphones around, especially if you take a lot of photos. As prices fall it's becoming quite the bargain.
If you want the very best in cutting edge smartphone technology, then you want a phone that folds, and that's exactly what you get with the Galaxy Z Fold 3, which is a proud member of T3's best foldable phones buying guide.
With this third handset in the series, Samsung has managed to finally show that foldable phones are really a thing that genuinely work, with this handset successfully combining a phone and tablet experience into one device.
You get flagship-grade internal hardware, too, and the battery life and operating system software are top notch. The camera system isn't the best on the market but is very feature packed and comes with strong core lenses.
A long with that screen, though, it is the Fold 3's support for Samsung's S Pen Digital Stylus that has got a lot of people very excited about this phone, as it unlocks next-level creative and productivity functionality. Everything from illustrating to note taking and annotating is now possible.
The Galaxy Z Fold 3 isn't perfect though. Despite a price drop it still costs a lot of money, and there's small details like it not coming with a charger in the box, and it still showing a visible crease down the centre of the screen that take some of the gloss off the package.
However, if you want a folding phone then the Z Fold 3 is the best on the market.