If you're looking for the best cheap mobile phone, you've come to the right place. Welcome to T3's line-up of the very best cheap smartphones available.
We think the Honor View 10 is the best cheap smartphone you can buy. It carries all the prestige and premium build quality of a flagship but without the massive price tag.
Of course, the Honor View 10 may not be right for you, especially if you want something super cheap, or have an affinity with another maker, so we've collected nine other excellent budget phones for you to choose from too.
We've also included some handy buying advice to help you find the best cheap smartphone for you.
How to choose the best cheap smartphone for you
Flagship smartphones are great, they're lightning fast, well designed, and offer a ton of extra features. But they come at a cost, and that cost is a lot of money.
If you're looking for an alternative to one of those expensive handsets or the best smartphone for kids, for example - we've got you covered.
While the phones in this list are all more affordable — we've only selected the very best phones which don't scrimp on hardware, design, or features. We're only recommending the cheap smartphones we'd be happy to use.
We think just because you're paying less, doesn't mean you should have a phone that feels cheap.
You should also look out for premium features from more expensive smartphones, such as a fingerprint sensor, waterproofing, or an excellent camera.
The very best cheap smartphones you can buy today
1. Honor View 10
You don't need to be brave to use this brilliant affordable flagship
Reasons to buy
+Dual camera+Edge-to-edge display
Reasons to avoid
-EMUI-No water resistance
The Honor View 10, essentially, the very well reviewed Huawei Mate 10 Pro, which almost costs twice as much. You've got essentially the same display, chipset, software, and camera setup. The only thing that's really changed is the body – which is now aluminium rather than glass. It really is fantastic value, only pipped by the OnePlus 5T's more stylish design.
2. OnePlus 5T
Flagship specs, All-screen design, bargain price
Reasons to buy
+Premium design+Flagship specs
Reasons to avoid
-Only HD screen-Not waterproof
OnePlus are renowned for combining the latest specs with a price you can't argue with, but their first two phones were pretty hit or miss, the OnePlus 5T is difficult to beat at this price. Budget smartphones always claim they can compete with the likes of Google, Samsung and LG, but few ever come close to the mark, the OnePlus 5T gives all three a run for their money by delivering a phone with a Snapdragon 835 processor and 6GB of RAM…6GB!
It's not just the specs that make this phone, it's the all aluminium chassis that gives the phone a premium look and feel, and the bezel-less 6-inch display.
3. Sony Xperia XA1
You'll struggle to find a better camera for this low, low price
Reasons to buy
+Very good camera +Slimline and stylish design
Reasons to avoid
-Screen is just so-so-Image processing is OTT
The Sony Xperia XA1 is a good budget buy with a superb camera sensor (23MP!). It's a shame the camera software is a little too enthusiastic, though, with some quite over the top image processing taking place at times. Design-wise the phone looks great despite sporting a plastic back plate and the phone looks significantly more mature and premium than a lot of other similarly priced rival devices. Battery life is standard, as too is its 3GB of RAM, however performance is smooth and 720p screen perfectly matched.
4. iPhone SE
The best premium smartphone on a budget
Reasons to buy
+Solid design+Great camera
Reasons to avoid
-First generation Touch ID-Sub 720p display
The iPhone SE is the hybrid between the iPhone 5S and 6S. You've got the form factor of the 5S with the four-inch display and the fact you can easily use the phone with one hand combined with the nimble performance of the 6S. The camera is also one of the best you can get your hands on with a 12-megapixel sensor that also takes 4K video. These combine to create a compact and competent device that's also the cheapest iPhone ever.
5. Samsung Galaxy A3 (2017)
Samsung's budget blower is a winner
Reasons to buy
+Metal and glass design+Awesome battery life
Reasons to avoid
-Not a full HD screen
The Galaxy A3 is the smallest phone Samsung currently have in their Galaxy lineup, it's a really nice design, giving the device a flagship look for a budget price tag. The phone runs on a octa-core processor and has 2GB of RAM — the base memory can easily be expanded with a Micro-SD card too. The phone has a 2350 mAh battery that can easily last up to two days of normal usage — although not having to charge your smartphone at night will take some getting used to.
6. Motorola Moto G5
The sweet spot between budget and specs
Reasons to buy
+Grippy metal back+1080p screen
The Motorola G series has always been a contender for the best budget smartphone on the market — the G5 is no exception and certainly offers something special for the price. No sacrifices were made with screen resolution as the G5 rocks a 1080p display that will always light up courtesy of the octa-core CPU that powers it. Things won't chug either with 3GB of RAM to juggle all your multitasking needs — things are simple and just work on the G5.
7. Nokia 6
A budget bargain from one of mobile's most loved names
Reasons to buy
+Super value for money+Surprisingly good snapper
Reasons to avoid
-Slow to charge-Battery is just OK
As we noted in our Nokia 6 review, there is a lot to like about this budget handset. It is carved from a single block of aluminium, which makes it look and feel more premium than it is, the phone sports a good 16MP rear camera with dual-tone LED flash, and delivers a decent all-round internal hardware spec that includes 3GB of RAM, Snapdragon 430 processor, and 32GB of internal storage space (expandable by microSD card). For the price we're not sure what more you could ask for.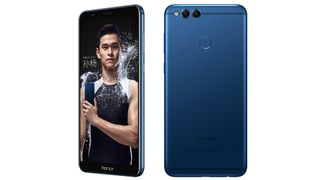 8. Honor 7X
Honor offers loads of features for the cash
Reasons to buy
+Flagship design+Dual camera
Reasons to avoid
-MicroUSB
Yep, another entry from Honor! The Honor 7X has the look and feel of something much more expensive. It takes everything that's almost become the standard in the budget smartphone and builds upon it, giving you a bezel-less display and a dual camera system on the back. Battery life can also last up to two days provided you aren't doing anything intense on the device like gaming. Overall this is a package that rivals smartphones that cost two or three times more in price.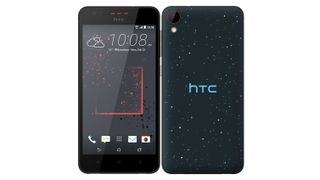 9. HTC Desire 530
Love the paint job
Reasons to buy
+Promising on paper+We love the design
Reasons to avoid
-Poor performance-Dull screen
It seems as though HTC really missed a beat here, the cheap Desire is ultimately one of the worst budget smartphone offerings out there. The phone is hamstrung by the lack of RAM, meaning day to day performance is sluggish and ultimately not worth the asking price when there are plenty of other devices for the same money that do the jobs they're supposed to. Still, we really love the design.
10. Vodafone Smart Prime 7
A mere £70 - you get a lot for your money
Reasons to buy
+Cheap, very cheap+HD screen
Reasons to avoid
-UI can chug at times-The design is dull
By far the cheapest phone on this list — for that price you're getting a 5-inch 720p display that isn't rough on your eyes at all. The phone isn't the fastest but is running one of the purest forms of Android you can get your hands on — there's next to no bloatware here at all. Everything here is functional and you're getting exactly what you pay for. You won't be running intense games on here, but you will be getting through the day messaging and doing some light web browsing.
Liked this?