On the hunt for the best cheap mattress deals and sales of 2023? We can help you out. While you'd have to be truly unlucky to ever buy a new mattress at full price, some times are better than others to grab the biggest discounts. We regularly update this guide with the best offers to shop, whenever you decide to upgrade.
Whatever sort of new mattress you're looking for, whether it's a basic memory foam model or a more advanced hybrid option, this is the place to come to find all the best prices any time. We're constantly tracking the latest mattress sales, so we should always be able to find you a tidy discount on the mattress of your dreams.
Because buying a new mattress can sometimes feel a bit like a roll of the dice, especially if you're buying online, we've removed much of the guesswork for you. We've already given most of the mattresses listed here a proper testing, and we know the mattress marked inside-out, so everything you see here will be proper deals on mattresses we'd gladly sleep on ourselves.
Not sure what you want? Head to our best UK mattress ranking or our best memory foam mattress guide for a rundown of our top picks for a range of sleep styles and budgets.
Best cheap mattress deals 2023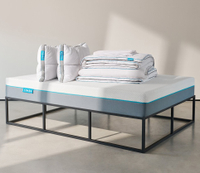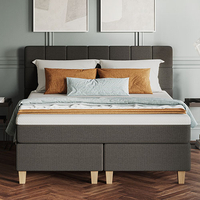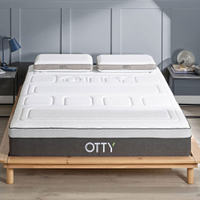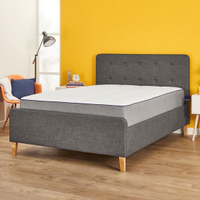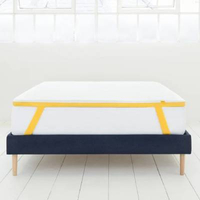 More mattress sales to browse
Want to browse yourself? Here are all the mattress sales going on right now...
7 of the best cheap mattresses you can buy
Coming in at the bargain end of the Eve mattress range, the Eve Lighter is a fantastic budget mattress that's essentially a scaled-down version of the Eve Original. It features just two layers: a top 3cm of 'Evecomfort' foam sitting on top of 16cm of high density base foam with contoured zones for pressure relief where you need it. The main difference between it and the Original is that you don't get the 3cm layer of memory foam.
That could be a bonus for many, as it means you don't get that memory foam sinking feeling, which can be a big turn-off for many. Instead you feel gently cradled, and you're less likely to find yourself overheating in the night. The Eve Lighter is rated as medium-firm, and it comes in a washable polyester cover to help keep things fresh. You can find out everything in our Eve Lighter mattress review; bear in mind also that for a bit more money you can get a hybrid version of the Eve Lighter that includes an additional layer of pocket springs.
Note: As of October 2022, Eve Sleep has gone into administration, so mattresses and other sleep products from Eve will no longer be available in the near future. However, third party retailers like Amazon may still have Eve mattresses for sale, so it's best to look there for any Eve mattress deals.
You'd be hard pushed to find a better cheap mattress than Silentnight's Pocket Essentials 1000. It's already great value at its RRP, and there are often incredible deals to be found on Amazon, too (check out the widget above for the best price right now). The Pocket Essentials 1000 is a pocket sprung mattress, which means that each of its 1,000 springs is able to pivot within its own pocket, giving you individual tailored support and preventing motion transference so that you won't disturb your partner if you toss and turn in the night. This mattress comes with a soft knit cover that provides a sumptuous sleep surface and which is also hypoallergenic, and unlike other sprung mattresses there's no need to turn it; simply rotate it 180 degrees every six weeks or so for even settlement.
Rated as medium/firm it's a safe bet whatever your sleeping preference, and if you look around you'll find hundreds of satisfied reviews. The Silentnight Pocket Essentials 1000 is handmade in the UK, and if you buy from Silentnight you'll get a 60-night trial.
You might hesitate to buy a memory foam mattress that's as cheap as this, but a Which? Best Buy award and a stack of positive reviews online say that the Silentnight 3 Zone Memory Foam Mattress is a bargain worth grabbing. It features a 3cm layer of responsive, body-moulding memory foam, giving your entire body pressure-relieving comfort and support, with softer support for your shoulders and firmer support for your lower back and hips. It's not as thick as Silentnight's Pocket Essentials 1000, but it's still a perfectly comfortable mattress that's designed to reduce motion transfer.
It's Purotex-treated to reduce moisture and allergens, and like most foam mattresses it comes vacuum-packed. You might notice an odd smell when you unwrap it, but that's just the fresh foam, and the smell will dissipate after a few days. In all this is one of the best budget memory foam mattresses that you can buy, and there are some great additional discounts to be found right now.
If you're after a hybrid mattress that combines the best qualities of foam and springs and won't cost you a fortune, there are some incredible savings to be made on this fantastic option from Happy Beds right now. The Deluxe Memory mattress uses 10mm of reflex foam and 20mm of memory foam on top of a coil spring system to provide plenty of support and comfort, with more traditional bounce than you'll find in a foam-only mattress. It's a UK-made mattress that uses sanitised materials to provide hypoallergenic and anti-dust mite properties, making it an excellent choice for allergy and asthma sufferers, while its all-around support make it a good orthopaedic option for anyone with back or joint problems.
It's another mattress that only needs to be rotated every six weeks rather than turned, and while those RRPs look fairly enticing, again there are often deals to be had that take the price even lower.
There's nothing particularly special about IKEA's Morgedal mattress. It's a straightforward and resilient budget mattress that's more or less a thick chunk of foam in a polyester cover, and while it has comfort zones that provide pressure relief and support where you need it, that's about the extent of its features. Don't let that put you off, though, because this is a brilliant budget option that's won a Which? Best Buy award, and while you can get cheaper mattresses from IKEA, this is the one that's likely to give you the best night's sleep, and there's a 90-day trial period so that you can make sure it's right for you.
For an even more deluxe option from Happy Beds, check out its Balmoral Pocket Sprung Memory Foam Mattress. While nobody's actually claiming that these might be found on the beds at Balmoral, there's definitely a level of regal comfort on offer here that you'll want to take advantage of.
Boasting exceptional materials and an innovative design, the Balmoral is 25cm thick and features 30mm of memory foam that contours to your body, retains heat and provides spine and joint support, plus a layer of reflex foam to keep the mattress feeling firm and sturdy. And beneath that there's a layer of individually nested pocket springs that provide an undisturbed sleeping surface and isolate restless movement. Air vents help the mattress breathe and will keep it fresh for years, and you'll only need to rotate it every six weeks rather than turn it. Now, we know those RRPs look a little steep for a budget mattress, but as with the other Happy Beds mattress listed here, there are regularly stunning bargains to be had.
Don't let those RRPs frighten you; they look intimidating but you'd have to be extremely unlucky to ever have to pay anything even approaching full price for a Dormeo mattress. Regular deals mean you can often pick the Dormeo's Memory Silver Plus mattress up for an absolute snip, especially for a mattress that's literally covered in silver. Not completely, obviously, but the mattress's luxury cover is, says Dormeo, enriched with silver fibres that help eliminate bad mattress smells with their anti-bacterial and anti-odour properties as well as acting as an anti-static shield that can protect the mattress from allergy-provoking dust particles.
Beneath the silvery cover is 3cm of memory foam that's sewn directly into the cover to help prevent restless tossing and turning, and there's 14cm of breathable Ecocell foam underneath it to provide plenty of support. Dormeo offers a 60 night trial so you can find out for yourself whether all these features add up to a comfortable night's sleep, and the 15-year guarantee is a tough one to beat.
Amazon Prime Day mattress deals: what to expect
Amazon Prime Day is a two-day sales bonanza, typically in June some time, which sees thousands of discounts on offer to Prime subscribers.
It can be a good time to find a cheap mattress deal, but not necessarily. You'll find some of the big-name brands represented at Amazon – the main ones being Emma and Simba – alongside the likes of Silentnight. But but mostly it's weird brands you've never heard of, and are certainly cheap but may also be terrible. Often, the bigger name brands will price-match any Amazon Prime Day deals on their own site, so you can just buy direct from them and not bother signing up to Prime, unless you have a real burning desire to support Jeff Bezos.
In 2022's event, which took place on 12-13 July, Amazon bucked the trend by offering some big-brand mattress deals that bettered what you could get when buying from the brands direct. (You can see exactly what happened in this deals article, but don't expect those deals to be still available.)
There were price drops across most of Simba's range, the best deals being 45% off all sizes of the original Hybrid, and 45% off the Single and Double Essential mattress (at the time, Simba was only offering 40% off). There was also 35% off the Simba Comfort, which is only available at Amazon.
In the case of Emma, the best offer was on the original Emma Hybrid, which has been discontinued elsewhere. The Super King was 50% off and the other sizes were 20% off, which was cheaper than buying an Original (which itself has a 50% discount at both Emma and Amazon).
Prime Day 2021 also saw some Emma deals. The Emma Original was half price on all sizes, which at the time was the best discount we'd ever seen on that model. There was also 45% off the Hybrid – another all-time low price at the time. Finally, there was 39% off the Original Hybrid (at the time still available at Emma direct), but only the King size. For that one you were better off buying at Emma direct.
In 2021, Simba got some Prime Day deals. The biggest discounts were on the models that weren't, at that time, part of Simba's core range – there was there's a blanket 40% off the Hybrid Essential and Amazon's selection of memory-foam only Simba mattresses. We've seen similar price drops since, though.
There were also some very strong deals on the core range of Hybrids: 37% off all sizes of the Hybrid Pro (the best discount we'd seen on this model, surpassing 2020's Black Friday deal – although note we've seen bigger discounts since), and 35% off the Hybrid Luxe, but only the King and Super King sizes.
Eve also used to sell though Amazon, but at time of writing its brand page is almost entirely sold out.