Looking for an Emma mattress deal or sale? You're in luck as this article is dedicated to bringing you the best prices at all times, and we often negotiate exclusive T3 Emma codes to take the prices down even further.
In the UK: Emma is running its Black Friday sale with up to 65% off mattresses, bundles & bed frames. When you shop at Emma, you get a free 200-night trial to make sure you love your new mattress. With these offers, you don't need an Emma discount code to save; the price drop will be applied automatically. And if you're in the market for some sleep accessories, there's 50% or more off things like pillows, duvets, bed frames, toppers and more, too.
In the US: At Emma US, you can get 50% off in the early Black Friday sale for new customers. This sale means you can save up to $1,000 on its award-winning mattresses, and you can find up to 50% off other products on the Emma website.
If you've done your research and decided that Emma is the right mattress brand for you, then well done, you've made a wise choice. As you'll see in our Emma Original mattress review and Emma Premium mattress review (UK only), we rate this brand's mattresses extremely highly. In fact, the former is our best memory foam mattress, and top value pick in our best UK mattress roundup, too.
We're constantly looking out for the lowest prices and negotiating exclusive Emma deals. See how this compares to what other brands are doing in our general cheap mattress deals guide, but for Emma only deals, keep reading for more.
Emma UK Black Friday deals

UK Emma Black Friday mattress deals: up to 65% off in the Emma Black Friday sale
Head directly to Emma where there are major price drops on mattresses, sleep accessories and bundles in the Emma Sleep Week sale. Choose between the ultra comfy memory foam Emma Original or the Emma Premium, which adds a layer of tall springs for extra support and better breathability.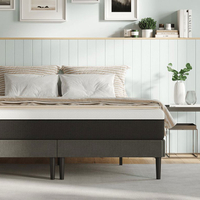 UK Emma Original (Double): was £483, now £379.20 at Emma
Discounts on all sizes! The Emma Original is made from three layers of memory foam, designed to relive pressure and provide full-body support. The design might be simple compared to some, but it's extremely effective, and this mattress has plenty of awards to prove it. Head to our Emma Original mattress review to find out more.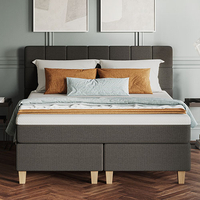 UK Emma Next Gen Premium (Double): was £969, now £484.50 at Emma
Discounts on all sizes! The Next Gen Premium is Emma's more advanced mattress, and with this deal you get the protector bundled in. This luxurious model uses a layer of extra tall springs to add extra support and improved airflow, making it both firmer and cooler to sleep on than the Original.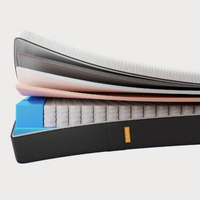 UK Emma Luxe Cooling mattress (Double): was £1,798, now £629.30 at Emma
Discounts on all sizes! Get 65% off the Emma Luxe Cooling mattress in this Black Friday deal. Designed for a cool sweat-free sleep, this mattress regulates your body temperature with its ThermoSync technology.
Emma US Black Friday deals

US Emma Black Friday mattress deals: up to 55% off mattresses in the Emma Black Friday sale
Head to Emma.com to save on the Emma Original or the Emma CliMAX Hybrid. The innovative European design of the Emma Original includes layers dedicated to temperature regulation, motion isolation, pressure relieve and spinal alignment.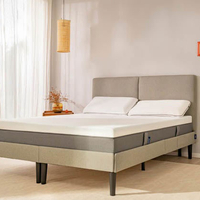 US Emma Original (Full): was $889, now $489 at Emma
Discounts on all sizes! The Emma Original is zoned to provide extra support under the hips, while the head section delivers cushiony softness. This mattress promises zero motion transfer, and is suitable for any sleeping position.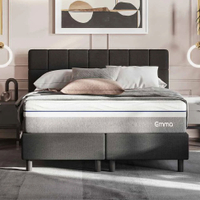 US Emma Original Hybrid (Full): was $1,049, now $469 at Emma
Discounts on all sizes! Engineered especially for the US market, this version of the Emma Original Hybrid contains layers of various foams as well as 8-inch pocket springs. It's designed to contour to your body as well as keeping you cool and supported all night.
The Emma Original has two T3 Awards to its name (in 2019 and 2020). Three layers of superbly comfortable memory foam, a machine-washable cover, and an incredible value price point make it an all-round incredible choice. In the UK, you also have the option of choosing the Emma Premium. This pricier option adds a layer of tall springs, and is a better choice if you want a little extra support from your mattress.
Which Emma mattress should I buy?
In the UK, there are currently two mattresses in the Emma range. The first is the Emma Original. The cross-section looks slightly different for the US version compared to the UK one, but it's essentially the same. The top layer is made from motion-isolating, breathable 'Airgocell' foam, which absorbs moisture and promotes airflow. Next up is the memory foam layer, which moulds itself around the sleeper's body for custom support. A HRX base layer to keep everything stable and ensure your lower back and shoulders are properly supported. Finally, there's a climate-regulating cover, with handles for easy maneuvering.
If you're shopping from the US, that's the only Emma mattress available to you. In the UK, there's a second option: the Emma Premium (previously known as the Emma Original Hybrid – not to be confused with the Emma Hybrid, which is technically still available, but currently hidden in the footer of the Emma site, so we suspect it's not sticking around too much longer). The Premium is similar to the Original, but adds a layer of tall springs, which mean its firmer and more supportive than the Original, as well as sleeping a bit cooler. It's pricier than the Original, but we'd say it's worth it.
If you're not sure about Emma as a brand, check out our Emma vs Nectar, Emma vs OTTY and Emma vs Casper head-to-head battle reviews. As always, if you're stumping up for a quality mattress, we'd advise you to pick up Emma's mattress protector at the same time, to protect your investment and keep your mattress box-fresh for longer.
Does Emma have deals on Amazon Prime Day?
Yes! Emma also sells through Amazon in the UK. Within the Amazon UK Emma range, you'll find the same two mattresses in the main Emma range (so the Original and the Premium), as well as a very low-priced Emma Essential model. You can sometimes also pick up the discontinued Emma Hybrid, which is like the Original but with a layer of mini springs that you can't really feel.
There aren't always deals over Amazon Prime Day, but it does occasionally come though with some bargains. In 2022, there was up to 50% off the Original over Prime Day (this was price-matched at Emma direct), but also up to 50% off the Hybrid (in reality, it was 20% off all sizes apart from the Super King, which was 50% off).
in 2021 we also saw some good Amazon Prime Day deals: 50% off all sizes of the Emma Original, and 45% off the Emma Hybrid. These were the best mattress deals we saw over Prime Day 2021, which came as a bit of a surprise. There was 39% off the King size of the Emma Original Hybrid, too, but that deal was bettered by a discount code at Emma's own site at the time.
The 2020 event was a little different – it was pushed back to 13-14 October. Over those days, UK Prime members could knock 33% off the price of the Emma Original, which wasn't a standout deal in the context of what we'd seen before.
We'd always recommend checking on the Emma website before purchasing, as you'll often find Emma is at least matching what Amazon is doing on price. Although it did not do so over Prime Day 2021.
How good is Emma mattress?
The Emma Original mattress is an outstanding bed in a box. Part of the not-that-new wave of vacuumed-packed mattresses that you buy online, the Emma Original arrives at your door rolled up in a small, conveniently sized box, and springs to life once opened.
It's an entirely foam-based model. The top layer consists of 4cm of breathable Airgocell foam, which combines with a second layer of pressure-relieving visco-elastic memory foam to keep you comfortable however you sleep and no matter how much you move around in the night. Beneath these is a thick bottom layer of HRX material that's designed to provide exceptional support, especially for your lower back. The whole package is enclosed in a humidity-regulating top cover that keeps you cool and allows the mattress to breathe.
Emma mattress price: how much does it cost?
Emma mattresses are typically competitively priced, but in summer 2021, they got a big price rise which means they're slightly less so. Although, I will stress that the concept of 'RRP' in the mattress world is a very loose one – it's very unlikely you'd ever have to actually pay full price, as there are so many sales.
We've been keeping an eye on prices for a while now, and the current full price is the most expensive we've seen the Emma Original. As of Summer 2021, the official UK pricing is: Single £499; Small Double £639, Double £699; King £799; Super King £899.
From Summer 2020 to Summer 2021, the RRP was significantly lower: Single £299; Small Double £449, Double £499; King £579; Super King £649.
Prior to Summer 2020, pricing was similar to the current RRP: Single £429; Double £649; King £699; Super King £799.
Remember, though, that you shouldn't really ever need to pay full price – there are always great Emma mattress deals to be found on this page.