Finding a DreamCloud sale, deal or discount code is a great way to save some serious cash when investing in one of the best mattresses. At T3, we keep a keen eye on prices, and update this article with any offers we can find each month, so you can be sure you don't end up missing a hot deal.
In the US, there's 40% off all mattresses of prices starting at $499. . In total, you'll be saving a huge amount of money on a new sleep set-up. DreamCloud runs a version of this deal pretty much constantly, but the freebies included do change. If you need to upgrade your mattress or bedding, this is a cost-efficient way to do it, and you don't need a DreamCloud coupon or promo code to save, as the discount and extras will appear automatically at the checkout.
Meanwhile in the UK, the current DreamCloud mattress sale gets you 57% off the DreamCloud Luxury Hybrid mattress and a free bedding set. Free delivery is also included and you can get a free duvet and bedding set with your purchase.
If you head to our DreamCloud mattress review, you'll see we were blown away by this brand's flagship mattress. If you decide to purchase one, you'll have a massive 365 nights to make sure you agree with us (this matches the longest free trial from any brand).
Best DreamCloud deals 2023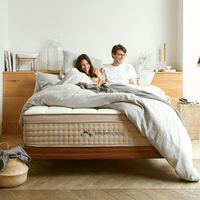 DreamCloud US deal: 40% off DreamCloud mattresses
DreamCloud makes three luxurious mattresses: the DreamCloud Luxury Hybrid, the pricier, fancier DreamCloud Premier, and the even more luxurious DreamCloud Premier Rest. The brand also often bundles in sleep accessories for free, which can make a big difference to your savings, provided you actually need them. With this offer, a Full sized DreamCloud Luxury Hybrid mattress costs $899.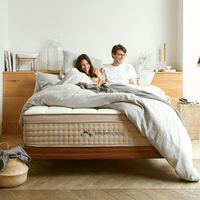 DreamCloud UK deal: 57% off the DreamCloud Luxury Hybrid mattress and free bedding
DreamCloud's popular Luxury Hybrid mattress includes a cashmere-blend Euro top for cloud-like comfort, plus high-density memory foam, and a zoned pocket coil system for targeted support. Take advantage of the massive 365-night trial to make sure you love it.
DreamCloud is no stranger to a promotion or two, and quite regularly offers money-off sales as well as added extras, from sheet sets to duvets to any other sleep accessories you care to think of. The trick is picking the deal that gives you the free extras you actually need, so you are actually getting the value from your purchase.
See how these offers compare to what other brands are doing in our cheap mattress deals roundup.
Which is the best DreamCloud mattress?
In the UK, there's just one DreamCloud mattress: the DreamCloud Luxury Hybrid. In the US, you have two to choose from: the DreamCloud Luxury Hybrid (which is sometimes just referred to as The DreamCloud) and the pricier, fancier DreamCloud Premier. If you're on the fence, bear in mind you're treated to a huge 365-day trial period, which matches the very best in the industry. During that time, you'll get to experience your new mattress in all four seasons before making up your mind. After that, you'll have a lifelong warranty against defects.
The DreamCloud Luxury Hybrid includes six different layers. We've decoded the whimsical naming system (just what is a 'Sink in Just Right Layer, DreamCloud?) and the construction is as follows: On top is a luxury, quilted layer, which includes 'activated cooling technology' to stop you overheating. Then come two separate layers of foam – a gel memory foam that contours to your shape and reduces pressure, and another foam to add comfort. These sit above a full layer of pocket coils that adapt to your body and reduce motion transfer. Finally, the whole thing rests on a foam base to maximise airflow.
DreamCloud calls it 'Luxury Firm', but gives it a 6.5 out of 10 on the firmness scale, which we'd class as more 'medium' than 'firm'. It's also one of those mattresses that you'll sink into slightly, for that enveloping feeling that some love. At a chunky 15" (29cm) deep, the DreamCloud Luxury Hybrid is truly a luxury mattress option. Some comment that it's bulky and heavy, but really, once it's in place, does it matter?
For an even more luxurious experience, and slightly more money, try the DreamCloud Premier. Available only in the US, this decadent mattress swaps some of the layers of the Luxury Hybrid for upscale alternatives, and adds another one (although thankfully does so without making it any thicker – this mattress is the same 15" as the other DreamCloud offering).
The main difference is the topper: here you're getting a cashmere cover atop a cloud-like Trueloft Euro topper for a cosy and plush, yet breathable, sleep surface. There's the same two foam layers beneath (with gel to promote cooling), and you've still got that layer of pocket springs with extra strength around the perimeter for edge support. Like the Luxury Hybrid, it's 'Luxury Firm' but really more like 'medium firm' at 6.5. A luxurious, decadent sleeping experience with extremely enthusiastic reviews to back it up.
DreamCloud Black Friday and Cyber Monday mattress deals
The winter sales are traditionally the time when mattress brands offer their biggest discounts, but DreamCloud hasn't always followed that pattern. For Black Friday 2021, the DreamCloud deals were pretty standard, and in line with what the brand offered over the rest of the year.
In 2020, it was a similar picture.Shoppers in the US got a bundle of free sleep accessories with each mattress. Although very generous, we see this deal all the time (almost literally) from DreamCloud, and we were surprised not to see it accompanied by a discount on the mattresses themselves, as is often the case.
In the UK, DreamCloud knocked £300 off any mattress for Black Friday, which was the best price drop we saw from the brand in 2020.These offers launched in mid-November and ran (under a few different names) right into early December, and DreamCloud didn't throw in any extra offers on the big day itself, which turned out to be fairly common for retailers in the 2020 event.
DreamCloud discount codes and deals you missed
To give you a better idea of the kind of offers you can expect from DreamCloud, here's a rundown of the deals you've missed...
US expired deals
March 2021: Free pillows, sheets and mattress protector worth $399
Black Friday 2020: Free sleep accessories with any mattress
October 2020: $200 off your mattress, plus free sleep accessories
September 2020: $200 off mattresses, plus free accessories
UK expired deals
September 2021: £315 off any size mattress
March 2021: £300 off any mattress
Black Friday 2020: £300 off any mattress (mid-Nov to early Dec)
October 2020: £250 off any mattress