In the market for a new mattress, and looking for a Nectar discount code to take the price down? We have excellent news: there are decent offers on both sides of the Pond right now. Nectar makes some of the best mattresses around, and boasts an industry-best 365-night trial and forever warranty too. To see what the other brands are doing, head to our best cheap mattress deals roundup.
In the US: The latest Nectar deal gets you 33% off everything at Nectar in the Labour Day sales event. You don't need a Nectar promo code to claim – this deal will appear automatically when you check out. We see this offer pretty much all the time from Nectar, but it's not often bettered.
In the UK: The current Nectar mattress sale gets you up to 60% off any mattress in the early Autumn sale. Usually, Nectar offers around 40% off, so now is a good time to buy for that extra saving, plus you get free named day delivery.
It's worth factoring in that we've never actually seen the Nectar mattress selling at RRP, and that RRP / MSRP also fluctuates more than most, so it's better to look at the price rather than the percentage discount. The standard price for the Original you can expect is around the following: Single £459, Double £599, King £689, Super King £759.
Nectar US mattress deals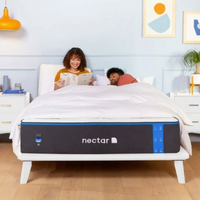 US Nectar Memory Foam mattress (Full): $1,399, $599 at Nectar
Discounts on all sizes! The original Nectar sits at the cheapest end of this brand's range. It's made with three different types of foam, designed to work together to deliver the contouring support, softness and bounce you want from a mattress. You've still got that full year's trial to make sure you love it.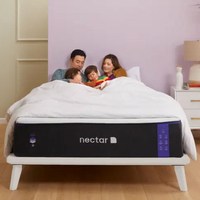 US Nectar Premier Memory Foam mattress (Full): $1,849, $899 at Nectar
Discounts on all sizes! In the middle of the US Nectar range is the Premier. This mattress is made with PCM-infused gel memory foam which is designed to regulate temperature as you sleep.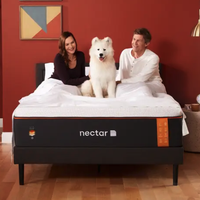 US Nectar Premier Copper Memory Foam mattress (Full): $2,299, $1,199 at Nectar
Discounts on all sizes! Sitting right at the top of the Nectar US range, this mattress promises to be the coolest and most supportive of them all. The luxurious 14" model includes heat-conductive copper fibres for better temperature regulation.
Nectar UK mattress deals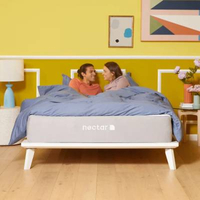 Nectar Essential Hybrid Mattress (Double): £1199, £479.60 at Nectar
Get 60% off select mattresses including the Nectar Essential Hybrid Mattress in the Nectar sale. Comes with free delivery and is available in multiple sizes. While the discount won't appear on the product page, once you add the mattress to your basket, the voucher will apply the 45% discount to your order.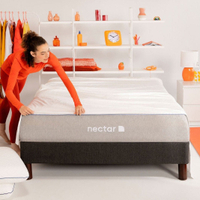 Nectar Premier Hybrid mattress (Double): £1,849, £739.60 at Nectar
60% off any size! The pricier, fancier model in the Nectar UK lineup is the Hybrid. It's still 25cm thick, but adds in a layer of micro-springs to improve breathability and motion isolation (so if you've got a wriggly bed-mate, you shouldn't feel it as much).
Not quite sold on Nectar? See how this brand compares to another major UK bed in a box offering in our Nectar vs Simba mattress showdown.
What Nectar mattress options are there?
In the UK, there are two mattresses to choose from: a memory foam only model, and a hybrid, which adds a layer of springs. The luxurious, medium-firm memory foam Nectar original scores very highly in our best mattress ranking (head to our Nectar mattress review for more info). It's designed to cradle your body as you sleep. If you want something you can move about on more easily, you might prefer the Nectar Hybrid, which adds springs for a bit of bounce.
In the US, you have even more choice. There's your original Nectar mattress, which is memory foam only, but also the Nectar Premier with PCM-infused gel memory foam for enhanced cooling and a denser comfort layer, and the Premier Copper, which is taller and claims to be both cooler and more supportive than either of the other two mattresses in the range.
This company shines in one particular area: it offers a whopping 365-night trial on its mattresses. The company is that confident you'll like its memory foam mattresses that it gives you a whole year to test them out. If you're not 100% happy within that time, Nectar will collect the mattress for free and give you a full refund. (Nectar also makes some great sleep accessories, including one of the best weighted blankets around).
How good is the Nectar mattress?
The Nectar Original mattress is a no-nonsense memory foam mattress comprising of three layers of foam. The first layer is polyurethane foam, which offers different levels of tailored support. Then there's a layer of cushioning memory foam, which moulds to your body shape. Finally, on top sits a 'Nectar smart layer' – which the company says is 30 times more breathable than regular memory foam. The Nectar is exceptionally comfortable and supportive. In fact there's not a whole lot separating it from our #1 memory foam mattress – check out our Emma Original vs Nectar mattress comparison for more on that.
The Nectar mattress is medium-firm, making it a good match for anyone who moves around a lot, or likes to sleep on their back, side or stomach. Nectar is certainly confident that you're going to love the mattress. The company has shunned the usual 100-night trial – instead offering an almighty 365-night trial period. Plus, you benefit from a 'forever' warranty, unlike the 10-year guarantee from other bed-in-a-box brands.
Which Nectar mattress should I buy?
Not sure which Nectar mattress is right for you? If you're visiting from the UK, it's simple: there's only one Nectar mattress, the Nectar Memory Foam mattress.
In the US, you have a few choices available. Alongside the Original (which is the US bestseller), there's the Nectar Premier (the highest rated) and Nectar Premier Copper (the most advanced mattress. All three offer the same firmness (6.5 out of 10) but as you move up the range the mattresses offer improved pressure relief, better cooling, and decreased motion transfer. They also get thicker (12", 13" and 14" respectively) and, as you'd expect, more expensive. Check out a full comparison here.
How much does a Nectar mattress cost?
At full price, the Nectar mattress is at the lower end of the high-end mattress market. In 2022, in the UK, RRP prices for the Nectar original start at £569 for a Single. A Double is £749, a King costs £819 and a Super King will set you back £929.
However, we've literally never seen these mattresses selling at RRP. If we were cynical, we'd say it was so Nectar could bandy about phrases like '40% off!' more freely. A typical price you might expect is a Single for around £459, Double £599, King £689, Super King £759. Less than that, and you're getting a pretty good deal.
It's a similar situation in the US: there's an official MSRP, but we don't ever really see any of these mattresses sold at anywhere near that price. The official MSRP also seems to shift around a bit. In short, it's all a bit sneaky and misleading – we'd recommend just looking at the current price and comparing that to the competition, rather than reading too much into the discounts.
Nectar Original
Twin: $359 (MSRP $899)
Twin XL: $629 (MSRP $1,249)
Full: $669 (MSRP $1,399)
Queen: $779 (MSRP $1,549)
King / Cal King: $999 (MSRP $1,849)
Split King: $1,258 (MSRP $2,498)
Nectar Premier Memory Foam mattress
Twin: $779 (MSRP $1,349)
Twin XL: $899 (MSRP $1,599)
Full: $999 (MSRP $1,849)
Queen: $1,099 (MSRP $1,999)
King / Cal King: $1,349 (MSRP $2,299)
Split King: $1,798 (MSRP $3,198)
Premier Copper mattress
Twin: $1,099 (MSRP $1,799)
Twin XL: $1,199 (MSRP $2,049)
Full: $1,349 (MSRP $2,299)
Queen: $1,449 (MSRP $2,449)
King / Cal King: $1,649 (MSRP $2,749)
Split King: $2,398 (MSRP $4,098)
When making your purchasing decision, factor in the value of the extras you get with Nectar. Firstly, that impressive 'forever' guarantee means you have a guarantee for as long as you own the mattress: in the words of Nectar, 'forever means forever'.
Secondly, there's a 365 night trial, which matches the longest any company offers (and those that do offer this long a trial are very few and far between). Finally, there are very regular deals and sales that either drop the price or bundle in sleep accessories for free, to help you save. This is the page to bookmark for any Nectar mattress discount codes and deals.
Nectar mattress sales, deals & discount codes
We've shown you today's cheapest Nectar prices – but there are other ways to bag a Nectar mattress discount too. Plenty of retailers run Nectar mattress sales throughout the year; or, if you sign up to Nectar's ambassador program, you can earn up to £100 per every sale you refer.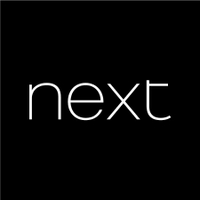 Next: shop Nectar mattresses at Next
Next has Nectar Mattresses in all sizes, and delivery is just £3.99. Whilst there are no current deals on Nectar mattresses, you can find plenty of discount codes for the site. Head to Next and sign up for VIP access so you can get the inside track on when the online sales are going to be held. You'll also be allocated a slot to shop the bargains 24 hours before anyone else.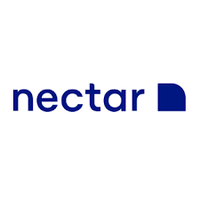 Nectar: Earn up to £100 per sale by becoming an ambassador
Sign up to Nectar's ambassador program and you can earn up to £100 per every sale you refer. Of course, it's not for everyone, but if you like the mattress and tell people about it, your commission will quickly add up.
More Nectar sleep products
Nectar doesn't just make excellent, award-winning mattresses, but also a variety of other products to help you get the best night's sleep ever. From pillows to duvets and bed frames, whatever you need to give your bed the ultimate upgrade, you can find it from Nectar. These Nectar accessories are only available on the Nectar Sleep website, so you know that you'll be getting the best price when you order from them direct.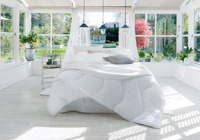 Nectar duvet | From £70 / From $149 $75
The UK Nectar Duvet is an all-season, 10.5 tog duvet that blends Smartfil technology with a special ingredient called Modal that helps keep it cool in the summer and warm in the winter. In the US, the 'Hit the Hay' duvet boast a 300 thread-count cotton cover and a temperature-regulating, clump-resistant lightweight microfibre fill. Head to our best duvet guide for more options.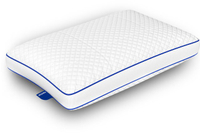 Nectar memory foam pillows | From $75 / From £70 for 2
Nectar has a range of pillows to choose from, most with a quilted cover made from cooling fabric, a breathable mesh border, and a supportive, moldable memory foam inner. Head to our best pillow guide for some alternatives.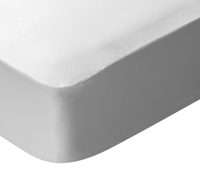 Nectar mattress protector: From £50 / $99 any size
If you want to improve the life-span of your mattress, then investing in a mattress protector can help keep your Nectar mattress clean and protect it against wear and tear. Both are made from soft, breathable fabric, and the US one is even waterproof. Check out more best mattress protector options.
Nectar Black Friday deals: what you need to know
The Black Friday sales can be a great time to pick up a new mattress for a bargain price. All the big mattress brands run some kind of Black Friday offer, so you can be confident you'll be able to snap up a cheap deal. However, with discounts and deals being such a common occurrence in the mattress world, it's not always the case that you'll get the biggest offer of the year over Black Friday.
In the US for Black Friday 2021, Nectar knocked $100 off mattresses and threw in a $399 accessory bundle. It's not exactly a standout deal – the free accessory bundle is pretty much a constant, and the discount is less common but still far from rare.
In the UK for 2021, Nectar launched its early access Black Friday deal near the start of November. That offer knocked 45% off any mattress (so a Single was £312.95, a Double £411.95, a King £450.45 and a Super King £510.95). This was followed up with an extended Cyber Week sale, which ran until 5 December and was effectively just the same accessories bundle deal we see all the time.
In 2020, Nectar offered a T3 UK exclusive of £135 off mattresses and 2 free pillows, which has since been bettered a few times.
In the US, Black Friday 2020 saw price drops across the range, plus free sleep accessories thrown in (that year, a Queen sized Nectar memory foam mattress dropped to $799). For Black Friday 2019, US shoppers could get $100 off mattresses, plus two free memory foam pillows (worth $150).
In short, Black Friday and Cyber Monday aren't exactly a big deal for Nectar; you can expect to see equally good offers all year round.