If you're looking to score an Eve mattress deal, now might be a good time to buy. We've been consistently impressed with these mattresses when we've tested them out, but the company is currently up for sale, so the future's looking a bit uncertain. Right now, the Eve sale is in full swing, with up to 50% off the Original, Lighter and Premium Hybrid mattresses.
We think Eve makes some of the best mattresses around – head to our Eve Original Hybrid mattress review, Eve Original mattress review, Eve Lighter mattress review and Eve Premium Hybrid mattress review and you'll see none scored under four stars. A nice feature is that all the models are available in memory foam-only or springs-and-foam variants.
You've also got a full year's trial period, from the day your mattress gets delivered, to make sure you love it. Eve recommends you give it at least 30 days to make your decision, to give you time for your body to adjust.
When it comes to Eve mattress discount codes and deals, this brand typically only discounts one or two of its models at a time, as is the case right now. That means if you spot a price drop on the model you want, you should probably snap it up, or you could end up waiting a while for the next discount. See how the Eve sale compares to what other brands are doing in our cheap mattress deals roundup.
Note: As of October 2022, Eve Sleep has gone into administration, so mattresses and other sleep products from Eve will no longer be available in the near future. However, third party retailers like Amazon may still have Eve mattresses for sale, so it's best to look there for any Eve mattress deals.
Best Eve mattress deals 2023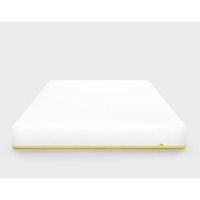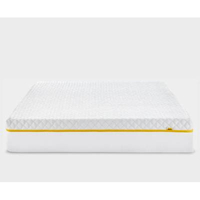 Eve Premium Foam mattress (Double): was £999, now £499 at Eve
The Eve Premium Foam Mattress is insanely comfortable with 5 layers of luxury foam that's ultra breathable and has contour zones to hug the body.
Which Eve mattress is best?
Eve has a number of mattresses to choose between. The cheapest full-size Eve mattress is the Eve Light; the popular Eve Original memory foam mattress sits in the middle of the range, and at the top end is the luxurious Premium (head to our Eve Premium Hybrid review for our thoughts on that model). And if you prefer a bit more bounce, all versions are available as a hybrid, with an added layer of pocket springs.
If all you need is a spare mattress for the occasional guest, Eve now sells the new Sleep Away Mattress, a slightly-smaller-than-a-single option that can be rolled up and packed away for when it's needed. And if you're really on a budget, we also absolutely love the Eve mattress topper, which is a great option for giving a tired old mattress a new lease of life.
Here's a quick run-down of the different options, and you'll find more of today's best Eve mattress discounts below.
How good is an Eve mattress?
Eve mattresses are very good – and they've got a stack of industry awards to prove it. As mentioned, the company makes five different types from its UK-based factory, all of which are designed to support you while you sleep, relieving pressure while providing luxurious foam-based cushioning. (Even the hybrids, which have layers of foam and memory foam on top of the springs.)
Eve mattresses have been designed to suit every type of sleeper – whether you prefer lying on your back side or stomach. And their memory foam layers are, says Eve, 30 times more breathable to help keep you cool. Motion transfer is negligible, too, so you're less likely to notice a restless partner tossing and turning.
They also come with a handy washable and moisture-wicking cover for extra comfort. It has silver strands woven into it that'll keep it clean and fresh for longer. For extra cleanliness, you could also pop on a mattress protector – Eve has three to choose from. Check out our Eve Temperature Balancing mattress protector review to find out what we thought of the priciest option.
How much does an Eve mattress cost?
With six main models available, there should be an Eve mattress to suit your budget, and now thanks to the 20% sale, each mattress Eve make is retailing at a lower than usual price point.
At the top of the range, the Eve Premium mattress starts with an RRP of £948 for a double, £1,096 for a king and £1,256 for a super king. The Eve Premium Hybrid doesn't come in a single mattress size. It starts at £978 for a double, £1,128 for a king and £1,247 for a super king.
Next, the Eve Original costs £419 (single), £618 (small double), £652 (double), £759 (king) and £848 (super king). The Eve Hybrid is priced at £462 (single), £699 (double), £819 (king) and £918 (super king).
The Eve Lighter comes in at £348 (single), £475 (double), £567 (king) and £649 (super king), while the Eve Lighter Hybrid costs £419 (single), £568 (double), £658 (king) and £749 (super king).
Finally there's the Sleep Away mattress that's priced at £179 and slightly narrower than a single (75x190 cm), and the Eve Baby mattress, which comes in two sizes: Eve Baby cot mattress (£149) and the Eve Cot mattress (£169).
Eve mattress Black Friday deal: what you need to know
For the 2021 event, the early Eve Black Friday sale went live around a fortnight before the the official big day (26 November). We were pleased to see discounts across the full range, with 20% off the Premium models, 30% off the Originals, and 35% off the Lighter mattresses.
The 'official' Black Friday sale didn't go live until 25 November 2021, the day before Black Friday, making it the last mattress brand to pull the trigger. Discounts, however, aren't hugely different from the early access sale – there was still 20% off Premium and 30% off Originals, but the price drop on the Lighter range increased to 40% off.
In the Eve Black Friday 2021 sale, the Original mattress pricing was as follows, with 30% off all sizes: single £300 (usually £429), double £488 (usually £699), king £559 (was £799).
Rewind to last year's event, and Eve teased us for ages with meagre 15% discounts, before unleashing its Black Friday sale on Thursday 26 (with Black Friday the following day). The 2020 Eve Black Friday deal delivered discounts across the full range, with the biggest discount on the cheapest Lighter range (35% off), 25% off the Originals, and 20% off the top-end Premiums. This offer ran until a couple of days after Cyber Monday.
Although most Eve mattress deals throughout the year apply to just one mattress line, we typically see a blanket offer across the range over Black Friday. In 2019, Eve knocked 20% off all its mattresses and bedding. In 2018, Eve cut £120 off the price of its mattresses. But we've since seen a few better deals (up to 35% off) from Eve, albeit typically only on one or two mattresses at a time. The lesson here is that if the mattress you want is on offer ahead of Black Friday, it's probably worth just buying it then and there.
It's also worth looking outside of Eve to third-party retailers: the best Eve mattress discount in 2018 came via Amazon, where the price was cut by up to 40%. We'll be reporting on all deals, from Eve and elsewhere, on this page.
Eve doesn't seem worried about matching the bigger discounts offered by competitor brands (the best Emma mattress discounts and Simba mattress deals can knock 45% or even more off, for example). But it's a cutthroat market, so there's certainly scope for the price cuts this year to be a little bigger.
Do Eve mattresses get an Amazon Prime Day deal?
At time of writing, Eve has an Amazon store, but with everything in it showing as currently unavailable, we suspect its heart isn't really in it. So to find the best Eve mattress discounts, you're going to have to go directly to the Eve site and buy from there.
For Prime Day 2021 and 2022, no discounts appeared on the Eve Amazon store. The offer on the brand website wasn't especially remarkable, in the context of what Eve offers throughout the year – 30% off the Originals – so we'd conclude that Prime Day isn't a big deal for Eve.
How to get the biggest Eve mattress discount
The mattress business is incredibly competitive, which means there's almost always a way to cut a healthy chunk off the bottom line, whether it's via coupons and promo codes or through a direct discount from Eve.
There are several times of year where you're likely to see the best Eve mattress discounts. Black Friday and Cyber Monday, at the end of November, are traditionally times to make the biggest savings, as are Christmas, winter and January sales.
But we've increasingly been seeing offers of a similar calibre throughout the year – particularly in February and March (as retailers start to sell-off the previous year's stock), and also on Amazon Prime Day (usually in July, but this year October 13-14) and in August, during the summer sales.
Eve mattress previous prices
Because RRP on mattresses can shift, it's helpful to look at the actual price as well as the percentage discount. We'll be keeping this updated with the discounted price and RRP of the Eve Original, Double size, as an example.
August 2022: Double was £685, now £343
July 2022: Double was £685, now £343
April 2022: Double was £652, now £424
Expired Eve mattress deals
Here's a quick look at the deals you've missed, so you can get a better idea of the kinds of discounts you can expect from Eve.
Expired Eve deals and discount codes:
Aug 2022: 50% off the Original and Premium, 45% off the Lighter Hybrid, 40% off the Original Hybrid, 35% off the Lighter
July 2022: 50% off the Original, 45% off the Lighter Hybrid, 40% off the Premium, Premium Hybrid and Original Hybrid, 35% off the Lighter
June 2022: 50% off the Eve Original Hybrid and Eve Premium Hybrid
May 2022: 45% off the Eve Original
April 2022: 35% off Originals
March 2022: 45% off Lighter models, 35% off Originals, 25% off Premium
February 2022: 25% off the Premium Hybrid, and 35% off the Original Hybrid
December 2021: up to 35% off the Eve Lighter mattresses
Black Friday 2021: up to 40% off the full range
Early November 2021: Up to 30% off the Eve Hybrid mattresses
Late October 2021: Up to 30% off the Eve Original mattresses
Early October 2021: Up to 30% off the Eve Hybrid mattresses
September 2021: Up to 35% off the full mattress range at Eve
July 2021: 30% off the Eve Original (foam or hybrid version) at Eve
June 2021: £50 off when you spend £250 at Eve
May 20201: 20% off when you spend £500 at Eve with discount code MORNINGGLORY
April 2021: 20% off when you spend £450, with discount code TREAT20
March 2021: 30% off the Original, 35% off Lighter and 20% off Premium Hybrid
Feb 2021: 25% off a mattress + bed frame, with the discount code NEWBED25
Late Jan 2021: Up to £273 off the Eve Lighter and Original mattresses
Early Jan 2021: Up to £252 off the Eve Premium and Premium Hybrid
Black Friday 2020: Up to 35% off all mattresses at Eve
November 2020: 15% off everything at Eve
October 2020: 30% off the Eve Original and Original Hybrid
September 2020: 35% off the Original and Light Eve mattresses
July 2020: 20% off the Eve Premium Hybrid
June 2020: 30% off the Eve Hybrid