Looking to save some cash on your new OTTY mattress? You're in luck. This article is dedicated to bringing you the best OTTY deals and offers, whenever you decide to shop. And right now, there's up to 50% off the full mattress range in the OTTY Sleeptember sale.
OTTY regularly offers decent discounts, but how much you'll save typically depends on the model you buy, with the biggest discounts on the cheapest models. The brand has bucked the trend with this sale, in which absolutely everything is half price. We're pretty sure that means the mattresses are all at their lowest price ever.
Choose between our favourite OTTY Pure Hybrid, with bamboo and charcoal memory foam, the range-topping Pure Plus Hybrid, the OTTY Original Hybrid, or the wallet-friendly OTTY Aura. You don't need an OTTY discount code to claim these price drops as they're applied automatically.
These are among the best mattresses you can buy, so this sale is well worth a look. If you haven't fully decided on which mattress you want, our roundup of the best cheap mattress deals pages will show you what other brands are doing.
Best Otty mattress deals 2023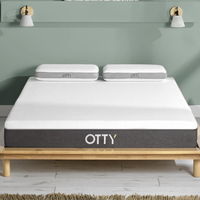 OTTY Pure Hybrid (Double): £1,149.99, £632.49 at OTTY
Up to 50% off! The OTTY Pure is made using a pioneering memory foam made with bamboo and charcoal, which is designed to be antibacterial, odour-eliminating, temperature-regulating and moisture-wicking.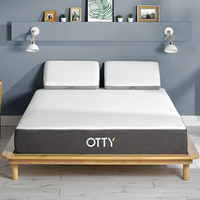 OTTY Original Hybrid (Double): £1,049.99, £577.49 at OTTY
Up to 50% off! The original OTTY Hybrid combines 2,000 pocket springs with three layers of foam giving you a luxurious feel without the luxury price tag, as our OTTY Hybrid review attests.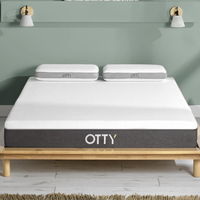 OTTY Aura Hybrid (Double): £749.99, £399.99 at OTTY
Up to 50% off! The Aura might be OTTY's budget offering, but it's not basic. There's temperature-regulating memory foam, a washable and removable cover, 1000 16cm pocket springs, and airflow-promoting side support.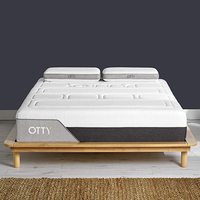 OTTY Pure Plus Hybrid (Double): £1,499.99, £824.99 at Otty
Up to 50% off! The souped-up version of the OTTY Pure is made using a the same pioneering bamboo and charcoal memory foam, but also 4000 pocket springs for the ultimate and comfort and support. It's also a luxuriously deep at 28cm mattress.
Which OTTY mattress should I buy?
OTTY has four different mattresses to choose from. There's the OTTY Hybrid mattress, which has 2,000 supportive pocket springs and three layers of cushioning foam (head to our OTTY Hybrid mattress review for more on this). It's very reasonably priced, but for something cheaper you could opt for the OTTY Aura Hybrid, its more affordable sibling.
There are also a couple of pricier Pure mattresses, which are made with bamboo foam with charcoal-infused layers. This is designed to be antibacterial, odour-eliminating, moisture absorbing and temperature-regulating. The Pure is the more affordable of the two (find out what we thought in our OTTY Pure mattress review), while the Pure+ has a more complicated design and an extra layer of springs.
Find out how OTTY compares to other well-known brands:
OTTY's award-winning Hybrid mattress delivers both comfort and support thanks to a mix of pocket springs and memory foam. Its top foam section combines temperature-regulating memory foam and high density support foam, while underneath that there's a layer of 2,000 encapsulated 16cm pocket springs.
Airflow side support gives you an edge-to-edge sleeping surface while keeping the temperature regulated, and a high density layer of base foam gives the whole mattress a solid foundation. It's rated as medium-firm, which might be a little too firm for some, but with OTTY's 100-night trial you'll have plenty of time to figure out if this mattress is right for you.
The latest OTTY mattress replaces the old Essential Hybrid, and and is OTTY's most affordable spring and foam mattress. The Aura Hybrid uses a 70/30 combination of springs and foam, using 1,000 of OTTY's 16cm pocket springs and laid out in a similar configuration to that of the OTTY Hybrid. Like the Hybrid, the Aura's rated as medium-firm, but OTTY notes that it's slightly softer than its original mattress range, so if you've previously found OTTY mattresses to be a little too firm for your liking, the new Aura might be more to your taste. Again, you can take up to 100 nights to decide whether this one's a good match for your sleep preferences.
Next in the OTTY range is the luxurious Pure Hybrid Bamboo & Charcoal mattress, which is crammed with advanced features to give you an outstanding night's sleep. It's the UK's first mattress to feature bamboo memory foam layer infused with charcoal, and it's antibacterial, eliminates odours, wicks away moisture, and regulates temperature.
Its embroidered top layer is also infused with charcoal, and its spring layer contains up to 2,000 16cm pocket springs give the mattress its medium firm rating, bring you the maximum support while minimising motion transfer. OTTY finds the comfort level to be just right, but as with its other mattresses you can take up to 100 nights to decide whether you feel the same way.
If you're tempted by the OTTY Pure but find yourself wondering if maybe you could get something with even more springs, you're in luck. The latest addition to the OTTY range is its most high-end mattress yet, the seven-layered Pure Plus, and it's all about the extra springs. While the Pure has a single layer of 16cm springs, the Pure Plus boasts two layers: an upper layer consisting of up to 2,000 8cm springs to minimise motion transfer, and a second set of 2,00 high-tensile springs just above the base layer to bring added support to the mattress core.
That's a lot of springs; you also get a memory foam quilted cover on top of the same bamboo memory foam layer that you'll find in the standard Pure. It's a high-end mattress at a high-end price, but with a 100-night trial period you'll have plenty of time to decide whether you've invested wisely.
Otty Black Friday deals: what you need to know
In 2021, Otty launched what it called its Black Friday sale right at the start of November, making it the first mattress brand to pull the trigger. The deal saw discounts of up to 50% off all four mattresses in the range, with the exact drop varying depending on the size and model (not to toot our own horn, but it's exactly what we predicted from this brand).
However, the percentage discounts changed as the month went on, under the same headline ('Black Friday sale: up to 50% off the full range') . At the start of the month, it was only the Single versions of three of the mattresses that were half price, with larger sizes between 40% or 45% off.
The week before Black Friday, there was 50% off the Otty Aura (already the cheapest of the range), 45% off the Otty Pure and Pure Plus, and 40% off the Otty Original (the Singles stayed around 50% off, they didn't go up). This pricing continued on to Black Friday itself.
This was the official Black Friday 2021 pricing:
In 2020, the headline offer was slightly lower – up to 45% off the full range – with the biggest price drop being again on the Aura. However, the RRPs have increased, which means in reality you're paying slightly more.
That year, the brand took a phased approach. In early November, OTTY offered up to 35% off its mattresses. In mid November the official Black Friday sale was unleashed, with up to 45% off the Aura, up to 35% off the Pure and up to 25% off the Original Hybrid. The deal remained live until a few days after Cyber Monday, so you had plenty of time to claim.
This deal was bettered in June 2021 (over Prime Day on 21-22 Jun, although on OTTY's own site rather than via Amazon), when OTTY launched a 48-hour Flash Sale that knocked up to 50% off the Aura, 35% off the Original, 30% off the Pure and 25% off the Pure Plus.
We've only seen Otty drop its prices by up to 50% once before in all of 2021; in August, for the brand's Birthday celebrations. We see up to 35% off fairly regularly, and occasionally as high as up to 45% off.
Although the mattress lineup changed a fair bit so it's tricky to do an exact comparison, it's fair to say the 2020 deals were better than what we saw in 2019, too. For Black Friday 2019, Otty knocked £150 off the OTTY Hybrid (all sizes except single), and 35% off the OTTY Flex memory foam mattress. You could also save up to £500 on OTTY bundles.
Rewind to 2018, and some of the best Black Friday and Cyber Monday OTTY mattress deals knocked just £50 off the price of the brand's Hybrid and Essential mattresses.
To see how the Otty sale compares to what other brands are doing, head to our best cheap mattress deals guide.
Does OTTY do Amazon Prime Day deals?
While OTTY has an Amazon store, most discounts come from the brand direct. Amazon Prime Day 2021 didn't bring with it any OTTY mattress discounts on Amazon, but it did coincide with a 48-hour flash sale on OTTY.com, where there was up to 50% off the full range. We're not quite sure if this was designed to coincide with the Prime Day event (21-22 June), but it seems likely.
In 2020, there was up to 35% off mattresses at OTTY.com, but no deals of note at Amazon. That's a decent offer but not an especially remarkable offer in the context of the price drops we see from OTTY over the course of the year.
How good is the OTTY Hybrid mattress?
We rate the OTTY Hybrid as one of the best mattresses you can buy – you'll find it inside our best mattress guide. It's extremely comfortable, with excellent support and great temperature regulation to stop you becoming too hot at night. However, what really sets it apart is its price, which is lower than that of competing bed in a box mattresses like the Emma mattress, Simba Hybrid Original and Nectar.
The OTTY Hybrid has a moderately firm feel, combining a supportive core of 2,000 pocket springs with a squishy upper layer that sleeps impressively cool in hot weather. If you like medium-firm support, are shopping on a sensible budget and want a mattress with foam that won't slowly cook you at night, it's a great buy.
How much does an OTTY Hybrid mattress cost?
The OTTY Hybrid has a lower price than comparable hybrid mattresses like the Simba and Casper Hybrid. It costs £379.99 for a single, £549.99 for a double, £649.99 for a king and £749.99 for a super king.
However, OTTY and its stockists frequently run OTTY mattress deals and discounts that make the Hybrid and other OTTY sleep products even more reasonably priced. These run all year-round, particularly over Black Friday and Cyber Monday (more on that below), and after Christmas.
More OTTY sleep products
If you can't get enough of OTTY's unique brand of affordable luxury, you'll be happy to hear there's a small-but-comfortably-formed range of companion products to go with (or without) the Hybrid mattress, including some superb memory foam pillows, and a smart, contemporary bed frame in a range of sizes.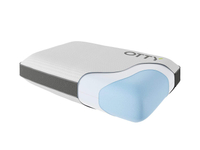 OTTY Deluxe pillow | £54.99 at OTTY
Whereas OTTY is at the more affordable end of the high-quality mattress market, it's more of a luxury brand when it comes to pillows. This one, the OTTY Deluxe, pulls out all the stops, with a hypo-allergenic removable cover, three-year guarantee, and the same temperature-regulating memory foam that makes the OTTY Hybrid mattress great.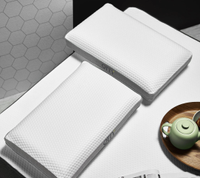 OTTY Deluxe Pure pillow | £64.99 at OTTY
To accompany its Pure mattress, OTTY has released a bamboo pillow that uses the same materials. As well as sustainable bamboo, this pillow harnesses the antibacterial properties of charcoal. The result is an odour-eliminating, excess moisture-absorbing, and temperature-regulating wonder.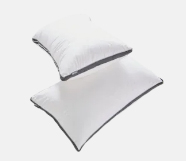 OTTY Adjustable pillow | £84.99 at OTTY
Here's an intriguing option for people who sometimes struggle to get comfy on their pillow. True to its name, the OTTY Adjustable pillow has adjustable memory foam fillings, which allow the user to change the height of the pillow from the bed. Topped off with a cover made of duck down and Egyptian cotton, this is every inch the high-end pillow you'd expect at this premium price-point.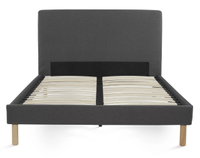 OTTY bed frame | From £349.99 at OTTY
Echoing the contemporary style of the OTTY Hybrid mattress, the OTTY bed frame could be the ideal foundation for your lovely new bed. At first glance, its standout features are its eco-friendly rubber-wood legs and its expansive, wool-blend coated headboard. Over time, you may come to appreciate its slats even more: they're enhanced with metal cores to make the bed sturdier and more supportive.
When else can I bag the best OTTY mattress deals?
There are a number of times throughout the year that we expect to see particularly good OTTY mattress discounts. The Boxing Day and January sales are two such times.
However, we've seen OTTY mattress deals in March, for example, which not only is the UK National Sleep Month, but it's also the time of year many retailers are looking to clear older stock. Amazon Prime Day (usually in July, but Amazon Prime Day 2020 has been pushed right back) is also a good time to look out for a price drop. In general, there's usually a cheap OTTY mattress deal around – and you'll find the best ones on this page.
OTTY mattress price history
Because RRP can shift, it's helpful to look at the OTTY price history to see if you're actually getting a good deal, rather than just the percentage discount. We'll be adding to this record each month so you can get an idea of how the price changes, and what's a good price to shoot for.
Otty Original Hybrid Double size
August 2022: £539.99
July 2022: £449.99
April 2022: £519.99
Otty Aura Hybrid Double size:
August 2022: £349.99
July 2022: £349.99
April 2022: £384.99
Otty Pure Hybrid mattress Double size:
August 2022: £499.99
July 2022: £449.99
April 2022: £584.99
Otty Pure Plus Double size:
August 2022: £719.99
July 2022: £599.99
April 2022: £719.99
Expired OTTY deals
To help you get an idea of the kinds of deals you can expect at OTTY, here's a look at the offers you've missed.
April 2022: 45% off Aura, 35% off Original, 35% off Pure, 40% off Pure Plus
March 2022: 50% off Aura, 40% off Original, 50% off Pure+, 35% off Pure
February 2022: 50% off Aura, 40% off Original, 50% off Pure+, 35% off Pure
January 2022: 50% off Aura, 40% off Original, 35% off Pure, 50% off Pure Plus
Black Friday 2021: 45% off Pure, 50% off Aura, 40% off Original, 45% off Pure Plus
September 2021: Get up to 35% off mattresses at OTTY
August 2021: Up to 50% off mattresses in the OTTY Birthday Sale
July 2021: Up to 45% off mattresses in the Summer Sale
Amazon Prime Day 2021: 48-hour flash sale at OTTY, 50% off the Aura, discounts across the range
June 2021: Bank Holiday Sale – up to 45% the full range
May 2021: Up to 40% off mattresses at OTTY
April 2021: Up to 35% off mattresses at OTTY
March 2021: Up to 30% off all models except the OTTY Pure
Feb 2021: Up to £150 off the Original and Pure Plus at OTTY
January 2021: Up to 35% off all mattresses at OTTY
December 2020: Up to £150 off the Aura + 2 free pillows, free bedding with Pure or Hybrid Original
Black Friday 2020: Up to 45% off the full range
November 2020: Up to 35% off the Essential Hybrid (now discontinued), up to 25% off the Original
October 2020: Up to 25% off the full range
September 2020: Up to £250 off mattresses at OTTY
June 2020: Knock up to £200 off the OTTY Hybrid original