Roll up, roll up, for the biggest tech show in (any town) - if you love gadgets, then you'll love the Consumer Electronics Show (CES), which happens every January in Las Vegas, Nevada, USA. This year the show is already looking like it is going to be the busiest one yet, with a plethora of hot new tech already unveiled (see below), and more dropping literally every hour.
Samsung, Google, LG, Sony, HTC and more have already started unveiling their new products and, as the CES 2018 show hits its stride throughout this week, you can expect a hell of a lot more too.
So, for all the rest of information about the show, including the big stories so far, what CES is, who is in attendance, and what new technology you should expect, read on.
CES 2018: big stories so far
SteelSeries has announced the Rival 600 gaming mouse at CES 2018 which, thanks to a dedicated second sensor, allows gamers to control its lift-off distance and therefore attain greater accuracy during play. Lift-off can be shifted down to just 0.5mm.
Dell has revealed a new edition of its XPS 15 2-in-1 laptop at CES 2018 which, asides from seeing some tasty spec bumps over last year's model, also features a "maglev keyboard", which sees button feedback handled by magnets.
Google, at CES 2018, has shown off its latest VR180 camera format along with a host of hardware that can capture it. The future of photo and video may not be 360 degree but 180 instead.
Oh look, it's the first standalone Daydream VR headset, the Lenovo Mirage Solo. With top-notch specs and on-board motion tracking, this should be worth looking out for when it goes on sale later this year.
Esteemed Japanese headphone vendor Audio Technica has 5 new pairs of wireless headphones to show off including an in-ear pair it is describing as 'best in class', with 'crystal clear and natural audio performance, revealing a level of detail and clarity never heard before over a wireless connection.'
Big words, my friends. Big words.
Also on offer: sporty ones, noise-cancelling ones, affordable ones.
Razer has revealed some really interesting new mouse tech. Razer HyperFlux Wireless Technology allows for gaming mice to be both cordless and batteryless and still function fully, with a HyperFlux mouse mat supplying constant, uninterrupted power.
HTC has revealed the Vive Pro VR headset, as well as a HTC Vive wireless adaptor. The Vive Pro is a HMD upgrade that offers a higher resolution VR experience, as well as better audio and a redesigned headband.
The AirSelfie 2 drone is one of many we're seeing at this year's CES. It offers better battery life, an upgraded camera, and more on-board storage that its predecessor, which was originally funded on Kickstarter.
Wrap your eyes (and ears) around this short-throw 4K projector from Sony: built into a cabinet you can place just inches from the wall, it can cast a 120-inch image on the wall, with top-notch audio too. All yours for a mere $30,000 (about £22,175).
Jabra Elite Active 65t offers 5 hours battery life per charge, IP56 sweat, water and dust resistance guaranteed for 2 years, a secure fit so they stay in during your workouts, and an accelerometer for counting reps via the Jabra app. It'll be available in sporty Copper Blue and Copper Red tones, from early April, priced £170.
Jabra already makes the best true wireless earbuds for runners, the Elite Sport. These are more affordable and hopefully more comfortable, although they do lose the highly impressive cardio tracking of those true wireless buds.
Also incoming: Elite 65t, which is the same but more for day-to-day wear, lacking the motion sensors and enhanced fit of the Active version. It will be available in Titanium Black, Copper Black and the excellent-sounding 'Gold Beige' for £150, from later this month.
The Asus ZenFone Max Plus is here and it comes packing a massive 4,130mAh battery. That means, according to Asus, users can browse the web for 21 hours straight, or enjoy 13 hours of non-stop video playback between charges.
Asus has revealed a new version of its ZenBook 13 Windows 10 laptop. Revealed during CES 2018, the system is notable due to its super light weight of just 985 grams, as well as its lengthy 15-hour batter life.
Garmin's Forerunner 645 Music combines advanced running and fitness tracking, an integrated music player, Garmin Pay contactless payments (although that's not really rolled out in the UK yet) and a soupçon of techy style. At £399.99, it's like the Fitbit Ionic for hardcore runners.
JBL announced the addition of Google Assistant to its ever-popular-according-to-JBL Everest over-ear and in-ear cans. Despite being able to get voice control and all the information IN THE WORLD beamed to your ears, battery life is still a creditable 24 hours (over-ears) and 8 hours (in-ears).
Oh, and JBL also unveiled all these portable Bluetooth speakers, in a choice of 'small and boxy', 'small and clippy' and 'large and rugged'.
Look no further than the HP Spectre 15 x360 at CES if you're after a powerhouse of a convertible laptop: the upgraded device boasts the latest Intel chips, improved graphics, and an integrated fingerprint reader.
Panasonic has unveiled two new television sets, the FZ950 and FZ800. Both TVs have been specifically designed for watching Hollywood movies and feature a state-of-the-art HCX imaging processor.
Sony has three new smartphones to tempt you to part with your money: we're not expecting to see many mobiles get launched at CES, but the XA2, XA2 Ultra, and L2 mid-ranges match decent specs with some excellent cameras.
LG has unveiled a new range of smart, connected kitchen appliances at CES 2018, including a state-of-the-art Alexa-enabled fridge equipped with a massive 29-inch LCD touch screen.
Samsung has unveiled a monster 146-inch TV called The Wall to CES 2018, claiming that it is the future of TV. The set uses a new type of panel technology called microLED that is supposedly superior to OLED.
This 65-inch flexible TV from LG is leading the TV charge at CES this year, and is able to roll up into its base unit. For now it's still a prototype , but it's an improvement over the 18-inch version that LG demoed in 2014.
Speaking of expensive wearable headsets, Vuzix is reportedly bringing an Alexa-enabled pair of AR glasses to CES. The smart specs will go on sale at a price of around $1,000 (about £735), so start saving now.
Is that a smartwatch with analogue hands from Swiss firm MyKronoz? Yes, yes it is - and the ZeTime and ZeTime Petite will both be on show at CES 2018. The mechanical hands actually mean a big boost in battery life so we're looking forward to checking these out.
LG has unveiled a super portable, 4K projector that is to be shown off at CES 2018. The LG HU80KA delivers an eye-squinting 2,500 lumens of brightness and allows its owner to project a 150-inch screen on any wall.
Samsung has unveiled the world's first curved QLED monitor with Thunuderbolt 3 connectivity. The CJ791 has a 21:9 aspect ration, measures in at 34 inches, and has a resolution of 3,440 x 1,440.
LG has announced a range of new ThinQ televisions, with each coming loaded with Google Assistant built in. That means that owners will be able to voice control the system, and their surrounding smart home, through the television.
Details of a new type of Samsung device with a rollable display have surfaced in a patent. The device in question features a QLED screen that can be rolled out of a storage unit for use, before then been rolled up again.
Lenovo has revealed a series of new ThinkPad notebooks in advance of CES 2018. All of the new systems are equipped with Intel's latest 8th-generation CPUs. The flagship device, the X380 Yoga, boasts a full 360-degree hinge.
Dell has shown off the new, 2018 edition of its celebrated XPS 13 laptop, one of the best systems on the market over the past three years, and after going hands on ourselves we can confirm it is something to get very excited about.
A video supposedly showing a leaked version of the upcoming Samsung Galaxy S9 Plus has been debunked. The handset, which looks like it is based on leaked S9 information, is likely a Chinese clone.
Rumours continue to hurtle around about Samsung's incoming Galaxy S9 flagship smartphone, including that it will use Samsung's brand new Exynos 9 Series 9810 processor, which has iPhone X Face ID-style functionality.
And what have we here? A trio of new Sony smartphones, if sources speaking to VentureBeat are to be believed. While the upgrades might not be huge, these could be some of the best phones of the show, so we'll be keeping our eyes peeled to see if they turn up.
Meanwhile Mad Catz is back in the gaming hardware market after going bankrupt, bringing three peripherals to CES 2018: a wireless version of its iconic RAT Air mouse, a Strike 4 keyboard, and a Freq 4 gaming headset.
These are three new concept robots from LG, which the firm will be showcasing in Las Vegas. Dubbed the CLOi range, they're designed to help you at hotels, in restaurants, and in supermarkets, though (as with a lot of CES tech) they won't appear on the market for a while yet.
What is CES?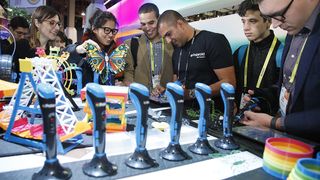 If you're completely new to CES, then you might be wondering what all the fuss is about, and why you should care one way or the other about what's going to happen at the turn of the year.
The Consumer Electronics Show has been running since 1967 - this year it marked its 50th anniversary - and it is exactly what its name suggests, a show to celebrate everything in consumer electronics, from fridges to VR headsets.
Think a bunch of huge trade halls, packed with booths run by the biggest names in tech, and keynote speeches where the same companies announce some of their flagship products for the coming year.
We're talking cars, televisions, robots, smart home gadgets, miniature computers, smart materials and just about anything else you can imagine. In a lot of ways, CES is the starting gun for the year in tech, giving a flavour of what's coming down the consumer electronics pipe in the following 12 months.
Last year we saw concept cars from Toyota, Chromebooks from Samsung, add-ons for the HTC Vive, cameras from Panasonic, speakers from LG, an electric vehicle or ten, and a new product line from Lego designed to help to teach kids to code.
That should give you some idea of what to expect when the 2018 event rolls around in January, and if you can't be in Las Vegas in person, T3.com will be the next best place to be - we'll bring you all the announcements as they happen.
Who are CES 2018's big exhibitors?
Google - Google looks set to have a massive presence at CES 2018, with a huge booth and eight hospitality suites to showcase its wares. Expect plenty of action around the Google Pixel 2, and Pixel 2 XL, as well as the Google Home Mini and Daydream View VR headset. We also know we're going to see Android Auto headsets that can work without wires.
Samsung - Samsung are always major players at CES, and this year is no different, with rumours circulating about the Samsung Galaxy X, the company's long-trailed bendable smartphone. And, on phones, Samsung might also drop a sneak peek of the Samsung Galaxy S9.
Sony - Sony are usually all about the AV at CES, so expect plenty of action in terms of audiophile headphones and turntables, as well as from its showcase Bravia TV range. Sony has a dedicated CES press conference as well at 5pm on Monday, January 8 at the Sony booth, so more will be revealed then - we might even see some smartphones, according to the rumours.
LG - LG tends to be king of TV reveals at CES, with the company demonstrating its thinnest OLED TV ever at CES 2017. As such, you should expect more crazy beautiful and thin TVs to be revealed at its January 8 press conference. Aside from TVs, we're also expecting home appliances and mobile advances from the company, and we've already seen a sneak peek of some of its audio gear and some new robot concepts.
Dell - Dell is all about computing at CES and, after already announcing its brand new Dell XP3 13 laptop for 2018, we're expecting plenty more news from one of the world's biggest PC makers. That news should include details of its Cinema Colour software, intended to bring a better movie-watching experience to its machines.
CES 2018: Televisions and audio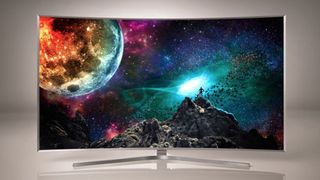 CES is always packed with TVs of every imaginable shape and size, so it's an event to watch if you're in the market for a new unit - 4K will definitely be dominating and we might even see some more ultra-expensive 8K televisions make an appearance.
Sony, Panasonic, Samsung and LG will all be in attendance, plus plenty of other set manufacturers, and you can expect plenty of buzz around the hottest tech upgrades of the day. In this case that's again likely to include High Dynamic Range (HDR) as well as audio tech such as Dolby Atmos.
Some of these TVs are likely to include software made by Roku, and considering the company is rumoured to be working on a smart assistant and voice control for its platform, we may well see some announcements in this direction at CES.
We're likely to see a plethora of TVs that will make their way to store shelves during the course of 2018. Sony is one manufacturer with a press show booked in, so stay tuned for updates.
CES 2018: VR and AR
Last year was another big year for virtual reality, augmented reality, and every other type of reality, and it looks like 2018 is following the trend.
We wouldn't expect to see any new products from the big names like HTC or Oculus at CES 2018 - unless one of them surprises us - but there'll be plenty of VR and AR gadgets on the show floor nonetheless.
We're hopeful that we might see a few more of the Windows 10 Mixed Reality headsets that Microsoft has already been showing off earlier this year, and no doubt there'll be some more mobile virtual reality headsets around that are powered by smartphones.
The Lenovo Mirage Solo goes one better, putting everything you need for a Daydream VR experience into one package, so you can leave your smartphone in your pocket. It goes on sale later this year.
Aside from that, there's likely to be a flood of VR and AR-related software - think apps, games, and all kinds of experiences for enhancing your dreary reality.
CES 2018: Smartphones
Mobile phones don't usually make many headlines at CES but there will be a few handsets floating around, albeit not any major new ones (you'll have to wait for Mobile World Congress for that). Qualcomm will be promoting its new Snapdragon 845 chip and no doubt the next-gen 5G technologies will be getting lots of hype too.
In other words we probably won't see the Samsung Galaxy S9 in Las Vegas... though we might catch a preview glimpse of the foldable Galaxy X. If we are going to see a flagship phone launch, then it might be the LG G7 (if that's what it's called) as LG looks to get ahead of everyone else, but we'd say it's very much an outside bet.
We'd expect all the major flagships bar the ones from Google and Apple to be on show, but it terms of new kit, it's going to be the lesser-known names launching phones in Las Vegas. One exception might be Sony, which is rumoured to be unveiling three new handsets at the event.
Huawei might have something to show off too - it has a press conference booked for 10pm UK time on 9 January (Tuesday), though it may involve 2-in-1s rather than phones.
CES 2018: Laptops and computing
Expect plenty of laptops and computing gear to be on show in Nevada from all the big names - Dell is one of the companies we're expecting to arrive with some new laptop models under its arm, having already announced a new XPS 13 refresh.
The likes of Samsung, Acer, Asus, HP, Razer might also have new gear to show off, and in a variety of form factors, as the flexibility of Windows 10 makes it easier for manufacturers to build 2-in-1s and tablet-laptop hybrids. Acer has already previewed some updated Windows 10 machines, while HP has announced two new Chromebooks ahead of the event as well.
If you're thinking of buying a Windows 10 laptop in the near future, maybe hold off until after the CES 2018 event, because the chances are there's going to be quite a few new models to pick through. Huawei is one company with a press conference booked in the schedule.
Don't forget computer accessories either, of which there will be many: Samsung has already announced a huge 34-inch curved panel, for example.
CES 2018: Smart home and future tech
You can expect a lot of smart home gear to make an appearance at CES 2018, from the likes of LG, Samsung and others. Google is being tipped to be more active at this year's event than it usually is, so expect a range of gear with Google Assistant embedded, plus perhaps some news around Daydream VR.
There's no doubt CES 2018 will be awash with smart speakers, and one of the biggest announcements of the show could be a smart speaker from Samsung with Bixby on board. Such a product is almost certainly in the pipeline, so we might see it in Las Vegas.
LG has announced a number of audio products that it'll be showing off, including several portable Bluetooth speakers and a new high-end sound bar to sit in front of your TV. Leading the pack will be the LG ThinQ Speaker, LG's very own version of the Google Home with Google Assistant on board.
Wearables should also be out in force again this year, as well as all those bizarre gadgets that make CES what it is - the niche gizmos that come out of nowhere. T3.com will be on the floor in Las Vegas during CES, and we'll bring you all the best tech as we find it.
What not to expect at CES 2018
CES isn't the be all and end all as far as electronics go though - you won't see any big product announcements from companies such as Apple, Google, and Microsoft, who tend to have their own separate shows throughout the year.
There are usually new phones at CES, just not very many. The majority of phone makers either launch their 2018 handsets separately (like Apple) or wait until Mobile World Congress (MWC), which happens a couple of months after CES in Barcelona.
The big web and software firms, such as Facebook, tend to veer clear of CES as well, so we won't be hearing about any major changes to the News Feed from this event.
Don't expect too many products you can actually go out and buy either, at least not straight away - CES is more often used to showcase technology that's going to be launching in the months ahead, or perhaps prototype tech that isn't fully developed yet.
Quite often gizmos at CES aren't ever launched, but the ideas are developed in a different way into something else - it's like a barometer for which way the industry is going.
As we hear new rumours and speculation about specific products, we'll add them here. In the meantime, whatever we see at CES 2018, it's going to be worth checking out for anyone interested in technology and gadgets.