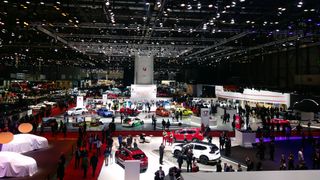 Geneva 2016: the best cars you'll be able to buy at least in theory
It's all well and good salivating over the outrageous concept cars that parade their monstrous engines and enormous rear wings to punters at the 86th Geneva motor show. And lord knows, we did. But what about the stuff that punters can actually buy?"Come on man, show me the cars that I can blow my inheritance on!" we hear you scream.
Well, you're in luck, because the Swiss metal fest was packed to the rafters with production-ready vehicles to suit just about any taste and budget, especially if that budget was rather on the high side.
You want something absolutely insane that will pulverise internal organs and probably have you arrested within minutes of driving it out of the showroom? Koenigsegg has you covered.
Perhaps you merely want a 'sedate' coupe/SUV mash-up with a quality German badge on the bonnet. Lucky you; Audi has just the thing.
Whatever your tastes, if you've got a wad of 'cheddar' you're aching to spend on a new 'whip', daddio, we highly advise that you have a click through this gallery, and start thinking about how to hide bank statements from your better half.
• Check out our favourite SUVs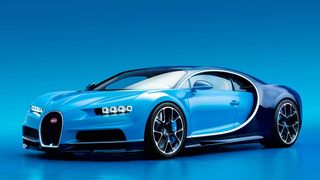 Bugatti Chiron
Some said that the Veyron could never be bettered in terms of raw power and sheer opulence, but Bugatti isn't the sort of car maker to rest on its laurels and end up as a footnote in the hypercar history books.
The Chiron is a true successor to the Veyron throne and as such, packs a tweaked 8.0-litre quad turbo W12 engine that now pumps out 1,479bhp and 1,600Nm of torque - that's approximately enough to alter the earth's rotation, by my calculations.
Top speed? 261mph. Easily the fastest and most powerful production car currently on sale.
The interior has been given a through refresh too, with 31 new trim choices, in-car Wi-Fi and plenty of personalisation options.
You think it's a tad pricey? Well according to 'reports', 166 of the 500 Chirons that will be produced have already been snapped up by eager punters, putting down a deposit that would be enough to buy a Ferrari 488 outright. The 1%, man… Damn.
Price £1.9million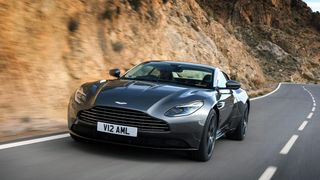 Aston Martin DB11
We'd all love an Aston in the garage but the cold, hard truth is that the technology that powered recent models was a bit old and tired. The DB11 looks to address this fact with new 5.2-litre twin-turbocharged V12 engine, a lighter, stronger and more accommodating aluminium chassis and improved interior tech that doesn't look like it's been pilfered from Garmin's rejects bin.
Performance-wise, the V12 engine delivers a gut-busting 600bhp and 700Nm of torque, making it the most powerful production DB in Aston's long and illustrious career.
You're are also treated to a new and lavishly appointed interior, which includes a full-colour 12-inch TFT LCD display that takes care of the instrument panel and an 8-inch TFT display that's dedicated to infotainment. A 360-degree reversing camera, gesture support and a new satellite navigation system (hurrah!) complete the package.
Better still, there's even specific ISOFIX mounting points for a child seat in the small but well packaged rear seats. That means there's literally no excuse not to go out and buy one, I'm afraid.
Price from £154,900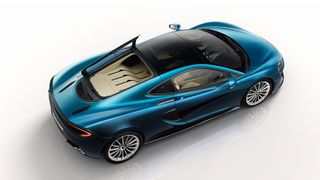 McLaren 570GT
Those with Aston Martin money to burn have got a decision to make: stick with Bond's favourite and every self-respecting cad's dream ride, or plump for a McLaren 570GT.
This has been designed with practicality in mind (sort of), so you get a more spacious and ergonomically designed cabin, electrically adjustable seats, a neat touchscreen infotainment system and McLaren's idea of a boot, which is a glass hatch that swings open to accommodate a couple of weekend bags.
But forget all that, because underneath the skin is the marque's revered 3.8-litre twin turbo V8 that casually develops 526bhp and sees the car cruise to a top speed of 204mph without breaking a sweat. That's more than enough grunt for your weekend getaway
It also looks bloody marvellous, clearly.
Price £154,000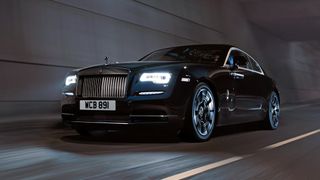 Rolls-Royce Wraith Black Badge
If you have to ask how much a Rolls-Royce 'Black Badge' edition costs, it's clear as the finest Swarovski crystal that you can't afford one. In short, both Wraith and Ghost models now come in a distinctly darker and even more limited edition variants, with both vehicles decked out in opulent and moody materials.
So the Spirit of Ecstasy gets an all-black makeover, the cabin is covered in an "aerospace-grade aluminium-threaded carbon-fibre composite" and the dash gets a few bespoke motif flourishes.
The 6.6-litre V12 that powers both the Ghost and the Wraith has been tweaked to offer an extra 40bhp in the former, while the Wraith gets an additional 70Nm of torque for an even more effortless overtaking manoeuvre.
More power also means a tweaked suspensions system, bigger brakes and a reconfigured gearbox, to ensure the luxury barge remains the most relaxing place to while away the miles.
Price from £220,000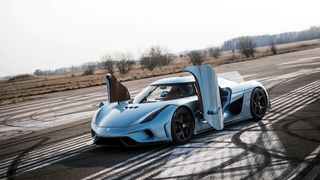 Koenigsegg Regera
The battle for most ridiculous mega motor was well and truly on this year and the Swedish purveyor of tarmac destroyers wasn't going to let Bugatti and Lamborghini steal all the limelight.
This hypercar uses a 5.0-litre V8 and three electric motors to help propel its 1590kg frame to 62mph in just 2.8 seconds from standstill. Zero to 124mph is achievable in the time it takes a VW Golf GTI to get up to 60mph.
It's a true hypercar in every sense of the fabricated word and Koenigsegg claims it is the first manufacturer to use an 800-volt battery system to help power its machines. The world of Formula 1 is the only other place to see such tech in action.
Price £1.2million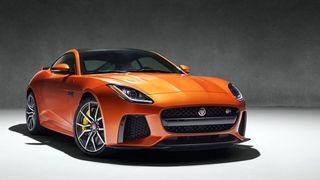 Jaguar F-Type SVR
Most F-Type owners will agree that the current car, particularly in the supercharged V8 'S' version, is plenty ballsy enough, but that hasn't stopped Jaguar from indulging in a midlife power trip.
The SVR's 5.0-litre V8 develops 567bhp, which is driven through an eight-speed automatic gearbox to all four wheels. At just 1705kg, it remains a lithe little sports car, so that means a 0-60mph sprint in 3.5 seconds and a top speed of 200mph.
Jag has also thrown in some aggressive aerodynamic bodywork to ensure it stands out from the rest of the F-Type family and you can opt for a convertible version should you want to properly enjoy the sound of that mighty engine.
Price from £110,000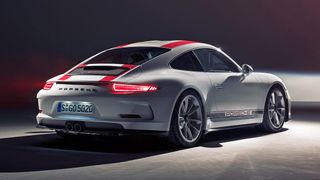 Porsche 911 R
Porsche purists were beside themselves when the German marque dropped the silk sheet from its new 911 R model. That's because this could be the most focussed 911 ever produced.
It features the same 4.0-litre, flat-six cylinder engine as the GT3 RS, which means it develops 494bhp and will bounce off the rev limiter at 8,250rpm. Power is transferred to the rear whiles via a... wait for it... six-speed manual gearbox. That's the part that has 911 fans running around with tears of joy bursting from their eyeballs.
Unfortunately, just 991 examples of the 911 R will be produced; meaning bagging one will be very difficult. And just like that, Porsche goes and tramples on your track-day dreams. Bastards.
Price £136,901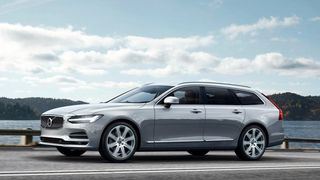 Volvo V90
Volvo's relentless march towards an ultra-stylish future continues and fresh from the success of its XC90 SUV release last year, it has unveiled a sleek estate to rival the best from BMW, Audi and Mercedes-Benz.
The V90 packs the familiar Thor's Hammer headlamps and rear LED light clusters of its larger XC90 brethren but its proportions are elongated, the creases in the flanks more severe and its low profile hints at sporting intentions. It's about as sexy as family estates get.
Load-lugging owners can also salivate at the thought of a T8 twin-engine plug-in hybrid variant that's sure to offer a tantalising performance punch, yet will manage a good 20-odd miles of all-electric driving before the batteries need topping up.
Expect familiar levels of Swedish flair inside, with plenty of wood and brushed aluminium covering most surfaces and the brilliant Sensus Connect touchscreen system taking care of all your 'info' and 'tainment' needs.
Price £TBA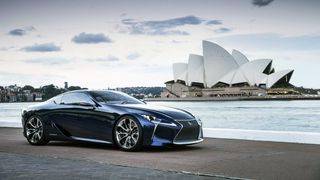 Lexus LC 500h
It looks absolutely stunning but the Lexus LC 500h isn't merely a motor to gawp at, he's also an intelligent fella, who could change the way we think about hybrids. For underneath the angular shell, you see, is a 3.5-litre V6 engine and an electric motor that combine to develop around 354bhp.
This car has clearly been designed with performance in mind but a hybrid Lexus has always been let down by its frustrating CVT continuously variable transmission (CVT), which has a tendency to disconnect the driver's throttle inputs with the actual speed and revs.
To counter this, Lexus boffins have fitted a second, four-speed gearbox to the electric motor, giving 10 gears in total, which means you can enjoy a manual gear change mode, with all the performance benefits that brings.
Expect a sub 5-seconds 0-62mph sprint time and a driving style that could actually excite, as well as reduce the daily cost of motoring.
Price £TBC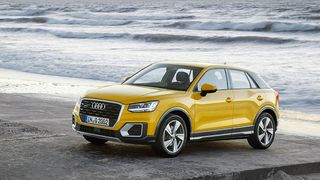 Audi Q2
The Audi Q2 is a car with a personality crisis. It's not really an SUV, it doesn't quite fit in with the city car crowd and it's too small to play with the off-roading bigger boys. But maybe that will be its motivation to go on and prove itself in life.
After all, it comes with completely unique styling, borrowing bits from many Audis, a nice selection of petrol and diesel engines, as well as the ace MMI infotainment system.
The Q2 has been designed with stylish city types in mind, so features a raised ride height but with a squat, square stance to ensure it looks a bit mean. There's plenty of room in the back and boot for road trips and Quattro four-wheel drive is there should you wish to really test its mettle. Expect to see if on, and maybe off, roads towards the end of 2016.
Price from £21,000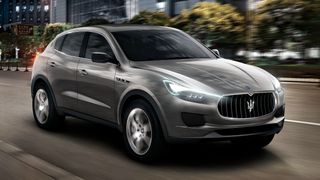 Maserati Lavante
Ultra-luxurious SUVs are like busses, you wait for ages and then two come along at once. And they're f**king huge. So hot on the heels of the Bentley Bentayga comes Modena's attempt to prise Barbour-wearing folks away from their Range Rovers.
Exterior styling aside (some angles are severely unflattering), it promises to pack a performance wallop thanks to a 424bhp 3.0-litre V6 twin-turbo petrol engine in the hottest 'S' models and some fantastic new tech inside.
Maserati's Touch Control system has been completely updated and now includes an 8.4-inch high-resolution touchscreen and all of the autonomous driving and safety systems one has come to expect of a premium car.
Okay, so it's no way near as luxurious as the aforementioned Bentley but it comes with a fire-breathing V6 engine and a badge on the bonnet that lets people know you've got a few quid to spare. And that's the point, isn't it?
Price from £55,000