Wondering where to buy the best face masks in 2023? Even with the vaccine being rolled out and the amount of COVID cases dropping, it's still a good idea to have and wear a face mask.
Today's best face masks are a world away from the cheap, ineffective, uncomfortable offerings many of us were making do with in the early days of the pandemic. In this guide, we've selected the best options for a range of uses – whether you're looking for a mask that's good for sport, one that won't cause your glasses to steam up, or one that'll fit a smaller face – we have a mask for you. And it goes without saying, all the best face masks in our list are designed to fit closely and effectively filter particles.
Where to buy best face masks in the UK
Not in the UK? Jump straight to the best face masks in the US.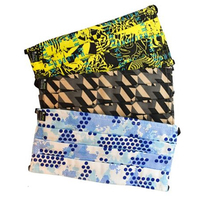 Great British Designers face masks: £10-£20 at Boots
These colourful face masks from British designers are made from tightly woven cotton sateen, and are nice and breathable yet still effective. You also get two little cloth pouches to store them in when you're not wearing them, and profits go to charity too.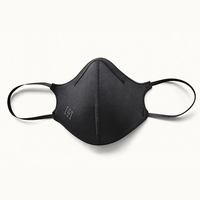 The most stylish face mask: £20-30 at Wolford
Tights brand Wolford has knocked it out of the park in the style stakes with this understated face mask. It's not style over substance, either – as well as a sleek design, this mask boasts comfortable, machine-washable, double-layer fabric, an adjustable nose wire, face-contoured design and soft ear straps.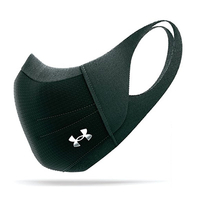 The best face mask for sport:£26 at Under Armour
The hi-tech UA sports face mask is engineered for better airflow, comfort, and a cool feel. While it's not perfect, its the best face mask for sport we've found (see our UA Sportsmask review). You'll find more exercise-friendly options in our face masks for runners roundup.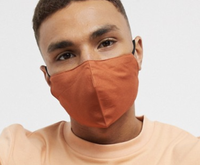 Cheap face masks: Multipacks from under £5 at ASOS
If you're on a tight budget, head to ASOS. While we suspect many of these won't be the best quality face masks you'll wear, they're pretty much unbeatable on price. There are lots of multipack options to choose from, some with added features such as nose clips and charity donations.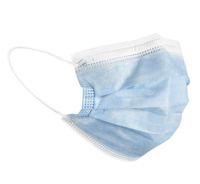 The best disposable face masks: £8.99 for 50 at Amazon
For disposable masks, head to Amazon. This bulk-pack is very cheaply priced and very well reviewed (4.5 star average over 21k+ reviews). The 3-ply design comes with a nose clip for a snug fit. Note, they're not medical grade.
None of those take your fancy? Here are some more face mask options to try...
Where to buy the best face masks in the US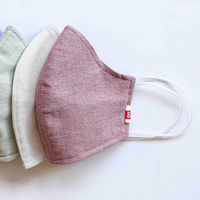 The best face masks for charity donations: $22 for one at Hedley&Bennett
Hedley& Bennett runs a buy-one-donate one scheme on its single face masks, and gives a percentage of proceedings from multipacks to charity too. The face masks themselves are super-smart, fitted designs with a filter pockets, flexible metal nose piece, reinforced stitching and space for a name tag.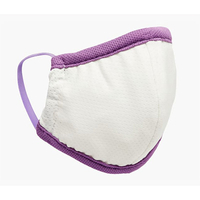 The comfiest face mask: $20 at Purple Sleep
Purple has harnessed its innovative comfort tech to create a face mask you can wear for hours at a time. There's Hyper-Elastic Polymer gel for super-stretchy ear bands that won't lose their shape, and moisture-wicking Breeze Mesh for a breathable but effective mouth cover.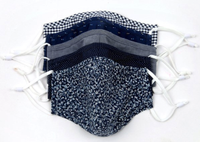 The best face masks if you wear glasses: 5 for $30 at Tie Bar
These Tie Bar face masks have a wire sewn into the top hem, to creating a custom, close fit that'll stop air escaping and fogging up your specs. They're also really excellent value for money – just $6 per mask (only slightly more than our 'cheap' option). They come in a selection of tonal, understated prints, including subtle stripes and tiny spots, and are made from 100% two-ply cotton, with an additional layer of shirting fabric.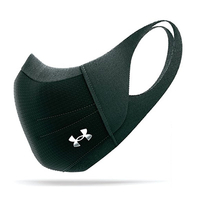 The best face mask for sport: $30 at Under Armour
The US Sportsmask is hands-down the best face mask for sport right now. The hi-tech UA face mask is engineered for better airflow, comfort, and a cool feel.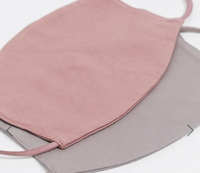 The best cheap face mask: 5 for $26 at ASOS
ASOS has quite a few different multi-pack face mask options available, the cheapest working out at $5.20 per mask. There are plain and patterned options for both men and women. An easy, cheap option, with free shipping and returns.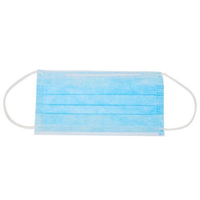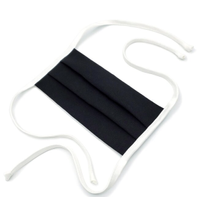 The best eco-friendly face mask: $12 each at Bomme Studio
Bomme Studio is selling dual-layer face masks made from sustainably made, upcycled 100% cotton fabric. These face masks have been designed in line with CDC recommendation and are being manufactured in LA, California. If you order on a weekday, there's free same-day shipping too. Alternatively, bag maker Caraa is selling face masks constructed out of repurposed materials from its production line.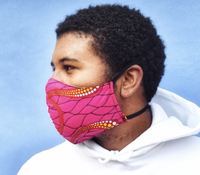 The best patterned face masks: $15 at DIOP
Detroit-based DIOP has a range of face masks made from 100% wax printed cotton in a range of bold, vibrant prints. The elastic on these sits around the back of the head, to remove ear strain when wearing for long periods. A portion of proceeds also goes to charity.
Want some more options? Try these...
What kind of face mask works best?
Why you can trust T3 Our expert reviewers spend hours testing and comparing products and services so you can choose the best for you. Find out more about how we test.
There are a lot of different types of face masks. Medical-grade face masks, including surgical masks and N95 masks, are in very short supply, so it's mainly non-medical face masks that are being recommended to the general public.
For example, the UK document regarding face masks states: "A face covering is not the same as a facemask such as the surgical masks or respirators used as part of personal protective equipment by healthcare and other workers. These supplies must continue to be reserved for those who need it." Here's a closer look at the different types of face mask.
Surgical masks
Surgical face masks are probably what you think of when you think of a face mask. These are disposable, single-use masks made from pleated synthetic fabric. The fabric is breathable and these masks don't form an airtight seal against the face. How well they filter pathogens varies according to different studies. They're in very short supply at the moment.
Respirator masks
Respirators are the most effective at filtering pathogens. These are fitted to the face and sealed to keep pathogens out, and tested rigorously by the National Institute for Occupational Safety and Health (NIOSH).
There are a few different types, with different efficiency rates. For particles 100-300 nanometres in size: N95 respirators can filter 95% of particles; N99 respirators filter 99% of particles; and N100 respirators filter 99.7% of particles. Coronavirus is estimated to be 125 nm in size.
Fabric face masks
Finally, there's homemade fabric masks, which are the least effective of the bunch at filtering pathogens. However, the research we have so far suggests that wearing one is still much better than not wearing one when it comes to reducing the likelihood of you unknowingly passing on the virus to others.
There are a few elements that affect how effective cloth face masks are at filtering pathogens. One is the fabric it's made from – porous fabrics don't keep out tiny droplets very well. The CDC suggests two layers of tightly woven 100% cotton. Adding a filter, such as a coffee filter or paper towel, can help make your fabric face mask more effective.
Fit is also all-important. Gaps around your nose and jaw will make your mask much less effective. If your mask fits snugly around your nose and face, this should help improve the situation.