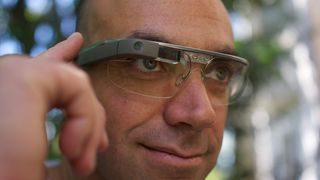 Introduction
"Mark our words," chin-stroking tech analysts squawked confidently two-odd years ago, "2014 is going to be The Year Of The Wearables™." Then, of course, it wasn't. "Righty-ho, then," the same, roll-neck wearers countered, "2015 truly is going to be The Year Of The Wearables™." And… Well… It wasn't.
And while this aptly demonstrates how difficult this accurately guesstimate tech trends lark is (and that analysts are by and large highly paid, charlatans, holding up thin air to emperors and telling him it's a Savile Row three-piece) it does show that we're still really rather waiting for the wearables train to leave the station. Maybe we'll get the right kind of leaves in 2016?
Still, 2015 finally saw lurking tech overlord Apple enter the market, Fitbit go from strength-to-improbable-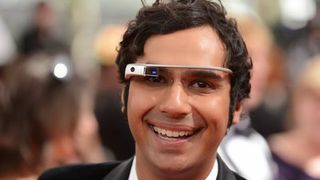 January
Google finally takes its ill-fated Glass wearable outside and double-taps it with a 12-bore, resigning the creepy wearable and its "Glassholes" to the Wastebasket of history. A bunch of Pennsylvania students, inspired by Charlie Brooker's prescient Black Mirror show creat the "Brand Killer", a headset that blurs out corporate logos in the real world. Fujitsu begin testing a smart ring that lets you write in the air. Guess launch a fashion wearable called Connect. Withings take aim at the budget market with their excellent Activité Pop. Mont Blanc take a different smart route, showing an "e-Strap" which attaches to the underside of their swish, mechanical watches, adding fitness tracking and notifications. And yet another VR company, Avegant Glyph finalise their headset design at CES.
In focus: Microsoft's HoloLens unveiled
Just seven years in the making and admittedly quite late to the party, with Oculus Rift and Sony already so far down their road the dust has settled, Microsoft enter the VR fray. Or, "AR fray" really, as the HoloLens holographic helmet is more augmented reality than virtual, as it overlays holographical objects over virtual surfaces squinted at through the device's lenses. The demo showcases applications more suited to computer aided design rather than any gaming and even thought it's wireless it still needs a beefy PC behind the curtain to work. But it looks great. And also bum-tighteningly expensive. Still, Magic Leap should be incredible on this thing. But we did, finally, realise why Microsoft bought killer app Minecraft for an eye-watering $2.5bn, back in September 2014.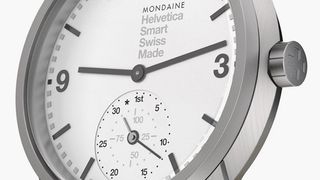 February
Legendary Swiss watch maker Mondaine announces its entry into the smartwatch market with the rather lovely Helvetica No 1, a subtle fitness tracker built into an analogue watch à la Withings Activité. It has no notifications. No-one minded. PC games leviathan Valve announces it will be showing "Steam VR" – their virtual reality hardware – at this year's GDC. Meanwhile, the first reviews for over punctuated pop twerpwill.i.am's wearable Puls "computer on your wrist" land. Language includes "frustrating", "nightmare" and "house arrest anklet". Ouch. And while Pebble announces it sold over a million smartwatches in 2014, it seems the nation isn't too enamoured with Android Wear, with sales in the second half of 2014 not even reaching a million, worldwide. Just 720,000 Android Wear devices found homes on wrists over that time. Are customers waiting for a certain company to arrive, maybe?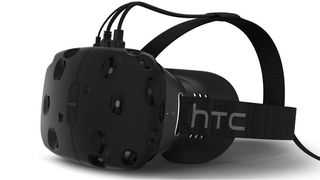 March
HTC unveil Vive, their Steam VR headset during the Mobile World Congress on March 1st. Using a headset and two, bespoke controllers alongside two laser-toting base stations, it creates a 15ft by 15ft virtual space that tracks your movement within it. Budget Taiwanese tech makers Hanspree launch a £30 Sports Watch boasting notifications, step counting, calories burned and distance travelled. Ploughing on regardless, full stop fanaticwill.i.amannounces a Gucci edition of his Puls, commenting: "From the very start, I coined the term 'fashionology,' a merging of the worlds of fashion and technology, which is exactly what this collaboration with Gucci represents." A fool and his money, eh? On March 9th Apple boss Tim Cook took to the Yerba Buena Center in San Francisco to announce the release date and price for Apple's Watch. Those being "April 24th" and "from £299" respectively. Chinese company Xiaomi press release their smart running shoes being developed, while Volvorii show off their smart shoe with customisable e-paper sides and wireless charging for ladies who just can't make up their minds. And Hyundai share the news you can now start your MOR electric car via Android Wear.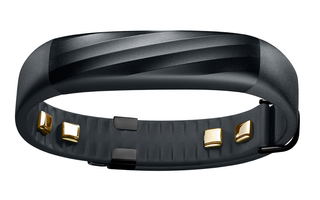 April
Samsung line up a catwalkful of fashion brands to take on Apple's Watch, signing up Z Zegna, Swarovski, Tech21 and Incipio for future collaborations. The number of Apple Watch apps already counts over 3,500 announces Cupertino, just after the launch. Also: never mind the quality, feel the width. Jawbone unveils its UP2 and UP4 trackers, expanding their hugely popular range of stylish fitness trackers. And if you want to look like a buffoon in a Mini, BMW showed off a preposterous pair of WWI pilot-style VR goggles for their city car brand which see through walls, add GPS navigation and find parking spaces, while successfully repelling other human beings.
In focus: Apple finally go wearable
In a complex and convoluted fashion, Apple finally release their Watch to the public. Pre-orders opened in early April with a 4 to 6 week estimated shipping time with some, arbitrarily receiving their timepiece on the April 24th release date and others going wanting. Loudly on the internet. Only an estimated fifth of pre-orderers got theirs on launch day. Even though Apple stores around the world pulled the wraps off huge and expensive tables brimming with the devices, these weren't on general sale. Unless you booked a time slot appointment with an Apple "Specialist" to get wrist on, and an opportunity to purchase. An exclusive coterie of exclusive fashion stores also got stock, including Selfridges in London, Dover Street Market in Tokyo and London, Maxfield in Los Angeles, Colette in Paris, the Corner in Berlin and 10 Corso Como in Milan. With no happy clappy, salivating fans queuing around the block for this release, the whole thing felt strangely low key for a new sector Apple product. Alongside this, various tech websites were offered exclusive time with the watch, producing suitably obsequious and fawning reviews, which then received the eminently predictable backlash. T'internets, eh?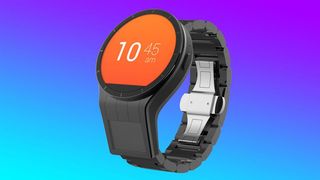 May
A watch with a strange side port that you squint into, displaying "Magic View" – using light and optical refractions giving the illusion of a 20-inch screen – is shown by Lenovo. Even though a big noise in wearables, Pebble reportedly is forced to take out a loan to "stay afloat". Swish London hotel The W in Leicester Square debuts uniforms in its Wyle club which use integrated LEDs to react to the music beats, adding risk of epileptic incidents, presumably to your pounding headache. Sony launches a smart bulb with a Bluetooth speaker inside to stream music to. While Swatch remind us that their vapourware smartwatch is still en route. They just appear to have lost the road map. But it'll definitely have a "revolutionary" battery, that'll also work in cars, apparently. If When it comes out. Finally, socks are about to go smart, according to Sensoria, who pull on a pair of connected running socks which track runs in detail, delivering information on pace, distance, time and your running style. We're still waiting on Apple Watch sales figures.
In focus: the luxury market finally wises up
Raucous laughter, eye rolling and communal rib jabbing was the general reaction by the wizened Swiss watch industry to the smartwatch revolution. But 2015 was the year that the likes of TAG Heuer, Breitling, Movado, Mondaine, Withings, Mont Blanc and this month IWC finally started wising up to a sector that could well be smashing great, lolloping chunks out of their balance books. IWC launched Connect: a circular, strap-based module much like Mont Blanc's but much more subtle, which attaches to their mechanical models, adding, well, some kind of functionality TBC. Strange they launched a nubbin seemingly without a USP, but the Swiss giants are finally waking up and smelling the coffee. More on TAG later…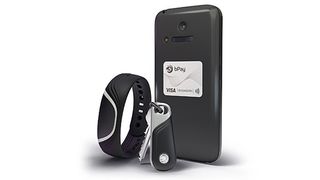 June
While other banks sharpen their elbows to be first on the ground with Apple Pay later this year, Barclays is merrily ploughing its own furrow, launching the NFC-using bPay wristband. It looks like a fitness band but doesn't track activity and we can't think of a single reason to get one. In a more sensible move, bPay stickers will be available that you can bung onto your mobile, for instance. The clever/creepy Amazon Echo goes on sale. This speaker tower listens to every word uttered in the room its stationed, but can transfer orders direct from your gob to store. Finally, the Oculus Rift – or "Oculus", as it wants to be called – consumer edition is revealed, as Facebook's VR headset slips into at least 2016. And it really is a pretty bit of tech kit. We're still waiting on Apple Watch sales figures.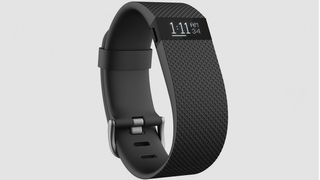 July
In a quiet month, it seems the main news is that Garmin taking a bit of a spanking from Fitbit as its mostly GPS-enabled trackers' growth has fallen from 70% year-on-year at 2014's last quarter to a second quarter 2015 growth of 5%. Meanwhile Fitbit posted a 120% growth in the similar quarter and are on course to post around 180% year-on-year growth by the end of 2015 as their Charge, Charge HR and Surge product range prove hugely popular. NASA throws wearables a battery bone, hinting that their wi-fi chip currently in development will use 1,000 times less power, while tripling speeds. Wi-fi and Bluetooth are currently any wearables' battery Achilles' heel, so this is super good news. And July 14th finally sees Apple Pay go live in the UK, meaning people with compatible mobiles and watches can now conveniently use the technology that has been present in most debit cards for five years now. Barclays, HSBC and Lloyds banks are all conspicuous by their absence. Which reminds us. We're still waiting on Apple Watch sales figures, although head chap Tim Cook says sales were off to "a great start" and had "exceeded internal expectations". Thanks, Tim!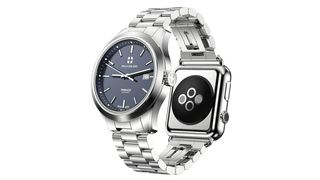 August
Apple, it seems, are already making huge inroads into the wearables market, allegedly catching market leader Fitbit apace. According to a report by data analysts IDC, Apple shipped just 800k less devices than Fitbit during the Watch launch window, although we're still awaiting official sales figures from Apple, a company usually not reticent about shouting its sales success to the rooftops/directly in the lug holes of its shareholders. Brilliantly, it seems consumers routinely ignore the heart rate data from their fitness trackers, according to a report by Fitbit, suggesting that only 30% of users looked at their heart rate while exercising. A truly flexible wearable display is, ahem, rolled out by tech company Polyera, consisting of e-ink incorporated into a flexible fabric. This is going to be big. Meanwhile, Pinnacle launch a confusing and ugly Nico Gerard/Apple Watch Frankenhybrid, with a conventional watch on one side and an Apple Watch on the other, all on one, linked band. Ew, indeed. "Hello… Hello… Apple? [taps microphone] Is this thing on?"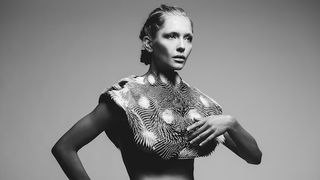 September
Pointless luxury tech company Vertu teases entry into wearables. So expect a low spec, high quality thing to be worn exclusively by oligarchs and footballers. Sony's VR headset Project Morpheus is renamed the more marketeer friendly but far less intriguing "PlayStation VR". Philips announce a specifically health-focused wearable. Fashion designer Behnaz Farahi's "Caress of the Gaze" smart clothing project can sense if a [presumably male] person is staring at you, and activates the wrap's integrated spikes like a startled porcupine. Quite. (Video here) And comfy cardie chaps Lyle & Scott strutted down a catwalk somewhere, to bagpipes, presumably, with a contactless payment jacket called, well, The Contactless Jacket. Packing a bPay chip in the right sleeve, it'll set you back £150 and can be bought here.
In focus: WatchOS2 arrives
Just five months after its Watch kind of arrived in stores, Apple was quick to release an update to its OS. And OS2 was a fine addition to the product's armoury, even if much of its functionality really should have been available back in April. Best are customisable complications, adding app functionality into Watch faces. A time machine allows you to fast forward through weather and schedule complications to look up to 72 hours into your meeting future, and if it might rain, via a spin of the crown. Watch faces using your own pictures is a face palm of a no-brainer although the number of faces is still strangely measly, with just some admittedly cool time lapse world city options added. And finally, third-party app makers are allowed access to the Watch's walled garden of hardware sensors including the heart rate monitor. Suddenly the Apple Watch becomes much more able and desirable. All it's still waiting for is some kind of killer app.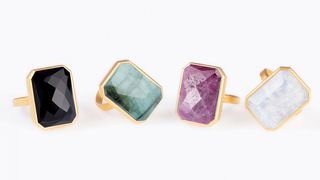 October
Apple dip a toe in VR, with Apple Music quietly commissioning high end VR production studio VRSE to produce a U2 music video "experience" that can be watched on Google's Cardboard and Samsung's Gear VR. Strange, that. MasterCard put NFC payments into Ringly rings. In collaboration with Bristol-based company Open Bionics, Disney authorise a range of prosthetics based on their properties for children. These include a Frozen hand and Iron Man and Star Wars/light saber themed arms which light up LEDs and make noises, while moving based on electric signals from the user's muscles. Bravo, guys! Mastercard put NFC payments in Ringly rings and other wearable tech brands, including Nymi and Adam Selman. Jawbone and Fitbit begin slugging it out in court over Jawbone employees breaking their contracts to join Fitbit, taking various, confidential information with them. Misfit Shine 2 goes on sale and Google Maps finally lands on Apple Watch (sales figures of which are still a mystery).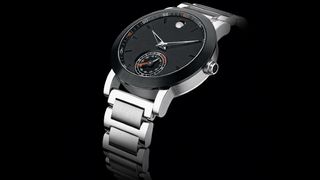 November
HP announces a collaboration with Indian watchmaking giant Titan on a new smartwatch. Google would be absolutely certifiable to not launch a Nexus Band, predicts professional crystal ball gazers CSS Insight. Luxury watchmaker Movado join the "engineered by HP" crowd with their Bold Motion smartwatch, which has an analogue face incorporating LEDs that glow in different combinations depending on the notification, alongside a haptic buzz. Withings Activité Steel is announced, to sit between the Activité and Pop brands. The Pebble Time gets a contactless payment "smartstrap" powered by FitPay. Watch giants Fossil buy Misfit and Disney show a smartwatch that can identify anything you touch, reading the electromagnetic signal through your skin, or something. We're not convinced. And still waiting on Apple.
In focus: TAG Heuer go a different way
In a wonderfully bonkers New York press conference featuring genuine cow bells and car wheel-sized cheese cutting, charismatic/eccentric TAG Heuer CEO Jean-Claude Biver pulled the wraps of the company's much-vaunted smartwatch. And the Connected Watch is a doozy! Stuck inside a premium grade 2 titanium case and rubber strap is Intel's very latest dual core Atom processor, designed especially for smartwatches, a tweaked, "premium" Android Wear OS and a choice of three faces taken from the Carrera watch range. And it's reviewing wonderfully. The USP here is that TAG understand any smartwatch has obsolescence built in, so when your watch's tech insides start wheezing, lob a similar amount of money at TAG and they'll swap them out for a more classic, mechanical movement. So you can "upgrade" from digital to analogue.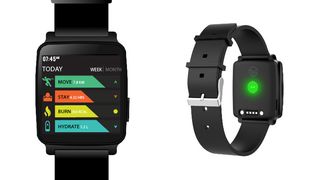 December
Google patents a "needle free blood draw" system that would be housed in a smart watch or similar, taking blood with a pulse of gas, rather than sticking you like a pin cushion. The Hug smartwatch, which adds gesture controls for Oculus and the Sphero BB-8 amongst other things, goes on sale. Breitling's Exospace B55 Connected does same, for a slightly more wallet hammering £6,650. Ted Baker, Mango and Nicole Miller add fashion faces to Android Wear, making Apple's dearth of faces seem even more peculiar. NASA and Sony announce that they've been using the PlayStation VR to train operators who'll be dextrously controlling robots while in space. Microsoft patents a gesture controlling "smart ring" to operate technology with a wave of a hand. And Apple announces that its Watch now controls the Apple TV 4. Well Apple, aren't you just full of announcements! But not the one we want…