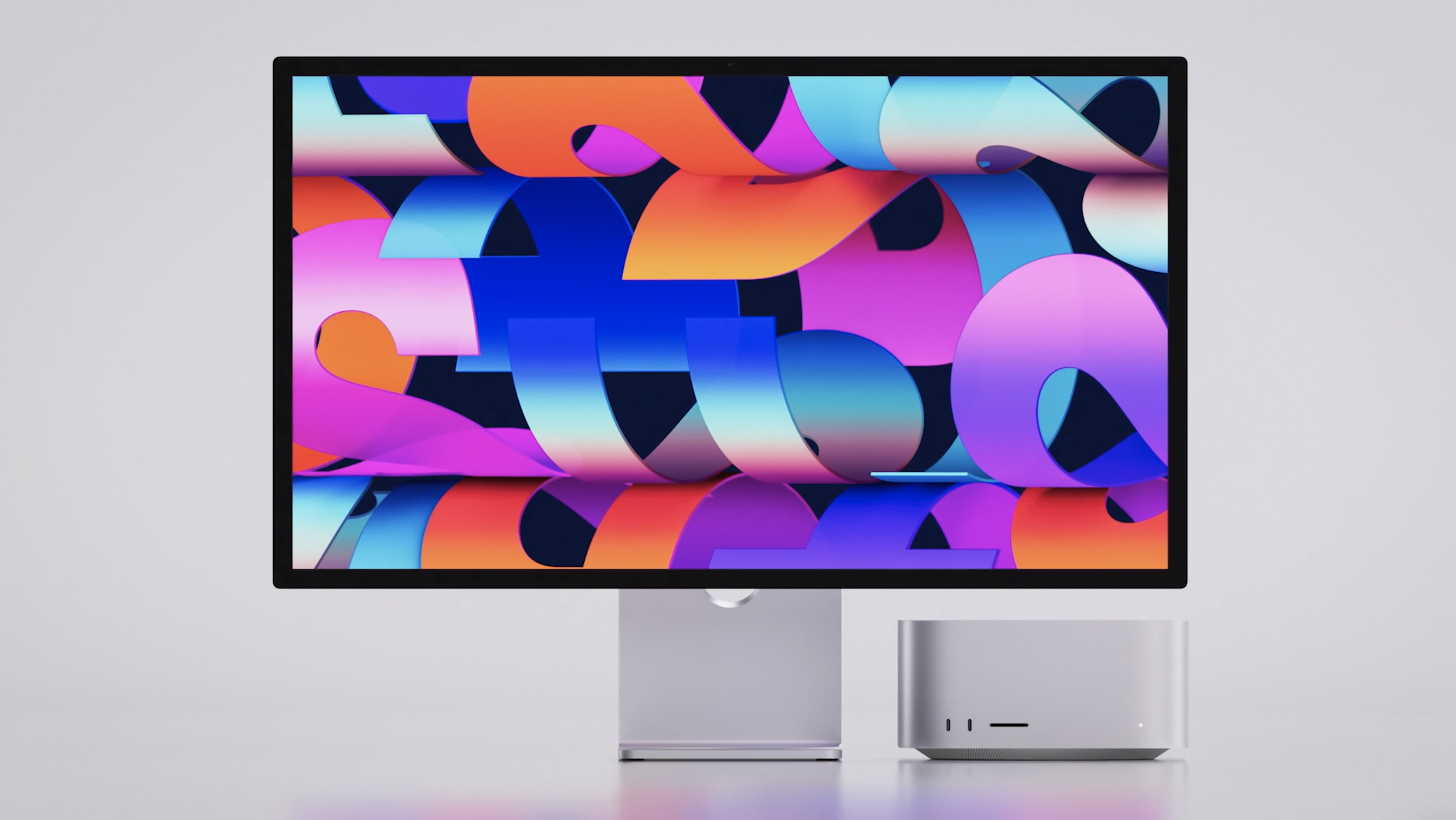 Welcome to our coverage of Apple's March 8th Event. It was Apple's first event of 2022, and it brought us a new iPhone, a new iPad, a new Mac and a new Apple display – not a bad mix!
The big product announcements were:
New iPhone SE: Same design, updated with 5G, A15 processor, tougher glass. $429/£419/AU$719. Pre-order Friday, out March 18th.
New iPad Air: Same design, updated with Apple M1 chip, 5G, new front camera. $599/£569/AU$929. Pre-order Friday, out March 18th.
Mac Studio: An all-new Mac with M1 Max or new M1 Ultra chip, which is double the power of M1 Max. From $1,999/£1,999/AU$3,099. Order today, out March 18th.
Studio Display: A new 27-inch 5K display, with 600 nits of brightness, P3 colour support. Features an A-series processor, to support a Centre Stage webcam, plus Spatial Audio/Dolby Atmos speakers.
iPhone 13: Now comes in fetching green colours!
We'll have all the best new iPhone SE pre-order deals right here when they're announced!
You read more about the products below…
Mac Studio (and M1 Ultra)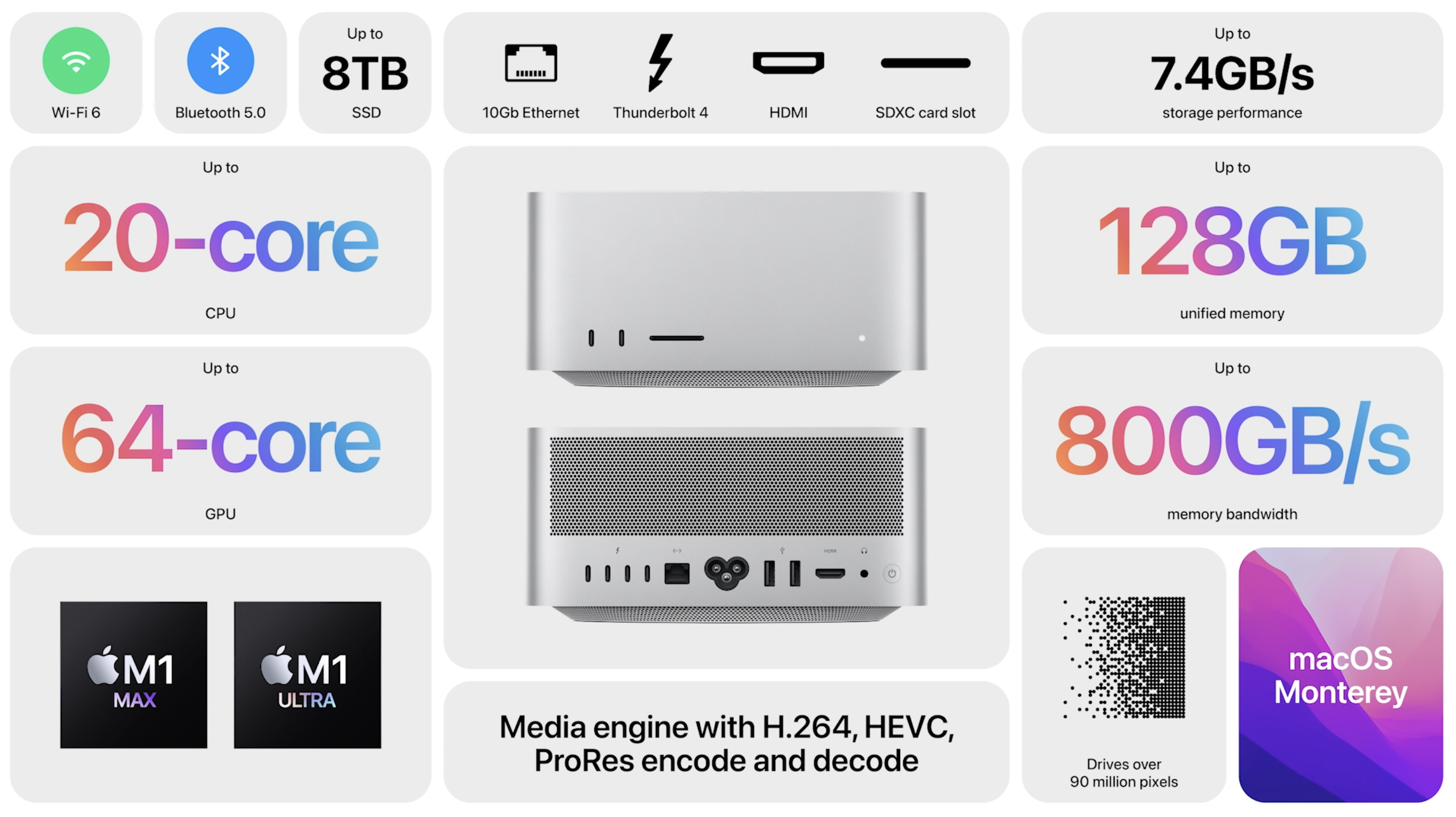 Wow. This thing is an F1 car disguised as a hatchback. At 7.7 inches square and 3.7 inches tall, it's tiny… but inside, you get either the M1 Max chip or the ridiculous new M1 Ultra, which we'll come to in a second.
The Mac Studio is really designed as a pro machine, with tons of connectivity – six Thunderbolt 4/USB-C ports, an HDMI port, 2x USB-A ports, Gigabit Ethernet, SD card reader and a high-power headphone jack for sensitive headphones (as well as more regular ones).
About half of its interior is dedicated to airflow, which means it can be relatively quiet, even when at full speed – based on our testing of the MacBook Pros, we expect that it's going to be even quieter than you're imagining.
Which is wild, because there's SO. MUCH. POWER in here. The M1 Max chip, with its 10 processor cores, up to 64GB of memory, and up to 32 GPU cores (with 10TB of computing power – the same as a PS5) was already a ridiculous beast.
But the the M1 Ultra is two M1 Max chips combined into one. That's not a simplification: Apple has a developed a unique way for chips to pass information between them at never-before-seen speeds, so the Ultra is two Max chips acting like a single unit. That means 20 cores of CPU power, 64 GPU cores and 128GB of memory shared between it all. There's never been anything quite like it available to just buy and put on your desk in a unit the size of your average smart speaker.
It starts from from $1,999/£1,999/AU$3,099 with the M1 Max, or $3,999/£3,999/AU$6,099. Order today, out March 18th.
Studio Display
This new display from Apple is 27 inches, with a resolution of 5120x2880 – just like the 5K display on the iMac 27-inch (which Apple has quietly killed off today). It offers brightness of 600 nits (which is brighter than almost any consumer display), and supports the P3 wide colour gamut. All good specs – nothing very surprising.
But it's got extra smarts, too. There's an Apple A-series chip inside, which provides power for some extra tricks. There's True Tone support, making it easier on the eyes; there's a Centre Stage webcam, which means it has an ultra-wide lens that it can use to frame just on you, but can follow if you move around the room; and it has Apple's best speaker system yet, with support for Spatial Audio and Dolby Atmos 3D sound.
It's not cheap, though. $1,599/£1,499/AU$2,499 – that's without a special height-adjustable stand or nano-texture reflection-busting coating. You can order today for a March 8th release.
iPhone SE (3rd Gen)
The new iPhone SE comes in the same basic design as it did before, but there are lots of changes going on with it. For a start, you get same A15 processor as you do in the iPhone 13, so this thing is fast and future-proof. That brings camera improvements with it too – better low-light performance, more advanced processing and the fun Photography Styles feature. You've also got 5G, crucially, so it's ready for the new era of connectivity.
Apple also promises better battery life, thanks to a new battery itself, plus the more efficient A15 processor.
And while it looks the same outside, there's lots of change there too. It now comes in Starlight, Midnight and Red colours, and the glass is tougher than before.
It looks like a good update. It costs $429/£419/AU$719. Pre-order Friday, out March 18th.
iPad Air (5th Gen)
Well, when the rumour came out today that Apple would put the M1 chip in the iPad Air, I said it would be madness – because it would make the 11-inch iPad Pro look kind of pointless. They'd be too similar.
Well, here we are: the iPad Air has the hugely powerful M1 chip in, and I look silly. This means 8 CPU cores, 8 GPU cores and 8GB of RAM – this thing puts 90% of laptops to shame for power.
Other upgrades include a Centre Stage front camera (like all other iPads), and the option for 5G connectivity. Otherwise, nothing major has changed! There are some new colours. But nothing major needed to change – I actually expected a milder upgrade than we got, in the end.
It costs $599/£569/AU$929. You can pre-order Friday, and it's out March 18th.