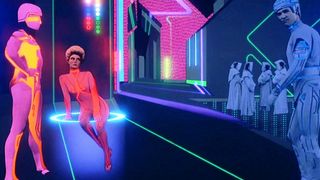 Introduction
From Minority Report, with its multitouch surfaces, to 2001: A Space Odyssey with its homicidal computers, Hollywood has long served up future visions that tap into our tech dreams and nightmares.
Obviously there are lots of movie futures that we wish to avoid at all costs - the state-controlled euthanasia for people over 30 in 23rd Century Logan's Run springs to mind. Likewise, we could probably do without the rations of manufactured 'food' in Soylent Green's 2022. And let's not even talk about post-Bond Sean Connery and his alarming Zardoz outfit.
While most of the futures predicted in movies are bleak as hell and some have been and gone, there are loads of superb Hollywood worlds of the future that we can't wait to see become reality. Here are our favourites…
In partnership with Microsoft, powered by the HP Spectre 360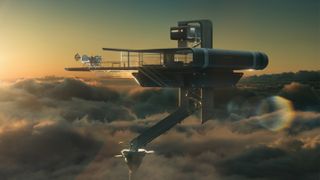 Oblivion
As with the majority of his films, obviously Tom Cruise does a lot of running, but what else does this post-apocalyptic flick offer apart from a tiny sprinting Scientologist? Well, it's 2077 and Earth's population is relocating. Jack Harper (Cruise) is one of the few humans left on Earth, living in a fancy sky apartment perched above the clouds that looks like it has been designed by Jonny Ive. We could definitely see ourselves chilling out in this beautiful example of futuristic interior design. While trying to ignore the murderous alien force that's trying to hoover up the planet's remaining resources and eliminate the humans, obviously.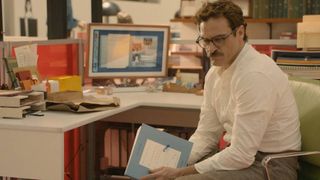 Her
Set in the not-too-distant future of 2025, Spike Jonze's futuristic fable Her sees mild-mannered Theodore Twombly developing a romantic relationship with an intelligent operating system (voiced by Scartlett Johansson). Shot in LA and Shanghai, the subtle advances in technology along with minimalist design and a beautiful colour palette make this a future we'd dearly like to be part of. We'll probably stick to being just good friends with our OS though.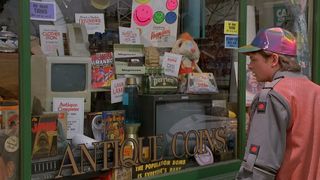 Back to the Future Part II
We could hardly talk about movie futures without including Back to the Future's version of 2015. Lots of the tech featured is already here, including video calling, voice recognition, gesture control and ironic 80s themed establishments. Even the self-tying trainers from Nike are on the way. There are no sky-high cities here, just an old-fashioned town square with a few technological advances. And that's why we like it - there are no murderous robots about, just pizza rehydrators and a healthy dose of nostalgia. We'd move to Hill Valley faster than you can say "where's my f***ing hoverboard?!".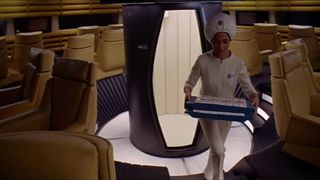 2001: A Space Odyssey
Stanley Kubrick and Arthur C. Clarke's highly influential 60s sci-fi classic correctly predicted that the future of spaceflight would include tourism, courtesy of the film's Pan Am space plane. With many airlines trying to reclaim the glamour of 60s air travel and Virgin Galactic working on commercial space flights, we're very excited that this could actually be a reality within our lifetimes. Well, apart from the moon colony bit, anyway. And the less said about creepy computer HAL, the better.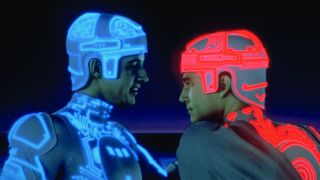 Tron
We'll ignore the 2010 Tron: Legacy sequel, as indeed everyone else did, and stick to the classic 80s original. Starring Jeff Bridges, the Disney film told the tale of computer programmer Flynn and his journey into the software of a computer. With sets and costumes designed by french comic book artist Moebius, the film contained ground-breaking special effects, combining live action with computer animation. We wanted to live inside the cyber reality of this film the first time we saw it, and we still do.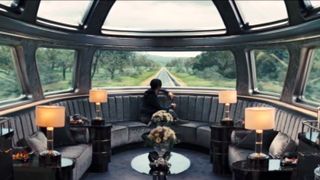 The Hunger Games
Yes, most of the populations of the Districts live simple, bleak lives, but what about those living it up in the Capitol? That's where the fun is. In particular we want to get on one of those plush, high-speed steampunk trains to the Capitol - part Orient Express, part Maglev. We're even willing to volunteer as Tribute if it means a cruise on the big, fancy train with Woody Harrelson as a mentor/drinking buddy and Lenny Kravitz as our stylist. Just sit back, enjoy the ride, and try not to think about the fact that you're en route to a televised death match.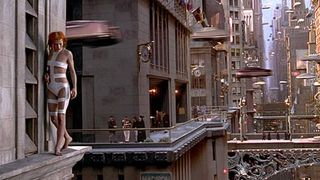 The Fifth Element
As with many films set in the future, The Fifth Element revolves around protecting the Earth from an impending attack. The 23rd Century vision of New York City uses impressive visual effects combined with 'old world' technology like telephones and coffee machines to create a somewhat believable world of the future. We love director Luc Besson's towering, vertical city, though in reality it would probably give us vertigo. The big draw for us is Korben's flying taxicab - we're hoping that Uber is on the case.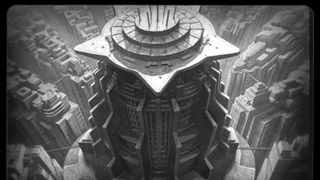 Metropolis
Fritz Lang's pioneering 1927 sci-fi epic is completely bonkers and understandably shows a lo-fi vision of the future. Metropolis is a city of mass industry where the rich rule over the poor and with a set inspired by the skyscrapers of New York, the film's Art Deco Futurist architecture is stunning. Not only was the famous MARIA one of film's first female robots, it's still one of the coolest and least terrifying humanoids we've seen. We'd advise against the '80s restoration of the film with the Giorgio Moroder-produced soundtrack.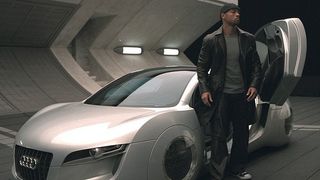 I Robot
Inspired by the writings of Issac Asimov, I, Robot portrays a world where robots are there to act as servants to their human masters, but Will Smith's Detective Del Spooner is not convinced that they can be trusted. Brushing aside the whole 'robot uprising' for a second, the high-tech picture of the future painted in the film is pretty cool. It may be packed with shameless product placement, but we can't help thinking that the FedEx delivery robots could do a better a job than their current human counterparts. And any film where Converse trainers are still fashionable in 2035 is alright by us.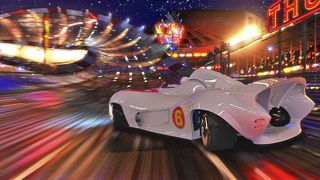 Speed Racer
Let us preface this by saying that Speed Racer is by no means a great film. Emile Hirsch plays the eponymous Speed Racer, in a dull plot that's hard to stick with. And yet, we would happily live in its day-glo, candy-coloured world. We love the Japanese anime-inspired technicolour racing scenes packed with futuristic cars and eye-popping backdrops. What's more, the brightly coloured Jetsons-style homes, packed with mid-century 'atomic' design with a modern edge are simply gorgeous.
In partnership with Microsoft, powered by the HP Spectre 360