It's one of the hottest days on record (if you hadn't noticed) and that means it's uncomfortable for you and, if you've got one, your pet. After all, imagine wearing a fur coat in 30-degree C heat!
As well as keeping your pets' water topped up, walking them early in the morning and late in the evening, you can buy them a paddling pool to cool down in.
And now, thanks to Amazon Prime, you can order one today and have it delivered tomorrow (while it's still hot).
What makes these different to traditional, kids paddling pools? Pet paddling pools are typically foldable, rather than inflatable, so your pet's claws can't burst it.
Check out a selection of pools below: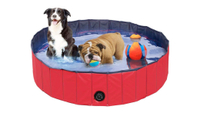 Reayou Foldable Pet Paddling Pool | 120cm x 30cm | £39.99
Made from PVC strong with composite board inside, this pool is ideal for medium sized dogs. The pool can easily be folded and stored when not in use. It measures 120 x 30cm, weighs 4.8kg, and features a 3.2cm diameter drainage hole that makes it fast to let out the water.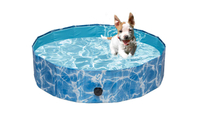 Scirokko Dog Swimming Pool | 80cm x 20 cm | £20.99
Ideal for smaller dogs, such as terriers, this dog swimming pool is made from high-grade scratch-resistant plastic and MDF. It features a non-slip bottom inside the pool, and measures 80cm in diameter. It folds, making it convenient to store when not in use.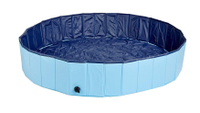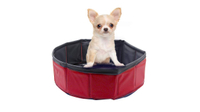 Petilleur Foldable Pet Paddling Pool | 30cm x 10cm | £9.99
This tiny paddling pool is ideal for smaller dogs, such as Chihuahuas. It measures 30cm in diameter, so can even be used on a balcony or in a bathroom, as well as a garden, and it can be folded to store after drying, making it very convenient.
So buy it now and let your pet have a cool summer.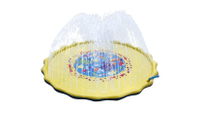 DARMAI UOKOO Sprinkle and Splash Play Mat | £22.99
Looking for something a little more fun? This Sprinkle and Splash Play Mat is a must but. It measures 68-inches in diameter, and is ideal for kids, as well as pets. Simply attach it to any garden hose, and adjust water pressure to lower or higher the spray height.