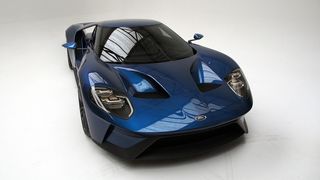 1. Introduction to the Ford GT
The Ford GT is a legendary performance car. It's only seen two iterations since it's inception in 1960, but it's gained a cult following amongst petrolheads.
This is the all-new, 2016 model. It was announced earlier in the year at the North American Auto Show in Detroit, and T3 was lucky enough to spend a rainy afternoon with it last week.
Here's everything you need to know about the stunning new production car.
Efficient EcoBoost Engine
Efficiency and supercars aren't usually two things that go together, but the all-new Ford GT will feature an EcoBoost engine, sounds boring right?
Well, what if I told you it'll be the most powerful production EcoBoost engine ever made -- a next-gen 3.5 litre, twin-turbo V6, which will produce more than 600 horsepower? A little less bored now, I bet.
Ford ensure us the V6, despite its small size, will produce a wide powerband with impressive time-to-torque characteristics.
The twin-turbocharged EcoBoost V6 will be paired with a seven-speed dual-clutch for "near-instantaneous" gear changes.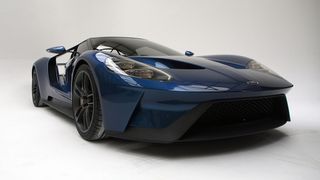 2. Active Aerodynamics
That small engine creates a lot of room for aerodynamic design, and Ford claim aerodynamic efficiency is at the heart of the GT design.
The Ford uses an aircraft-inspired tear-drop shape, with a curved windscreen and every surface designed to minimize drag and optimise downforce.
The rear features fully active aerodynamic spoiler to improve braking, handling and stability, deploying and adjusting its height and/or pitch depending on conditions.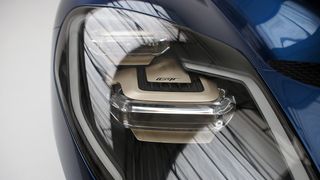 3. Lightweight design
The Ford GT features a carbon fibre tub with aluminum front and rear subframes attached, this helps the GT to achieve one of the best power-to-weight ratios of any production car.
It also creates a stiff foundation for chassis components, while creating a lightweight package for increased dynamic performance and efficiency.
The GT makes extensive use of lightweight materials, including carbon fiber and aluminum – which should allow for impressive acceleration and handling with improved efficiency.
The all-new GT features advanced lightweight composites, which will help serve Ford's entire product lineup moving forward (but more on that later).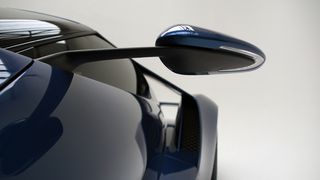 4. State-of-the-art Connectivity
The interior cabin doesn't represent the final design yet, do we weren't allowed to photograph it. But according to Ford it will feature the all-new SYNC 3 communication and entertainment system.
This brings faster performance, conversational voice recognition (including Apple's Siri Eyes-Free), a 'smartphone-like' touchscreen and a simple graphical UI.
We did spot a camera placed in the rear diffuser, so expect parking aids to feature as well.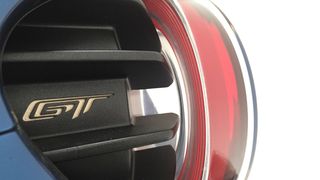 5. Other performance features
The chassis is suspended by an active racing-style torsion bar and pushrod suspension, with adjustable ride height.
20-inch wheels are shod with Michelin Pilot Super Sport Cup 2 tires featuring a unique compound and structure designed specifically for the Ford GT.
Carbon-ceramic brake discs make an appearance at all four corners, and the two-seat cockpit is accessed by upward-swinging butterfly doors.
An F1-style steering wheel integrates all necessary driver controls, creating a stalkless steering column that allows uncluttered access to the transmission paddle-shift controls.
A fully digital and configurable instrument cluster (similar to Audi's virtual cockpit) provides a configurable display for multiple driving environments, information, and different driving modes.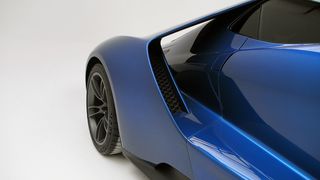 6. Innovations that will filter to other production cars
If you think this will never have any relevance to you, you're wrong.
Raj Nair, Ford Group Vice President of Global Product Development has said, "The GT is the ultimate execution of an enthusiast supercar. GT includes innovations and technologies that can be applied broadly across Ford's future product portfolio – another proof point that Ford continues raising the performance bar while ultimately improving vehicles for all of our customers."
Expect to see the 3.0 litre V6 in a KA soon then?
This pre-production model is set-off in a rather striking 'Liquid Blue'. Originally Ford said this colour wouldn't be available when it comes to production, but overwhelmingly positive reactions could change their mind.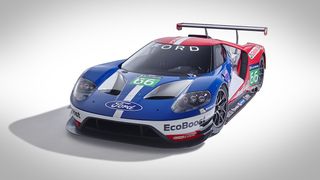 7. See it in action at Le Mans next year
The new Ford GT won't just be seen on the road -- the company also plans to return to the Le Mans 24 hour endurance in 2016.
This will coincide with the 50th anniversary of their victory in 1966.
We think that livery looks great, what are your thoughts readers?