On the hunt for the best dildo in 2023? T3 is here to help you find the perfect phallic fantasy with our top picks for the best dildos, available in all shapes, sizes, styles, colours and budgets.
In the broadest of terms, a dildo is a phallic shaped sex toy and are some of the best sex toys you can get today. But once you start exploring further, you'll find that the range of dildos available today is expansive; a cornucopia of colourful, imaginative toys that are designed to suit every shape, preference and desire.
This guide is here to help you find the best dildos for your needs. We'll walk you through the different types, and offer our top picks in each category. Whichever kind you choose, make sure you also order a bottle of the best lube – these two are essential partners when it comes to dildo play. While you're shopping for sex accessories, we also have dedicated guides to the best vibrators, the best Fleshlights and the best condoms, too.
Want to browse for yourself? Below are links to the trusted retailers we'd recommend – click the links to explore their dildo ranges and see what takes your fancy. And once you've had some fun, make sure to clean your sex toy properly.
Best dildo: lifelike
A lifelike dildo is, as you'd expect, designed to look like a realistic penis with a tip-shaped, swollen head, natural-feeling ridges and soft testicles. This type is often considered a good 'starter' dildo for beginners, the realistic dildo never really loses its appeal – it remains a popular choice for rookies and more experienced sex-toy users alike.
Most lifelike dildos are made out of silicone for its soft, malleable qualities; some contemporary dildos are made from liquid silicone, which has a very natural skin-like texture. We'd advise buying a lifelike dildo that has a suction cup as this makes it much more user-friendly and means you can try different positions with a hands-free option, including wet play in the shower.
How big do you want to go? As you might expect, the size range is huge. We'd recommend starting small (around 6 inches of insertable length) and building up from there. Equally important is the girth – an average erect penis girth is around 5 inches, but you can buy girthy dildos that boast double that. Make sure you get your measurements right before ordering and always pop a bottle of lube in your shopping basket too.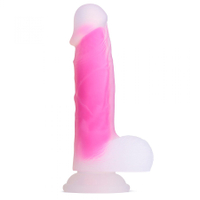 Glorious Real Skin Feel Dildo: Buy at Look Fantastic
The colour might not be realistic, but everything else about this Glorious dildo is designed to mimic the real thing. It's made from super-soft, flexible silicone with 'real feel technology' that's designed to feel like skin. There's 7-inches of insertable length, making it a good size for beginners, and there's a strong suction cup at the base so you can use it hands-free too.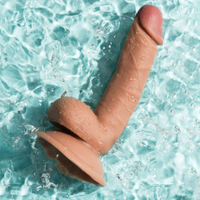 Lovehoney Lover Classic Realistic Dildo: Buy at Lovehoney
Extra flexibility earns this lifelike dildo bonus points as it can bend to please at any angle. A defined head and veined shaft give this beginner-friendly toy a realistic appearance and at its foot sits a pair of firm balls to up the real-deal credentials further. A suction cup is a big plus if you're looking for realism and this dildo is compatible with an 'o' ring so it can be used in a harness for strap-on enjoyment too. Pick from a range of different skin tones.
Best dildo: strap-on
A strap-on dildo is designed to be used by people without a penis – it comes with a harness that fastens around the wearer's waist and legs, while the phallus feeds through an O-ring opening at the front. Versatility is a key USP for this type of dildo – it's a popular sex toy with lesbian couples and hetro partners who want to dabble in role reversal play with a spot of pegging. The better kits come with different sized O-rings, so you can change the size of dildo when desired.
This category has expanded somewhat to give more options. Now, there are also no-strap versions, in which the end that would be in the O-ring is designed to be inserted into the wearer's vagina, to give plenty of G-spot stimulation. Double-penetration versions are also available – these attach to a penis so the wearer can penetrate the vagina and anus at the same time. Did we mention that versatility is one of its selling points?
As always check the girth and length of the dildo element of the strap-on kit and that the O-ring is the right size for the dildo you're buying. Harnesses are adjustable and will suit most body shapes and sizes.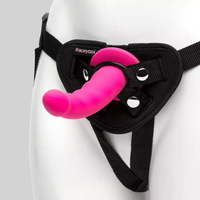 Tracey Cox Supersex Strap-On Pegging Kit: Buy at Lovehoney
This strap-on dildo kit includes everything you need to get started with strap-on sex – just add lube. There's an adjustable, machine washable harness that'll fit from UK dress size 10-32. There's two different sized dildos, made from hypoallergenic silicone with a suction-cup base for when not used in the harness. There's also three different sized O-rings, which mean the harness can be used with a variety of other dildos. Finally, there's a dinky bullet vibrator. Head to our Lovehoney discount codes to save on your purchase.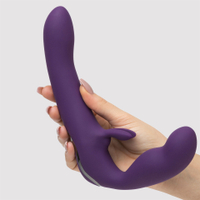 Desire Luxury Rechargeable Strapless Strap-on Dildo: Buy at Lovehoney
Look, no hands! Or straps, or harness for that matter. This clever strap-on is designed to be held inside the vagina by the kegel muscles giving the wearer pleasure as well as the receiver. The shorter shaft (posable pony) is flexible and can be angled to sit comfortably while two small rabbit ears stimulate the wearer's clitoris. Sharing is caring with this vibrating toy as the main shaft moves inside the receiver with 8 different settings to play with.
Best dildo: glass
If the idea of a glass dildo sounds risky, do not fear: these are made from super-strengthened borosilicate glass, which is guaranteed to stay firm and shatter-free, so you can pack away any wincing preconceptions you may have had about inserting glass internally.
In fact, let's focus on the pleasure a glass dildo can bring. Those familiar with these beautiful-looking dildos will tell you of the wonderful sensation of the smooth texture of the glass. In fact, if you're interested in sensory play, this might be the best dildo type for you, as they can be cooled or heated before use. Put your glass dildo in the fridge or in a bowl of warm water, test the temperature before use, and away you go. Temperature play can heighten the sexual experience and advocates sing its praises as a sensory way to use sex toys.
Another advantage of the glass dildo is that it can be used anally or vaginally and with any kind of lube, and it's easy to clean so it boasts some pretty good hygienic credentials too.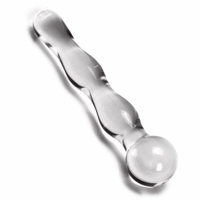 5" Glass Rippled Dildo: Buy at Ann Summers
There is a lot to enjoy on an aesthetic level when it comes to glass dildos as this sub-genre of sex toys offers some interesting and pleasing designs. This sculptured version from Ann Summers is certainly pretty to look at and very comfortable to hold with its bulbous base. Its rippled design offers the receiver waves of sensations, it can be used vaginally or anally with any lube and it's easy to clean too.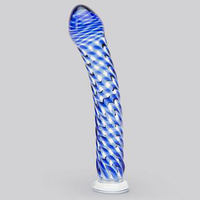 Blue Swirl Textured Sensual Glass Dildo: Buy at Lovehoney
Looks matter, and this aesthetically pleasing, textured glass dildo is looking pretty pucker with its raised blue swirls. Most importantly, though, the design is spot on, with an upward curve to increase pressure and a wide head for optimum G-spot/P-spot stimulation. It can be warmed or cooled before play and it measures up at 4.5 inches of girth and 7 inches of insertable length.
Best dildo: vibrating
In almost every category of dildo you'll find a vibrating option. So whether you're looking for realistic, double-ended, anal only, strap-on or inflatable dildo you can usually find a version that'll give you an extra bit of buzz.
The best dildos will offer you a range of settings and vibration patterns so you have complete control over how intense the experience is, with the option to have more or less as and when you want it. Some vibrating dildos have simple button controls near the base, while others are operated by remote control so you can increase the intensity without having to try and remember what button does what while you're mid-flow.
Vibrating dildos are designed to stimulate the G-spot and/or the prostate gland (P-spot). They are often curved and shaped in order to hit those crucial erotic zones and the results can be pretty intense.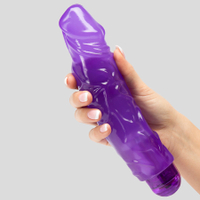 Exotic Diamond 10 Function Extra Girthy Realistic Dildo Vibrator: Buy at Lovehoney
This super-veiny dildo with curved shaft and pronounced head ticks multiple boxes as it offers both realistic feel and vibrating options. Play with the 3 speeds and 7 settings to see which suits you best. It's waterproof so it can be used in the bath or shower too. Take note, measuring in at 6.5 inches in circumference this dildo is hefty and for those already accustomed to bigger sizes, and should always be used with plenty of lube.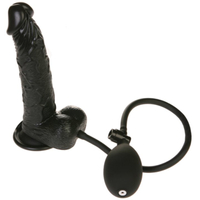 Bondara Ultimate Inflating Dildo: Buy at Bondara
If you want options Bondara's inflating, vibrating, 7-inch long dildo gives you choices. As well featuring a variety of settings to increase/decrease the vibrations, once inserted you can inflate it to twice its original girth (4 inches). Its veiny texture is realistic and it's easy to inflate and deflate using the hand-held pump.
Best dildo: anal
As long as they have a flared base (important to avoid any embarrassing disappearing acts) most dildos can be used anally. So, whether you have a penchant for glass, steel, silicone, soft or hard, there will a dildo to match your anal desires. However, there are dildos designed specifically for anal play that are shaped to tickle the prostate gland (P-spot) and are contoured to be held with ease. These dildos often feature small, bead-like nobbles, just like you would find on anal beads, so that insertion and extraction activates all the thousands of nerve endings in your anus.
Before you puchase an anal dildo, it's important to note that lube and anal play are the best of friends and should never to be separated. Unlike the vagina, the anus is not self-lubricating so you will need to reapply frequently – indulging in anal play without lube will cause discomfort rather than pleasure. The kind of lube you choose for anal play is important. Water-based is best and never use silicone lube with a silicone toy. There are lubes on the market that are designed specifically for anal play – they're thicker and creamier and will last longer.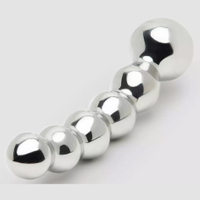 Desire Beaded Anal Dildo: Buy at Lovehoney
Moulded from smooth, stainless steel the Desire Beaded Anal Dildo measures up to 6.5-inches of insertable length, and it has some heft to it too (780g), which makes it ideal for internal massaging. The row of beads will intensify sensations, while the curved shape and bulbous tip will activate the P-spot.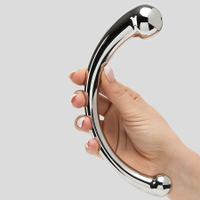 njoy Pure Stainless Steel Dildo: Buy at Lovehoney
A pleasure to look at and a delight to use, this medical-grade stainless steel dildo is perfectly curved and topped with differing-sized balls (3-inch and 5.5-inch) for exploring anal play. Boasting a high sheen, this beautiful looking toy gleams and it offers deep sensations as it's weighted to ensure firm pressure. It can be used for sensory play (hot and cold), and, with good care, it will last a lifetime.
How to choose the best dildo for you
Why you can trust T3 Our expert reviewers spend hours testing and comparing products and services so you can choose the best for you. Find out more about how we test.
When it comes to buying the best dildo, there are so many to choose from! There are dildos that vibrate, inflate and deflate. There are compact dildos that are perfectly beginner friendly, and bigger ones for more experienced users. They are made from different materials too, such as glass, metal or silicone. Some are designed for G-spot stimulation, others are shaped to tickle the prostate gland (P-spot).
There are lifelike dildos, modelled to look like a real penis, while others are much more abstract, some with an exotic array of nobbles, bobbles and ridges to create extra frisson and sensation. In short, whatever you fancy, you'll probably be able to find it, especially if you take our advice from this list.