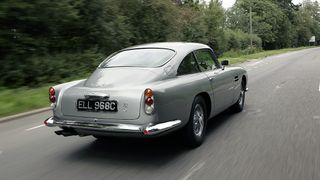 Bond's best cars
Ludicrous car chases, vehicles that emit a brace of rockets from their radiator grilles and massive explosions: these are the things that make Bond films great.
Daniel Craig is soon to reprise his role as 007 in the upcoming Spectre, where he promises to thrash a Jaguar concept car and an Aston Martin that isn't available for public consumption. But before then, you can ogle the contraptions that have helped Bond defeat three-nippled bad guys and outrun the fuzz for the past 53 years.
From weapon-packed Astons to rather dull BMWs and AMC Matadors that just happen to have smartphone control and the ability to fly respectively, here's our pick of the Top 10 Bond cars to date...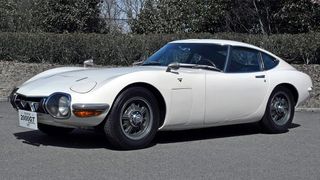 Toyota 2000GT Convertible
You Only Live Twice (1967)
The Toyota 2000GT is the absolute pinnacle of classic car design. It's arguably prettier than a Jaguar E-Type and has the Aston Martin DB5 licked in terms of rarity, which is probably why the very few currently in existence trade hands for well over £1 million.
Sean Connery's model in You Only Live Twice is even more extraordinary, due to the fact that filmmakers had to commission two open-top versions thanks to Connery's lanky frame not fitting into the hard-top. The 2.0-litre inline six-cylinder engine can be enjoyed to the fullest during a tyre-screeching chase scene around Tokyo and, unlike most Bond vehicles, it isn't blown into a million pieces.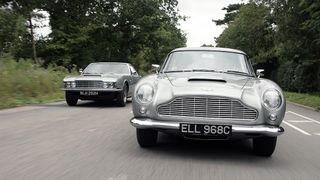 Aston Martin DB5
Goldfinger (1964)
A list of the greatest Bond cars wouldn't be complete without the Aston Martin DB5. It's the car 99.9 per cent of people think of when asked about the franchise and its 1964 debut outing makes 007 fans tingle with glee to this day.
Author Ian Fleming had originally placed Bond in an Aston DB Mark III but seeing as the all-new DB5 was out during the film's release in 1964, it only seemed fitting that the British spy drove the latest model.
Rumour has it that adding the gadgets to the car, which included rocket launchers and a working ejector seat, cost the film's makers four-times the amount of a standard DB5.
Of course, the DB5 returned numerous times, including a spot in Goldeneye and a symbolic reappearance/inevitably OTT destruction in the recent Skyfall.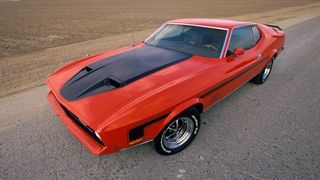 Ford Mustang Mach 1
Diamonds Are Forever, (1971)
Bond has a habit of stealing his latest dalliance's wheels to make a hasty escape and in Diamonds Are forever, Connery pinches the keys to a rented Mustang Mach 1 and subsequently causes havoc in Las Vegas.
The Mach 1 is synonymous with 1970s American muscle cars and packs the prerequisite V8 engine, so a fitting vehicle for 007's US adventure. Unfortunately, the muscular Mach 1 went on to become part of continuity error folklore when it entered a narrow alleyway on its right two wheels, only to appear the other side on its left wheels. Still, it's a rumbling hunk of all-American metal that's worthy of a place in this list.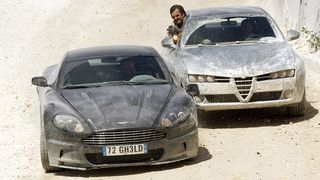 Aston Martin DBS
Casino Royale (2005)
Introducing a new Bond is never easy but Daniel Craig's entrance was made much easier thanks to the Aston Martin DBS. It's one of the most aggressive and striking Astons of recent years and its meaty looks are backed up by the 510bhp produced by its 6.0-litre V12. Lightweight body construction ensures it packs a power-to-weight ratio of over 300bhp per tonne, meaning it can complete the 0-62mph sprint in 4.2 seconds.
So what does Daniel Craig go and do on this beauty's debut? He flips it seven times in a record-breaking car stunt that completely ruins it. Luckily it wasn't an actual DBS, it was a DB9 in disguise because the aforementioned super car wasn't quite finished in time for filming.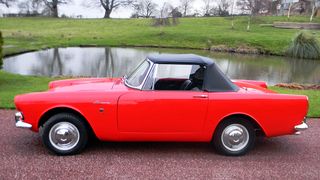 Sunbeam Alpine
Dr No (1962)
It's hard to believe, but Bond's first car was a 1.6-litre Sunbeam Alpine that produced a wheezy 80bhp. Dr No was filmed with a budget of less than £1million, so its makers had to make cuts where they could. Rumour has it that the Sunbeam was loaned from a Jamaican resident, as it was one of the very few sports car on the island where most of the filming took place.
There were no missiles, no tyre spikes and definitely no autonomous driving functions. In fact, the Sunbeam's only "action" feature was that it was small enough to fit under a large crane, therefore saving Sean Connery from a bunch of reckless henchmen. Still, it's a pretty little thing and worth an equally pretty penny if you want to buy one today.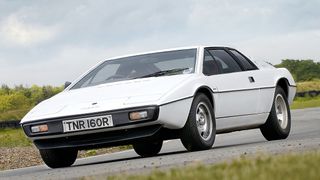 Lotus Esprit S1
The Spy Who Loved Me (1977)
Sardinia, sunshine, scantily clad ladies and a Lotus that miraculously turns into a submarine. You can't write this stuff. Well, Christopher Wood and Ian Fleming can and they did in 1977 when Roger Moore famously drove the wedgy wonder into the drink to evade a helicopter stuffed with bad guys.
All of the underwater sequences were done using a version of the Esprit dubbed 'Wet Nellie',and piloted by an ex-U.S Navy SEAL. In a further tech twist, Tesla founder Elon Musk recently bought the original prop and plans to one day convert it back into a functioning submarine, using some specially tuned Tesla motors and batteries. It's nice to have a hobby, isn't it?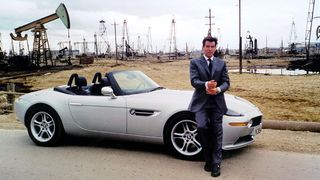 BMW Z8
The World is Not Enough (1998)
Pierce Brosnan managed to get to grips with the famously terrible driver's car in The World is Not Enough but its screen time was kept to a minimum thanks to a production version not being ready in time for filming.
Instead, this half-complete model sadly met its end via a giant band saw soon after downing a helicopter with a rocket. Classic Bond.
Whatever its faults as a ride, Henrik Fisker's Z8 is one of the most handsome BMW roadsters ever made and the original concept was received so well, the German marque released a few thousand into the wild.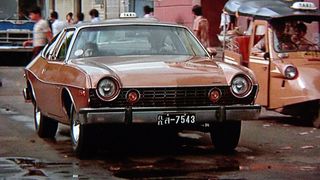 AMC Matador
The Man With The Golden Gun (1974)
Like the BMWs of Brosnan-era Bond, the use of AMC was part of a lucrative product placement deal that saw Roger Moore bizarrely swap his Aston for a Yank-tastic AMC Hornet hatchback. But, the commercial deal also spawned one of the most awesome car chases in Bond history, when Christopher Lee's three-nippled Francisco Scaramanga escapes in his winged AMC Matador.
The shapely beige saloon built for the film could actually fly - albeit only for around 500m, after which it was quickly replaced by a smaller, remote controlled version - and was subsequently used by AMC to advertise the aerodynamic nature of its mid-70s models.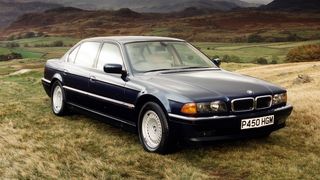 BMW 750iL
Tomorrow Never Dies (1997)
This is perhaps the most ill-fitting piece of product placement in Bond's history and if Ian Fleming witnessed his beloved creation driving the grey rep-mobile, he'd likely turn in his grave.
However, this seemingly vanilla saloon totally redeemed itself when Brosnan controlled it remotely via his state-of-the-art Sony Ericsson phone. The chase culminates in even more product placement for Avis but, funnily enough, also served as a spooky preview of future automotive tech, given that BMW's latest 7 Series can actually remotely park itself... with a smartphone. Life imitating art and all that.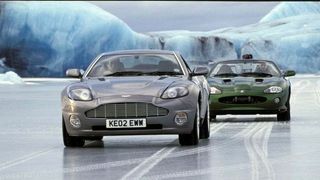 Aston Martin Vanquish
Die Another Day (2002)
Even though most of its parts were pinched from Ford, the Aston Martin Vanquish was one of the first models to help revive the stale and ageing British brand and usher in a new era of high performance supercars.
The 6.0-litre V12 engine developed in excess of 450bhp and meant the Vanquish could smash a stop speed of 190mph. It also served as the highlight of Die Another Day, when an invisibility cloak device saw it fend off an equally sexy Jaguar XKR in an elaborate and frozen chase scene in Iceland.
Interestingly, Jaguar Land Rover is currently working on 'invisibility' technology, which uses cameras and a windscreen overlay to render the bonnets of its off-road vehicles see-through.