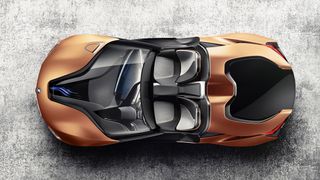 Welcome to the CES car tech show
The Consumer Electronics Show in Las Vegas is the only place you'll see a man attempting to land a drone while demonstrating the latest hoverboard technology. It is also the only place you'll witness automotive manufacturers unveil little electric camper vans with exceedingly daft names.
Automotive used to be a tiny element of this gigantic, annual tech fest but since the advent of autonomous driving and ultra-intelligent in-car entertainment systems, Vegas is now a bona fide motor show, with many manufacturers using it as an opportunity to give us punters a glimpse into the future.
The whole self-driving thing is still a huge talking point, with mass-market brands announcing that they will join the race this year, while smart solutions to keep us entertained on these long and boring autonomous drives seem to be the flavour of the day.
So it was a show packed with all-electric race cars, amazing infotainment systems and self-driving oddities. Here are our automotive highlights, condensed for your reading pleasure...
• You want the best SUVs money can buy? We got 'em!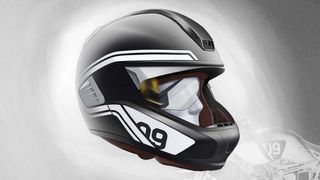 BMW Motorrad laser light helmet
BMW's biker-friendly concept projects necessary traffic or vehicle information directly into the rider's field of vision via a neat heads-up display screen, allowing him or her to check speed, navigation and fuel levels without distraction.
It is also kitted out with vehicle-to-vehicle communication technology, which means it can gather real-time traffic feeds from other road users.
Riders can also enjoy recording footage from the front and rear cameras, as well as enjoy tunes from the built-in loudspeakers. That rear-facing camera also doubles-up as a digital rear-view-mirror.
The tech has been seen before, as the Skully AR-1 smart helmet features a similar HUD set-up. However, excitement for that particular, crowd-funded project soon subsided when a price was finally announced. Hopefully BMW's stab at a biker-friendly heads-up display helmet will prove both more popular and less expensive.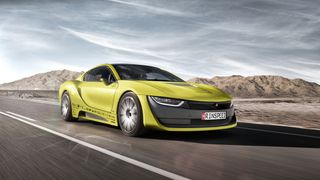 Rinspeed Etos
Never ones to shy away from the challenging end of the market, Rinspeed took the crazy up a notch this year with a futuristic concept that is based on the BMW i8 but showcases the in-car entertainment of a highly-autonomous future.
As well as an on-board drone, which can apparently fly off and pick up the shopping, there's mucho cool stuff inside, with a number of 21.5-inch 4K screens festooning the cabin for starters.
The advanced infotainment system blurs the lines between work and downtime, as it can delve into digital diaries to schedule phone calls, host Skype meetings and even choose a route that it knows will have the best mobile phone reception.
Powerful software behind the system can also recommend music based on the driver's moods, with the ability to create playlists from simple verbal instructions, such as "play me something with a heavy beat".
The vehicle itself, complete with shopping drone, may be the dictionary definition of blue-sky thinking but the interior tech is an interesting look at what will occupy drivers when potentially mind-numbing, fully autonomous driving finally becomes reality.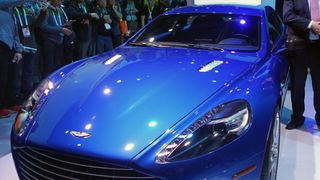 Aston Martin Rapide S with Letv internet
Not a new car, admittedly, but the first fruits of the British super-brand's tie-up with all-things-E purveyor Letv. The latter's 'Internet of the Vehicle' (IOV) system - oh yes - includes turning the centre console into a 13.3-inch, HD touchscreen and the instrument panel into a 12.2-inch non-touchscreen. Letv's speech-recognition tech lets you talk to your car, like a crazy person. In-car Wi-Fi allows both connectivity for passengers, and also for the car's systems to be remotely monitored.
The stated aim of this union goes further than that, with Aston hailing the 'development of connected electric vehicles through to manufacturing consultation on future electric vehicles,' at some unspecified, but presumably not very distant point in the future. Just like Jaguar, Aston Martin knows which way the wind's blowing, and it's away from emissions and towards electric supercars.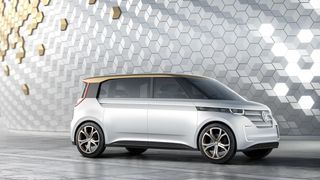 Volkswagen Budd-e
The name is cheesy and the live unveiling packed more cringe than an episode of The Office, but VW's cute electric camper is more than just a vehicle for the selfie generation.
In a bid to reverse some of the damage caused by 'Dieselgate', the microbus is powered by batteries and two electric motors, which combine to develop an impressive 315bhp. Volkswagen claims Budd-e can travel for up to 331 miles on a single charge and can top up its batteries to around 80% in just 30 minutes.
The family wagon packs some other neat features, including a refrigerated tray in the rear bumper, which can be opened by a digital key to accept shopping deliveries and parcels without the driver being required.
Budd-e is also down with the Internet of Things, so it can hook up to items within the smart home and warn if milk is getting low in the smart fridge, or turn up the heating on your Nest thermostat.
Even if this futuristic camper van remains some way in the future, the 3D digital displays and cool touchscreen pads on the steering wheel are a good indicator of what we can expect in upcoming VW products.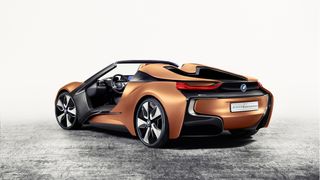 BMW i8 Roadster Concept
Making the BMW i8 even more appealing isn't an easy task but the German marque managed it with a sleek, door-less concept dubbed 'i Vision Future Interaction'. Mmm, snappy.
So the name needs a little work, but the gorgeous 21-inch display that wraps around the centre of the dash certainly doesn't. It features BMW's new AirTouch technology, which allows the user to flick between on-screen menus just by pointing at them; no physical connection with the screen is needed.
The concept inevitably boasts 'highly autonomous features' and when a driver decides to let the machine take over, the seat reclines slightly and the steering wheel moves backwards, making interaction with the stunning display easier.
No word on a release date, but it's a good sign for those longing for a convertible i8, as BMW would be stupid not to release a Spyder after the overwhelmingly positive reaction to this concept.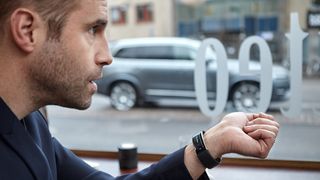 Volvo and Microsoft Band 2
The Swedish manufacturer just brought those Knight Rider fantasies to life thanks to upcoming compatibility with the Microsoft Band 2. Owners of the chunky wearable will be able to verbally instruct compatible Volvos to perform tasks such as setting navigation, heating the interior, locking the doors, flashing the lights or sounding the horn. No, I have no idea why.
Volvo also announced a partnership with Ericsson to develop high-bandwidth streaming capabilities within highly autonomous vehicles. Cars that can drive themselves are inherently boring, so why not while away the hours with a film of TV series?
Ericsson's network and cloud expertise means the service can be tailored to select content based on the duration of each trip and intelligently buffered to deliver the best viewing experience.
So, if your autonomous journey only takes 20-minutes, the car may automatically select a slightly longer route so you can continue your episode of Family Guy without interruption. Get in!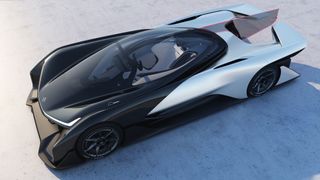 Faraday Future FFZero 1
The Faraday Future is a trailblazing tech start-up that looks set to take the electric vehicle world by storm with its reasonably demented FFZero1 concept.
The single-seater speed machine features a powerful electric motor in each wheel, meaning it develops the electric equivalent of 1,000bhp and can reach a top speed of 200mph.
Its makers claim the Variable Platform Architecture (a fancy way of describing a modular chassis) will improve the speed electric cars come to market and drastically reduce production costs. Although surprisingly, a Faraday Future spokesperson wouldn't confirm whether the awesome FFZero1 would go into production. He did confirm that a more 'traditional' two-seater sports car is in the pipeline, though.
Naysayers claim that the madcap vehicle, which comes compete with an oxygen helmet for the driver, is just pie-in-the-sky design from Silicon Valley rich kids, but others believe it has the chops to bother Tesla. We don't really care either way.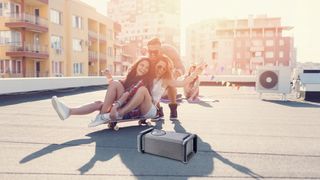 Harman Voyager Speaker
The American audio maker has long been a fixture at CES and its residency at the Hard Rock Hotel was positively overflowing with cool car tech this year. Voyager was a highlight and is an affordable, portable music system that can be used both in-car and when on the move.
The disc-like speaker slots neatly into the dash of a compatible car and, thanks to a number of powerful drivers, can pump out rich tones to all four corners of the interior.
It has been created to offer a pumping audio experience for owners of budget cars that perhaps lack powerful door speakers, but can also be pulled out to rinse some tunes at the beach or festival. The modular speaker unit can also be slotted into a large sub woofer that resides in the boot.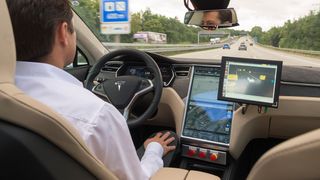 Bosch haptics and future interiors
It's no secret that Bosch supplies some of the world's biggest car brands with the latest interior tech and it's clear that the German engineering specialists have been asked to consider the upcoming autonomous revolution.
The solution seems to be screens. And lots of them, as Bosch absolutely covered its backlit, roof-less concept in them. But these displays aren't just for viewing media, as the entire cockpit can be connected to the Internet of Things and control any compatible smart device.
A central tunnel screen can send information from the main hub to screens in the rear, or it can be used to organise files and send them on to co-workers in the office. The displays also double-up as advanced mirrors, meaning the driver can manoeuvre the car with unrivalled precision and visibility.
Finally, Bosch has made major breakthroughs in the haptic feedback department, as it can now apply 'textures' to a flat surface. The idea is to reduce distraction, as the user can 'feel' different buttons. It also mitigates accidental button bashing, as clever pressure technology means a user must really push a button hard in order to turn the system off, for example.
Bosch helped Audi shape its brilliant Virtual Cockpit system, so don't be surprised if some of these breakthroughs feature in upcoming models.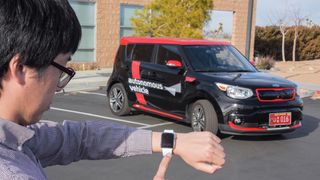 Kia Drive Wise
Kia emphatically announced that it hopes to have a fully autonomous car on the road by 2030, but it will slowly introduce certain self-driving aspects via its new Drive Wise sub brand in the coming years.
What does that mean for you? Well, by 2020, your Kia will be able to tackle motorways and traffic jams by itself, while valet parking services and the ability to automatically follow a vehicle in front will be added by 2025.
Interior tech will also undergo huge improvements, with Kia trialling fingerprint recognition software that will set the car up to a user's specific preferences and gesture controlled infotainment systems.
The Korean marque was one of just a few manufacturers to receive permission to test self-driving vehicles on public roads in Nevada last year, a move it thinks will rapidly speed up the introduction of highly autonomous functionality.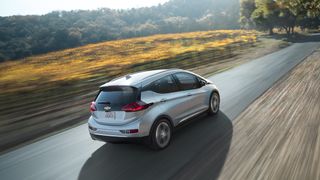 Chevrolet Bolt
Chevy's Bolt may not look like much but it is big news for electric cars in general, as this affordable machine (it's set to cost our American cousins $30,000) is capable of more than 200 miles on a single charge, a distance that could finally convince petrol-obsessed buyers to take the plunge.
The Bolt will also feature apps focussing on car sharing (General Motors announced it is investing $500 million in ride-sharing provider Lyft), advanced GPS routing, a camera-based, digital rear-view mirror, and the ability for Bolt owners to compete socially, to see who is the most efficient driver. Yo, check me: I'm the daddy of sensible braking and minimal idling time!
With production due to start anytime now, this could be the mass-produced electric vehicle that finally turns the tide. Shame Chevrolet isn't sold in the UK anymore. Doh.