Honda Civic Type-R 2015 intro
If you want quick and you want grippy, you're going to love the new Type R. It's no light-weight, but with 306bhp, it still absolutely flies. Its huge, sticky-tyredwheels and arguably even more epic 350mm front brakes with four-piston monobloc calipers mean it's tightly controlled power, too.
This thing goes hard, it corners hard and it stops even harder. You can annihilate any stretch of tarmac you choose. It's actually a little bit scary to contemplate the kind of car you'd need to demolish a decent road any faster than you can in the Type-R. It's incredibly effective.
It's also pretty satisfying. The electrically assisted steering doesn't have much genuine feel. But it's firm and accurate enough to allow the precision and confidence you need to drive hard. The gearshift is very slick and nicely weighted, while that trick front axle and limited slip differential do a nice job of keeping all that performance in check.
What the new Type-R doesn't have, however, is the manic, electrifying fizz of Type-Rs of old. The new turbo engine absolutely flings the car down the road, for sure. But the sound is boomy and fairly uninspiring, despite the fancy quad-pipe exhaust. And it simply doesn't rev out with anything like the enthusiasm of old.
If you really want to get forensic, Renault's Megane Trophy R, with its Trick Ohlins dampers, has the nicer chassis. But then the Type-R counters with more straight-line zing and a funkier, more inviting cabin for daily use. The Honda also has more road presence. In fact, if you want something that looks shouty, the Type-R delivers more volume for less cash than just about anything else.
In short, the new Type-R is a killer hot hatch in the modern idiom. It's less exotic than Type-Rs of yore, but it's fast, does everything well and ticks enough of our tech boxes. That might just make this body-armoured speed cart the best all-round turbo überhatch in the business.
Read on to find out why. And to basically look at some car porn…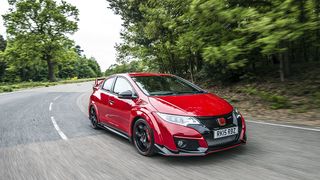 It's fierce
Just look at it. If there's another car currently available the packs even half the new Honda Civic Type-R's visual clout at even double the money, we'd like to know what it is. This thing looks like it wants to eat your kids for breakfast.
Subtle, then, the Type-R ain't. But if you want subtle, buy a Volkswagen Golf R. If you want a unapologetic uberhatch that celebrates high performance from the very tip of its front splitter to the toes of its quad exhaust pipes, it's got to be the Type-R. Visually, therefore, the new Type-R promises quite a punch, and it delivers…
At 310PS or 306bhp in old money, the new Type-R is properly rapid. As in 5.7 seconds to 62mph and 167mph rapid. In decades past, those kinds of numbers were only available from bona fide supercars. Today, it's yours for under £30,000. In a five-door hatchback. From Honda.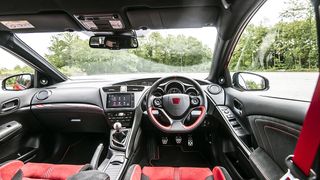 It's Android-powered
Competing with the big boys and their in-house iDrive and MMI multimedia rigs is a tall order. So Honda hasn't bothered. Instead, there's what seems very much like an aftermarket double-DIN media system plugged into the dash.
Whatever, it certainly runs Android, sports a nice big touchscreen and ticks the usual mapping-phone-and-music boxes more than adequately. Thanks to Android there's both app support and reasonable expectation of future updates.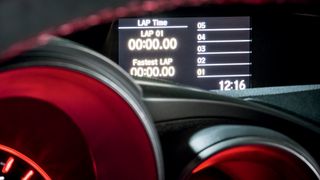 It's also got this thing
Known as the Multi Information Display, this LCD Digital G-meter, boost gauge and lap timer sits in the driver's instruments and serves up a load of suitably VTEC-just-kicked-in data.
That includes a G-meter with brake pressure and accelerator pedal position, boost pressure, oil temps, lap times and acceleration metrics. It's a bit of a gimmick but also exactly the kind of thing you'd want in a modern-day Type-R. It's fun. What wouldn't be fun is if the Type-R cost a bomb to run, which luckily it doesn't because...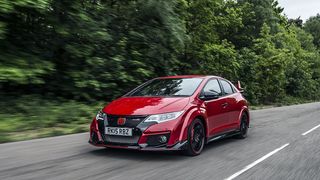 It's ready to rock
The 2015 Type-R is turbocharged. Yes, turbocharged. That means it doesn't just break with Honda's Type-R tradition, so much as defenstrate it in the most unceremonious fashion possible.
Kiss goodbye, therefore, to 8,000rpm and VTEC kicking in, yo. Say hello to far more usable power across a much wider rev range. If that's the good news, the bad is that the high-rev thrills and on-cam lunacy of Type-Rs of old is gone. Yes, it will rev to 7,000rpm. But it doesn't sound great and it's very much a turbo engine in the modern idiom, for better and for worse.
As on Renault's hot Megane and Ford's Focus RS, among others, there's dual-axis front suspension. Don't ask me how it actually works, just know that it helps soak up torque steer, which is pretty much essential when you're trying to pump well over 300bhp through the front wheels of a family hatchback.
The rear suspension is actually a pretty crude beam axle. But that's okay, because it still goes like stink and absolutely monsters corners. The sheer pace of the thing is shocking enough to make you overlook some of the subtler details, such as the 40mm gearshift throw.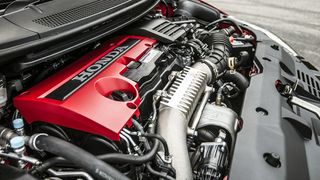 It's even frugal-ish
Sub-100g/km CO2 emmissions are now almost commonplace, and a few cars have cracked the 100mpg barrier, so the Type-R's 170g/km and 38.7mpg combined aren't going to win any prizes.
But for a 300bhp monster with quad exhaust pipes and a nigh-on 170mph top speed, those numbers are still pretty stellar. For context, Honda's previous 2007 Civic Type-R from 2007 spewed out 211g/km but made just 198bhp.