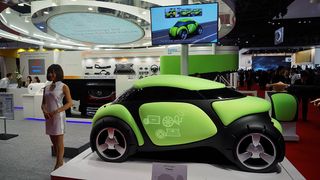 Moshi moshi! It's the Tokyo Motor Show…
Oh, oh, oh, life can be cruel, in Tokyo. So sang effeminate futurists Japan in the 1980s, but clearly they hadn't set eyes on the whacky car concepts to be found at Tokyo Motor Show.
For while the non-concept car launches this year could be best described as 'traditional', Japanese manufacturers brought their A game when it came to visions of what might be chewing up the highways of the near and not-so-near future.
Examples include a ride with air bags on the outside, one that boasts hologram entertainment and even a vehicle that'll power your house. The looks, meanwhile, ranged from Batmobile to Jonny Cab to sci-fi clown car.
Indulge us, then, while we come over all Top Gear…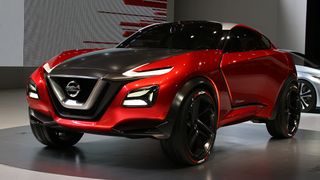 Nissan Gripz
The trick, enormous three-spoke, 22-inch carbon fibre wheels and Lambo-like scissor doors are unlikely to make it past this concept stage, but most of the rest of this "crossover SUV" will be eventually trundling to dealerships. Inspired by the 1970s Safari Rally-winning Nissan 240Z, Gripz adds carbon fibre rear window eyebrows/spoilers, cameras in the headlamps and boomerang tail lights to the compelling mix.
The stripped down interior is inspired by road racing bikes and indeed looks like Bradley Wiggins rendered in metal, so much so that you can feel every, individual bump on the road through your plums just by looking at the steering wheel. Bonus points for having a name that sounds like a member of Blazin' Squad, too.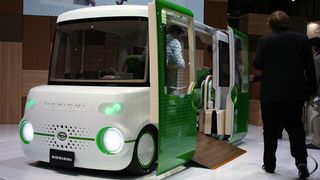 Daihatsu Nori Ori
Clearly plucked from the stress-free mind of a seven year old boy, this toy-truck-made-man-sized is essentially a car-sized roll on/roll off bus – Nori Ori means "get on, get off".
A wonderfully jolly mobility vehicle, it's got a ramp that slides out the side for wheelchair access, while the whole rear panel opens out on one, massive hinge, and there's an "ultra low" floor that I fear would hit every speed bump in Christendom.
The cheery face belies a serious issue: Japan is the fastest ageing country in the world with 26.7% of it's population now aged 65 or above. But mostly, aww… Look at his little face!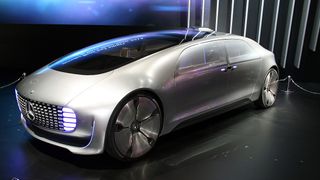 Mercedes-Benz's Vision Tokyo
That Apple Mouse-like shape speaks volumes for the freedom from design constraints that autonomous cars allow, and provides the benefit of impossible lashings of interior space. Access to this autonomous Merc is via one, huge gullwing door, that opens onto a five-person wraparound sofa, offering entertainment in the form of hologram apps and puzzles which spring from a floor-mounted lens. The front grille, meanwhile, displays whatever music you're playing in wave form, like an iTunes visualiser. How modern.
If you do fancy driving it, the unfolding, centrally located driving position boasts a clean dash with HUD instruments thrown up on the sofa-sized, wraparound windscreen. It's powered by a hybrid hydrogen fuel cell and inductive electric charging system, giving it a 600-mile, zero emission range. It's, 'A chill-out zone in the midst of the megacity traffic mayhem,' says Mercedes.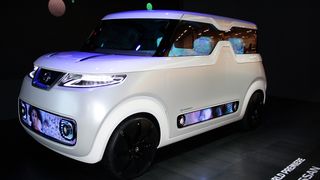 Nissan Teatro for Dayz
If the idea of a "concept minivan" doesn't rev your engines, you could well be dead inside. Just look at this one: the Teatro's got LED panels all over it like a rash, including outside panels on all four sides to spool a running commentary of whatever you want to type in, or your Facebook pictures of choice.
Still not convinced? How about interior cameras for selfies and projectors mounted in the car's ceiling which turn the whole interior into an unrestricted digital play area. Nope? How about a dashboard that's a totally blank canvas that can display your choice of drive modes, photos, movies or video games.
If you were starting to come around, consider this: Nissan are aiming the Teatro at the "share native" sector – the generation after millennials, currently still watching Peppa Pig. So you might end up being driven to the bingo in this, one day…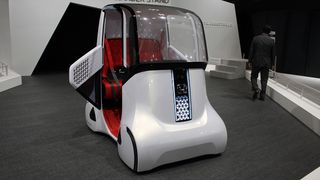 Honda Wander Stand
This wonderfully strange thing is a two-person transporter looking for all the world like a headlight-packing street pissoir on wheels. A ticket stand with ideas above its station.
You shout your destination atthis 1.8x1.2x2m trundling box, and it spits navigation info onto the windshield, perched on a futuristic dashboard. Then you're whisked to Aldi via Honda's Omni Traction Drive System which goes forwards, backwards, sideways and even diagonally for parallel parking like an utter boss. All the while, your mates will presumably stroll slowly past, sniggering into their Apple Watches.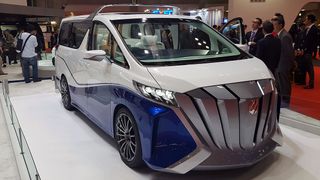 Alphard Hercule Concept
Sounding more like a Belgian Agatha Christie detective and looking like Optimus Prime's objectionable mother-in-law, this angry people carrier has been created by Tokyo Auto Body, based on a Toyota Alphard MPV. Details include that Arthurian knight's grille, completely retractible soft top roof, all-white, yacht effect interior and lounge sofa in the rear.
The aim, say Alphard is, "The feel of a marine cruiser and the cabin of a yacht's deck." Our jury's out.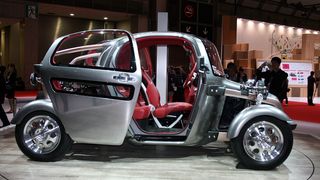 Toyota Kikai
A little like the car version of one of those strange, anatomical sculptures where that German bloke with the big hat strips the skin off humans, the Kikai, 'encourages us to appreciate the complex beauty of the mechanical aspects of cars,' according to the press bumpf. This means that all the mechanical gubbins are exposed, like C-3PO in The Phantom Menace. So the front and rear suspensions are completely exposed, and you can even stick your big hooter right into the rear mounted engine.
A glorious touch for the driver, sat proudly up front and in the middle is a window below their feet, showing both the workings of the suspension and tyres, but also the road passing, apace, underneath: roadkill, chewing gum, glorious dog turds, and all…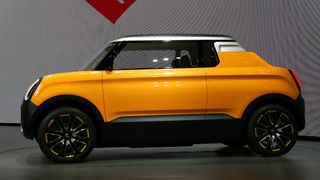 Suzuki Mighty Deck
With that striking canary yellow lick of paint alongside the angry/startled/waving cat figurine face, this concept 'compact pick-up' could well be the hairdressers' darling of 2017.
It flaunts a canvas roof, hinged open rear cargo bed outside, while inside there's a square steering wheel, wooden dash and lashings of brushed aluminium. Oh, and there's also a digitised dashboard and separate centre console screen showing navigation and infotainment. Engine and powertrain is TBC, if it ever sees the light of day, obviously. But it's a Kei car, so the engine will therefore max out at 660cc and 63bhp. Rules is rules.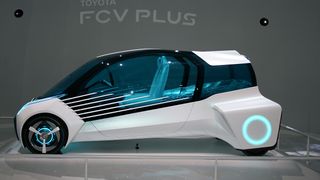 Toyota FCV Plus
Don't let the bathosphere look and lack of a steering wheel concern you. This'll be autonomous – natch – but you'll be able to drive it off the future car lot.
It's another hydrogen-fuelled thing, which has four in-wheel motors, powered by a fuel cell up front, with the hydrogen tank behind the rear seats. Sticking the engines essentially in the wheels allows for this seriously wacky design.
Plus, when you're not using your FCV, you can plug its energy generating expertise into your, erm, community, as Toyota explains: "When the car is not being used as a means of transport, it shares its power generation capabilities with communities as part of the local infrastructure."
So essentially you roll up, plug the car into an external hydrogen source and use it as a big generator on wheels. Clever. All we need, then, is an FCV Plus, and a worldwide hydrogen power infrastructure.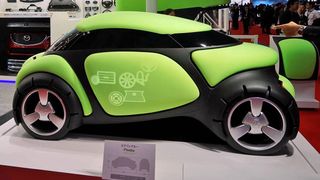 Toyoda Gosei Flesby
No, that's not a misspelling of Toyota. The brainchild of a company with its fingers usually in plastics, LEDs and vehicle safety tech, the Flesby is a safety concept that puts the cart before the horse, and cuddles it in a bubble wrap hug.
As a result, the airbags are all on the outside, so it's like being run over by the Stay Puft Marshmallow Man. These are deployed when a collision is detected, protecting both the passengers and the twerp who's cycled/seguewayed/jogged into you. Meanwhile, lights on the side cheerily inform you "I'm Flesby!" and "Turn left!" before firing the airbag at pedestrians like a kid in a pillow fight.
Inside, sensors read the driver's posture and micro-gestures, interpreting mood and focused state, changing the interior's music, lighting levels and [checks notes] yes, even smell to reflect how moody the driver currently is.