The Furbo 360 Dog Camera is without doubt, the king of pet monitors. It can be stressful leaving your best friend home alone – often more so for you than the dog – so this camera is extremely helpful.
Not only does the Furbo allow you to drop in on what your dog is doing while you're our or working but you can even throw them a treat to keep them satisfied. This new model has a rotating 360-degree view, so no matter where they are sat, you can see them (unless they're actually behind the couch).
One swipe on the camera view and the Furbo will launch one of the pre-filled treats from the receptacle built into the top of the device towards your dog. There's 2-way audio to allow you to not only hear and barks or whines, but also give a few good-boy assurances. Though this can confuse some dogs when they can hear you but not see you.
One other benefit of this device is that it will alert to what's happening in your home, with notifications for activity, people, alarms and barking (subscription required). Thanks to the 1090p live view and 4x zoom, you can then checkout what's happening.
Of course, the Don of dog cameras comes at a premium price. So the fact that it's 30% off in Amazon's Pet Day sale right now makes it a great time to buy. That's $63 off the $210 list price.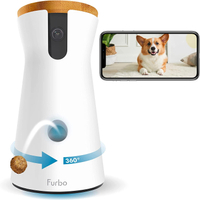 Furbo 360 Dog Camera: now $147 at Amazon (was $210)
The Furbo 360 Dog Camera is the best way to keep tabs on your furry friend, while away from the home.