Today's best drones have revolutionised the world of aerial videography and photography for both professionals and consumers alike. Where once you would have needed to hire a helicopter and a pilot to shoot video and stills from the air, today you can perform the same task with both feet planted firmly on the ground while operating a pocket-sized drone capable of shooting landscapes in sensational 4K. To all intents and purposes, today's drones are the equivalent of a flying tripod. They are brilliant for shooting holiday scenes and travelogues, and some models will even follow you automatically, shooting high-res footage of you diving down a ski slope or traversing rocky terrain on a mountain bike.
If you're thinking about investing, you've come to the right place because we've pulled together what we think are the very best drones available to buy right now. These kind of cutting-edge, feature-rich and capable models can very easily cripple your bank account, so if you're on a tight budget, head to our best cheap drones guide instead, where you'll find some less pricey options that still deliver great value for money.
Alternatively, if you're new to the world of drones and just want something that'll get you into the skies without too much pain, we also have a great guide to the best drones for beginners. Finally, for ultra-basic, toy models, our best kids drone guide is where it's at. All clear? Let's kick off our official ranking of the best camera drones of 2022.
What is the best drone you can buy?
When it comes to the best camera drones, the brand that's dominated the market for some time is DJI. Indeed the Chinese brand makes several appearances in our ranking below. However, as of early 2022, this brand's dominance is being challenged for the first time in a long time, thanks to some very impressive launches from American-based Autel.
After much deliberation and many comparison tests, we've come to the conclusion that the best drone right now is the new DJI Mini 3 Pro, but only by a whisker. Whether or not DJI held back its launch to make some extra tweaks having seen the dramatic cinematic results from our #2 choice, the incredible Autel Evo Nano+, is open to debate. Irrespective of what may have happened behind closed doors, the Mini 3 Pro is a cracking drone that deserves your attention.
Our #3 model of choice is the DJI Air 2S which is everything a camera drone should be – fairly compact, light, quiet and packing some outstanding onboard tech, plus advanced remote controls.
For the ultimate in affordable video and image quality, consider the exceptional Autel Evo Lite+ or the DJI Mavic 3. Neither of these drones will disappoint if high-end aerial videos and photos are your chief prerequisites.
Finally, if you're looking for something a bit different, our list also includes a drone that lets you experience the thrill of first-person flight (the DJI FPV, which is easy to use and flies like the clappers) and a drone that lets you take off and land on water (the PowerVision PowerEgg X Wizard). In short, there's something for every type of flier and every budget here.
If you're new to the drone world, jump to what to know before buying a drone (or check out our UK drone flying regulations guide or US drone regulations) first.
The best camera drones to buy in 2022
No sooner had we promoted the amazing Autel Evo Nano+ to the one spot in our esteemed guide to the best camera drones when DJI came out of the blue with its latest addition to the popular sub-250g Mini series to pip the little Nano+ by an admittedly very small margin. From a consumer's point of view, having two premium drone companies battling it out for air supremacy is a major plus in our book.
The Mini 3 Pro comes in two main versions – one with a standard controller and the other with a brand new hand controller with its own ultra-bright screen, which means you don't have to faff about mounting your own phone to the device. It also sports forward, rearward and downward obstacle sensing, a flight time of up to 34 minutes and a low-interference transmitter range of up to a phenomenal 7.4 miles.
The new Mini 3's camera sees some improvements, too, including a CMOS sensor that, at 1/1.3-inch, is a little larger than that fitted to the current DJI Mini 2. However, it's still a bit smaller than the 0.8-inch sensor in the Evo Nano+. On the plus side, the Mini 3's camera is also equipped with a really wide f1.7 aperture for low light shooting and the wherewithal to be tilted vertically for Instagram and TikTok posting.
Regarding video footage, the Mini 3 Pro is capable of shooting 4K at up to 60p though this writer still prefers the sharpened image of the Autel Evo Nano+. Nevertheless, the DJI Mini 3 Pro's full smorgasbord of tantalising tech and its ability to fly in slightly stronger winds makes it our new number #1 choice of drone for most users. But only by the skin of its teeth.
Check out our full DJI Mini 3 Pro review for more info.
The little Evo Nano+ is a sterling choice of camera drone for both amateurs and prosumers, as well as anyone who wants to enjoy the thrills of high-quality aerial cinematography on a relative budget and without the need to apply for a special license to fly it.
The Plus boasts a wide f1.9 aperture and RYYB filtering which means it will shoot stunning footage in low-light conditions, and in full 4K video and 50MP for stills. This dinky drone clocks in at under 250g, which means you won't need to jump through as many legal hoops before taking to the skies. Elsewhere, there's smooth flight (although the weight category means it can't cope with very windy weather), three-way obstacle avoidance, and up to 28 minutes' flight time on a single charge.
The Evo Nano+ has seen a big price reduction since the launch of the new DJI Mini 3 Pro. In fact the Premium Bundle is the same price as the Mini 3's DJI RC option. However, the Autel package includes three batteries and loads of spare props while the DJI Mini 3 Pro includes just the drone and its new, admittedly brilliant, RC hand controller.
In terms of video quality, this writer still prefers the sharpness and clarity of the Nano+, which is exemplary for a drone of this size and weight. In that regard, we think it's the perfect drone for amateur film-makers and anyone looking for a camera drone that's light as a feather and small enough to slip in a coat pocket.
Head to our Autel Evo Nano+ drone review for more info.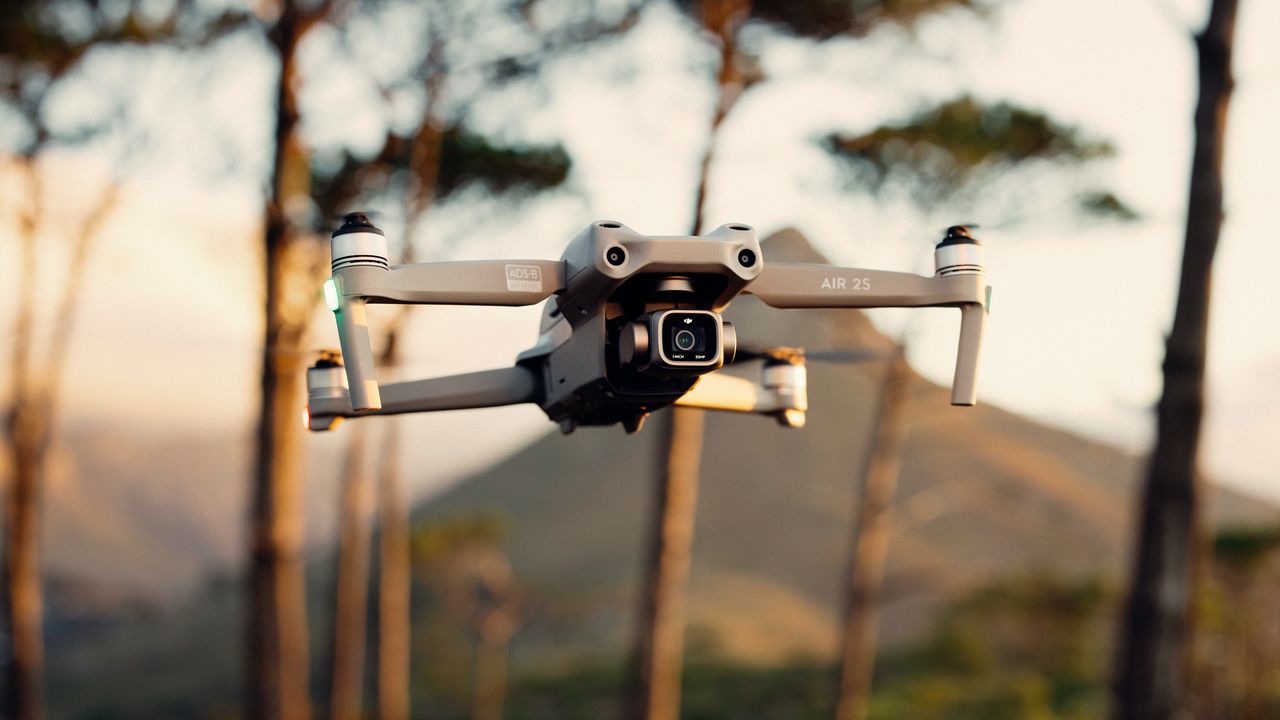 Released April 2021, the DJI Air 2S is a sensational camera drone in every respect. Despite being lightweight and eminently portable, this foldable drone packs some incredible onboard tech, including a 1-inch CMOS sensor that enables you to capture strikingly sharp images and video. The Air 2S will shoot 5.4K video at 30fps or 4K at 60fps and 150Mbps, as well as 20MP stills (by comparison, the older but still worthy Mavic Air 2's half-inch CMOS sensor can manage 4K/60fps at 120Mbps and 12MP stills). The Air 2S also flies absolutely beautifully (and quietly), comes with four-way obstacle sensors to help you avoid collisions, and boasts some impressive advanced in-flight features.
Head to our DJI Air 2S review for more of what we thought of it, or see how it matches up against its predecessor in our DJI Air 2S vs DJI Mavic Air 2 comparison.
The diminutive Autel Evo Nano is the slightly less high-spec version of the Nano+ at number 1, but it's still a sensational drone – and just pips the also superb DJI Mini 2 in our best drone ranking. Like the DJI Mini 2, the Evo Nano weighs under the CAA's magic 250g limit which means it's a doddle to transport and you don't have to register it for a next-level licence.
However, unlike the Mini 2, this one comes with three-way obstacle sensing – a handy safety feature for both beginners and amateur aerial videographers. The camera isn't as impressive as you'll find on the Evo Nano Plus version, but it still punches way above this drone's weight class, with a 1/2-inch sensor that will shoot 4K video and amazing 48MP stills with plenty of wow factor.
The hand controller's well designed, and we're particular fans of the beautifully weighted gimbal wheel which allows for really smooth, progressive camera movement with no sudden lurches. Another cool feature is the pin-sharp 2.7K live feed to the phone's screen, something that very few camera drones are capable of. In our Autel Evo Nano review we noted it was very reliable, easy to setup and fly. Furthermore, it comes in four different colours – red, orange, grey and white. What's not to like?
Despite having been dethroned by Autel's 2022 entries, the pocket-sized DJI Mini 2 is still one of the best drones for most casual fliers (and indeed, it tops our best beginner drone ranking). This titchy bird is so small when folded you can hide it behind an iPhone, and weighs a floaty 249g fully loaded. For the record, the camera shoots 4K at up to 30 frames per second, 2.7K up to 30fps and 1080p up to 60fps and detailed 12mp stills in both RAW and JPEG.
Despite the size and ultra low weight, the Mini 2 is equipped with Level 5 wind resistance and that means it'll hold its own in a relatively stiff breeze. It will also fly for up to an amazing 31 minutes on a single charge and transmit video to the hand controller from a distance of up to 10km (6.21 miles). There are more surprises buried in the DJI Fly app, including a plethora of autonomous quick-shot functions – Dronie, Circle, Helix, Rocket, Boomerang, 4K Hyperlapse, and three types of panorama. True, the Mini 2 doesn't have obstacle avoidance like the Autel Evo Nanos above but we don't think this is a deal-breaker if common sense prevails.
If you've always longed for a high-quality camera drone but can't afford to splash out a small fortune, then this marvel of technology is a top choice.
Head to our DJI Mini 2 drone review to find out more (or our DJI Mavic Mini review for a look at the – very similar – previous iteration). Alternatively, see how it compares to a larger option in our DJI Mini 2 vs DJI Mavic Air 2 dogfight.
Just pipping the DJI Mavic 3 to number 5, the new Autel Evo Lite+ is a sterling drone capable of shooting in 5.4K at 30 frames per second, 4K at 60fps, 2.7K at 60fps and 1080p at up to 120fps. The Lite Plus's camera is equipped with a one-inch CMOS sensor, an RYYB filter array for low-light shooting, and a variable aperture of f2.8 to f11. This makes it a top choice for discerning videographers who like shooting in different lighting conditions. In fact, the quality of the footage that comes out of this drone's Micro SD card is so breathtakingly good that, in some instances, it's even more detailed than that of the more expensive DJI Mavic 3.
The Evo Lite+ is also equipped with forward, rearward and downward obstacle sensors and comes with three main flying modes – Smooth (11mph), Standard (22mph) and Ludicrous (40mph). A single charge of its battery will keep it in the air for up to a commendable 40 minutes, and without making a racket in the process.
At 835g, the Evo Lite+ is a lot heavier than its little stablemate, the Evo Nano, and that means you will have to apply for a Flyer ID by enrolling in an online safety test and paying £9 for an Operator ID which is valid for one year. But on the plus side, it comes in three colours – dark grey, orange and white.
If you're after a camera drone that really excels in all disciplines, the Autel Evo Lite+ is a sterling choice.
Read our full review of the Autel Evo Lite+
Released in November 2021, the Mavic 3 is DJI's first compact, professional level drone, and it's absolutely outstanding, as our five-star DJI Mavic 3 drone review will attest. This foldable drone comes equipped with not one but two cameras: a next-level, four-thirds Hasselblad camera that produces the best video footage and stills you could ever hope for, plus a separate tele-zoom camera with 28x hybrid zoom, specifically for scouting far-away subjects without having to fly there. Four-sided obstacle avoidance and a maximum flight time of 45 minutes – the longest of any drone here – round out an incredible package.
Of course, for most flyers, this level of competence is overkill, as is the inevitable hefty price tag that comes with it, which is why the Mavic 3 sits slightly further down our best drone ranking. See how it compares to the other 2021 addition to the DJI lineup in our DJI Mavic 3 vs DJI Air 2S face-off.
Despite being firmly outshone by its successor (the Air 2S at #2), the DJI Mavic Air 2 is still a great drone worth checking out, not least because its price has been considerably reduced. The camera is a cracker and sports a half-inch sensor capable of shooting 4K footage at 60fps. The Mavic Air 2's stills taking capacity is even more impressive – up to 48mp resolution for unprecedented sharpness, clarity and detail. It also comes with a smorgasbord of extra photo and video enhancement tech, including Scene Recognition, Spotlight 2.0 which locks the camera on a subject while the pilot does the flying and the obligatory ActiveTrack for following moving subjects.
The completely redesigned hand controller is another major improvement. Yes, it's larger than before but it's really comfortable in the hand. The Mavic Air 2 has a long battery life (34 minutes), too, and in Sport mode it rips across the sky at up to 42.5mph. It also features three-way obstacle avoidance and APAS (Advanced Pilot Assistance System) for smoother manoeuvrability around obstacles.
Head to our Mavic Air 2 review for more info, and see how it compares to our #4 pick in our DJI Mini 2 vs DJI Mavic Air 2 face-off.
Now for something a bit different: the DJI FPV is the world's first fully-fledged, ready-to-fly 4K-quipped FPV racing drone for newbies. Unlike other FPV drones on the market, the DJI FPV is equipped with a wide range of safety measures, including smart Return-to-Home (RTH), low battery warning and forward and downward obstacle sensors that will bring the drone to a halt in an emergency.
Being of FPV origin, this drone comes with a pair of goggles that produce an exceptionally sharp image of what the drone's front camera sees. The ultra wide 150-degree field of view is another major plus that gives the flyer full confidence when darting in and around tight, tricky spaces. It also ships with a beefy hand controller, or you can stump up for an optional Motion Controller that lets you control the drone using hand motions alone.
The DJI FPV's 1/2.3" CMOS camera is mounted to a two-axis gimbal that keeps images rock steady no matter how shaky the drone may be in flight. Like any camera drone, you can also record video up to 4K resolution and take aerial photographs. However, being of FPV origin, the gimbal's lack of a horizontal axis means that when the drone banks to the left or right, the image follows suit – a characteristic that's part and parcel of all FPV flying.
On the plus side, footage filmed using the FPV is arguably even more sensational to watch than that from a normal drone like the Mavic 3. Where the Mavic 3's footage is generally slow and smooth as if viewing the world below from an air balloon, the DJI FPV's footage dives and banks at speed like a Peregrine Falcon in full pursuit of its prey.
If you've ever tried other FPV systems, you'll really come to appreciate just how easy this package is to get in the air and fly almost immediately, at least when using the beginner-friendly Normal mode. Head to our DJI FPV review for more info.
If there was an award for best looking drone, the PowerVision PowerEgg X would walk it – it looks simply fantastic when airborne. Nevertheless, with a feature set that goes beyond any other model on the market, the PowerEgg X isn't just smart looking, it's pretty clever too. It performs most of the aerial tasks of the DJI and Autel rosters – including front obstacle avoidance and autonomous flight modes like return-to-home, follow-me, orbit and timelapse – but goes two stages further by transforming into a hand -held stabilised camera of sorts and a tripod-mounted video recorder with motion tracking ability.
The PowerEgg X is as stable in flight as the majority of DJI drones we've tested and it will stay in the air for up to 30 minutes. It comes with a fixed focus 4K camera with a 1/2.8 inch CMOS sensor and on paper that sounds grand. However, while the footage it produces is good, it's nowhere near the high-end benchmark set by Autel or DJI.
It's true to say that the Holy Grail of drone flying is probably some kind of waterproofing and floatation device because flying over water normally requires balls the size of Mars. Although most modern drones are exceedingly reliable in flight, there's no telling what may happen when over water – bird strike, motor failure, exhausted battery, heavy rain, etc. Well the Wizard version we're reviewing here comes with two robust strap-on floats and a fully waterproof housing that protects the entire body and camera. It can even land and take off from calm water and fly in both rain and snow, wind speed permitting. So, if flying over water scares the life out of you then a drone of this nature could well be your lifeline. For more info, head to our full PowerVision PowerEgg X Wizard Version review.
The DJI Mavic 2 Zoom has the same DNA as its stablemate the Mavic 2 Pro, which is now hard to come by. Both birds are the same size and pretty much the same weight, and they're both equipped with the same multi-directional obstacle avoidance systems and the very same internals. In fact, the only difference between the two is the camera they're equipped with.
Where the Pro comes with a Hasselblad camera replete with one-inch sensor for professional, high quality aerial photography, the Zoom forfeits image resolution in favour of a 2x optical zoom with a 35mm format equivalent focal length of 24-48mm. However, when it comes to 4K video, both models boast the same rosy specs (4K at up to 30fps, 2.7K at up to 60fps, 1080p at up to 120fps), so this is the model to buy if you plan to shoot far more video than you do stills.
You might not use the zoom facility much, mind, but it certainly comes into its own when you want to shoot animals without scaring them or getting closer to an interesting subject without straying into private airspace. The zoom function also allows pilots to recreate the sensational DollyZoom effect as used by Hitchcock, Spielberg, et al.
If you're more likely to shoot aerial video than still images, then this keenly-priced but slightly aged option is still a winner. Head to our DJI Mavic 2 Zoom review for more info.
When it comes to producing the very best cinema-quality aerial footage, there isn't much out there to touch the Inspire 2. In fact, the only reason this drone isn't higher up our chart is because it is very pricey with a capital P and very large with a capital L. It also weighs a whopping 4.25kg, so you can forget about sticking it in your luggage.
The Inspire 2 is made from carbon fibre and magnesium and its dual battery system, four huge motors and 13-inch propellers will take it to a top speed of 58mph and a flight time of up to 27 minutes. The landing gear is retractable, allowing pilots, or a second camera operator, to shoot a full 360º panorama. It also comes with forward, downward and upward-facing obstacle avoidance sensors for extra confidence when flying in tricky locations. The Inspire 2's pro-spec CineCore 2.0 image processing system is housed in the nose of the craft which means only the camera's lens and sensor are attached to the gimbal.
This reduces weight and allows for easy camera swapping. And speaking of cameras, the Inspire 2 comes with a choice of two different models, from the compact Micro 4/3 Zenmuse X5S to the ultra high-end Zenmuse X7, which features a Super 35 Sensor capable of shooting in 5.2K Apple ProRes. Needless to say, the imagery this stunning cinematic system produces is of the very highest order. But, phew, it sure is costly.
Buying a drone: what you need to know
In order to figure out which is the best drone for you, it really helps to understand a bit about how different types of drones work. In a nutshell, drones rely on rotors for propulsion and control. The faster these rotors spin, the greater the upward lift. The movement of a drone can be changed by altering the speed of one or more of its rotors.
These rotors are powered by motors which can be 'brushed' or 'brushless'. The difference? Brushed motors use a mechanical process (a 'commutator') to move the magnetic field that turns the rotors. Brushless motors, which are usually found on more expensive drones, are generally preferable, and rely more on electronics, rather than additional physical parts such as the brushes in the commutators, to generate power. This means they generate less friction (and bear in mind that friction slows the motor down), produce less heat and provide better all-round performance.
Another important factor to take into consideration is skill level. Beginners should look for more rugged models, as well as features such as rotor protectors and one-touch recall controls. But don't make the mistake of assuming smaller, lighter drones are better for beginners – these drones are often designed for those keen to perform complex aerial manoeuvres, and might well be trickier to control.
Finally, remember to look for drones with the features you're specifically keen on, and no more. Opting for a drone which boasts features you don't need and won't use, will mean you'll spend more on a drone which will weigh more and won't perform in the way you want it to.
Want to know more, a lot more? Check out our separate guide to how to buy a drone and our Guide to UK Drone Regulations.