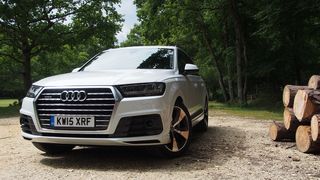 Introduction
The Audi Q7 has been a huge success for the German brand, it was conceived back in 2005, and has spawned smaller variants in the form of the Q5 and Q3.
Unfortunately due to timing it was always one of the last cars to receive the latest tech and advancements, but now that's all changed with the brand new Q7.
It'll be the first car to reach the UK based on the Volkswagen Group's new MLB Evo platform, and it looks set to rival the likes of the Land Rover Discovery, Volvo XC90 and BMW X5.
Does it have what it takes? Read on to find out.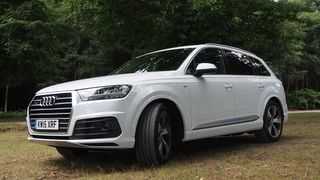 1. Striking new design
The new Audi Q7 is actually smaller than its predecessor, but it's still by no means a small car, measuring 5.05-metres by 1.97-metres by 1.74 metres.
Those dimensions are 37mm shorter and 15mm slimmer than the out-going model, and while we're more used to nipping around town in a Fiat 500, we never felt this car was too big as visibility all around is great.
The Q7 has also benefited from Audi's newer, more angular frontsingleframe grille, making it look more modern and aggressive.
In terms of aesthetics, it's definitely an improvement over the previous generation.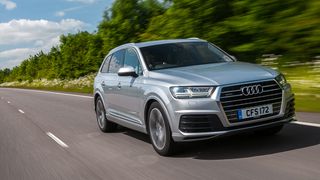 2. It takes the pain out of traffic jams
What really impresses is the amount of systems that can be put into the vehicle which almost make it driverless.
First up you have the Audi Traffic Jam Assist, which is an evolution of adaptive cruise control. As well as maintianing a constant distance from the car in front, the system can also take over steering duties on marked roads when traffic is moving below 37 mph.
In collaboration with adaptive cruise control (ACC) and traffic sign recognition, the system adapts it's speed to the route and the speed limits.
Advanced systems can also provide support with other manoeuvres such as exiting the parked Q7 on a busy road, reversing out of a perpendicular parking space into moving traffic and turning at a busy junction.
The Exit Warning system monitors the rear and side of the car and warns occupants before they exit that vehicles/cyclists are approaching from behind, the Rear Traffic Crossing system detects any sudden vehicles crossing from behind and the Turn Assist system monitors approaching vehicles from the moment the indicators are activated at a junction and applies braking to help avoid a collision.
Essentially this is a self-driving car undercover; the future is slowly creeping upon us.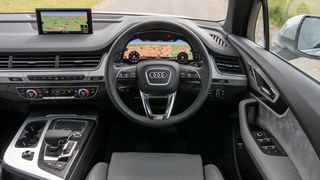 3. The interior is packed with entertaining tech
The Q7 will come packed with tech, but one of the headline options is Audi's virtual cockpit.
This feature was first seen in the TT, it replaces the analogue dials with a 12.3-inch TFT display.
It's sharp, informative and customisable, allowing you to efficiently get the information you require.
Two high-quality audio systems from Bose and Bang & Olufsen will also be available, both delivering remarkable 3D sound through the use of additional speakers in the A-pillars.
The Bang & Olufsen system drives 23 speakers including subwoofers with 1,920 watts of amplifier power.
For rear passengers Audi Entertainment Mobile is also available, with two detachable 10.1-inch tablets fitted to the back of the front seats.
These touchscreens can stream content from iPhone or Android smartphones via different sources, including an Audi app, the integrated SD card reader, USB, Miracast WiFi or Bluetooth.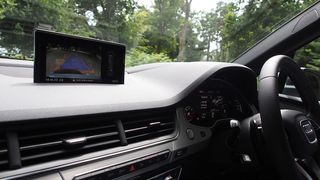 4. Android Auto and CarPlay
Despite both Google and Apple's apparent lack of interest in the car market, their infotainment systems are making strides.
The Q7 will be available with either CarPlay or Android Auto as an option on the media centre. These need to be specified when ordering the car.
The car can also come with Audi Connect and LTE connectivity which creates a mobile Wi-Fi hotspot for 4G surfing on the go.
The standard infotainment system features an 8.3-inch electrically retractable screen running Audi's MMI. It's very good for a car entertainment system, but we can't wait to test out Android Auto and CarPlay's slicker system.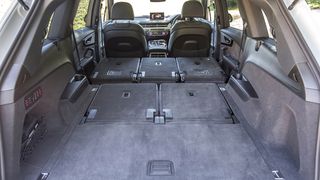 5. You could fit an entire IKEA living room in the back
Despite being smaller on the outside, the Audi Q7 has more interior space than its predecessor. It's easy to get into (with an option to spec power-assisted closing doors) and the interior is spacious and elegant.
Audi have described the interior as 'lounge like', with a large arc encompassing the front, and a sleek instrument panel.
The front seats can be cooled at the press of a button, with a massage function also available to specify. Ten air chambers pamper your back with five different programs and intensities each. Is there anything more relaxing than that?
Interior ambient lighting is also optional, with the ability to adjust multiple profiles in five zones.
When all seven seats are filled you'll get a luggage capacity of 295 litre, when the five rear seats are down you'll get a massive 2,075 litres -- that's more than enoughfor a trip to IKEA.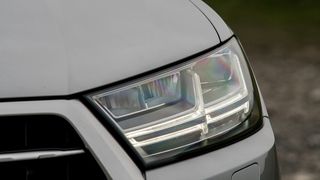 6. Audi's Matrix LED lights blind the competition
The new Q7 also benefits from Audi's Matrix LED headlight system. Each LED headlight devides it's high beam into 15 individual diodes with three reflectors.
A camera on the interior mirror analyses the traffic situation and individually turns the diodes on and off (or dims them in 64 stages) to avoid dazzling other road users while still lighting up the road.
The lights also include intelligent cornering capability. The standard MMI navigation data will trigger the cornering light to illuminate around the corner as soon as the driver begins turning the steering wheel.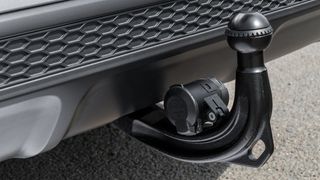 7. The towbar pops up out of no where
The rear end of the car is just as techy and exciting as the front. The towbar pops up from nowhere, and the tailgate opens electrically as standard.
The towbar will come in useful as well, as the with either engine, it can haul up to 2.7 tons (on 12% gradient), and even 3.5 tons with the adaptive air suspension.
Joining onto a trailer should be s breeze, with the trailer manoeuvre assist system, which aids the driver when driving with a trailer.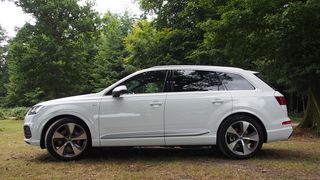 8. It boarders on sports car performance
Don't let the Q7's size fool you, this thing is quick, even bordering on sports car performance.
The car can reach 62mph in just 6.5 seconds, and goes on to reach a top speed of 145mph.
Despite these performance figures and the car's large exterior, it still manages to return an impressive 47.9 mpg combined, emitting only 153 grams of CO2 per km (for the 3.0 TDI).
We managed around 35mpg when driving it for a day, which for a real-world figure of a car of this size, isn't bad at all.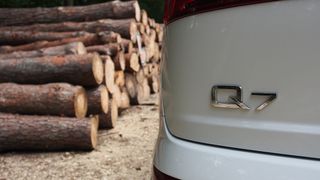 The final verdict
The all-new Audi Q7 is certainly an impressive beast, it manages to tick a lot of boxes without compromising on anything.
However, not compromising does come at a cost, and with prices starting at £50,340 this certainly isn't your budget runaround (well, maybe it is for some).
That's a lot of money for a lot of car, and the all-new Q7 looks like it will follow on in the successful footsteps of it's predecessor.
Orders are open now, and the first customers will begin receiving their cars in August.