National Stress Awareness Day, taking place on first Wednesday of November each year, was set up to raise awareness of the effects of psychological distress in the workplace. It also provides a great opportunity to think about the many reasons we can feel stressed, and the different methods that can ease it.
There are many ways to relieve stress and anxiety - breathing hacks, essential oils and sleep hacks to name a few. However, there has been a recent rise in popularity surrounding wellness apps and technology, especially ones that enable us to be present and stay on top of stress levels even when on the move. Calm is an amazing example of this, and recently grabbed the number one spot in our guide to the 5 free wellness apps that need to be on your phone.
Well, in the lead up to Black Friday, we're pleased to share with you that Calm has slashed its annual subscription price by 50%, making it £19.99 instead of £39.99! Take a look for yourself: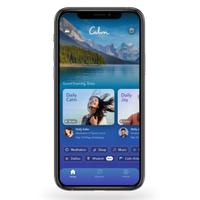 50% off of Calm Premium: was £39.99, now £19.99 (save £20)
91% of adults are not rested or feel tired at least some of the time, to help combat this, Calm, the no.1 app for meditation and sleep, has applied 50% off its annual subscription!
Calm is certainly one of the most popular wellness apps for sleep, relaxation and meditation. It offers meditations, music, wisdom and 'Sleep Stories' that are narrated by actors such as Harry Styles, Matthew McConaughey and Tom Hiddleston, as well as Bridgerton boys, Regé-Jean Page and Johnathan Bailey.
You can also find a little bit of magic with Calm Kids with the Disney Princess collection featuring all of the favourite princesse, including Moana, Rapunzel and Cinderella. There are also guided meditations are available in varying lengths of three to 25 minutes, and a new 10-minute Daily Calm video is released every day.
Whilst the app is completely free to download and use, it's the premium version that allows users to unlock the full range of features. As it's now only priced at £19.99, you can't really go wrong, can you?
Interested in more? Check out these 8 wellness podcasts!