UK Government rules regarding face masks are changing again tomorrow (8 August). Last month, rules came into force that required the wearing of a face covering in all shops and on public transport. Now, a range of other places have been added to list. The type of face covering required is not specified – we'd recommend picking up a good quality, breathable, washable option (or a few), because you'll be wearing these for a while.
Currently, the list of places where face coverings are mandatory is as follows:
Public transport
Indoor transport hubs, including airports, bus and coach stations and terminals, train and tram stations and terminals, maritime ports and terminals
Shops and supermarkets
Indoor shopping centres
Banks, building societies and post offices
However, from Saturday, a range of new places are being included in the same laws. These are the locations where, from tomorrow, you'll have to wear a face mask or risk a fine of up to £100 (or £50 if paid promptly).
Cinemas, theatres and concert halls
Museums and galleries
Aquariums, indoor zoos or visitor farms
Other indoor tourist, heritage or cultural sites
Nail, beauty, hair salons and barbers (other than where necessary to remove for treatments)
Massage centres
Public areas in hotels and hostels
Places of worship
Libraries and public reading rooms
Community centres
Social clubs
Tattoo and piercing parlours
Indoor entertainment venues (e.g. amusement arcades, funfairs, laser quest, go-karting, escape rooms)
Storage and distribution facilities
Veterinary services
Auction houses
Funeral directors
Bingo halls
Anywhere providing professional, legal or financial services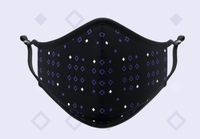 T3's #1 face mask | £17 from Vistaprint
We've used a couple of the Vistaprint masks and think they're the best option around now. They're stylish, well fitting, and the fabric is comfortable, with soft cotton lining and adjustable elastic ear loops. There's a sewn-in wire nose bridge that'll help stop your glasses from steaming up, and they now come with an integrated filter, too. They're available in both adults and kids' sizes.