The dishwasher is one of the greatest inventions of all time, and these are the best dishwashers you can buy.
Getting a freestanding or built-in dishwasher for your kitchen means you can enjoy mealtimes without having to dwell on the clean-up operation that typically comes after, allowing you to relax with a digestif and let dinner go down in style.
The best built-in dishwasher right now if you want the cutting edge of cutlery (and everything else) cleaning is the AEG FSS62800P. This offers a lower shelf that rolls out then actually rises up to around waist height for easy filling and emptying. A raft of other great features is also built in to this flagship machine.
Further down the scale, the Bosch Serie 8 SMS88TW02G offers the best blend of features, cleaning power and comparative affordability.
As with most things appliance-related, Miele and Siemens also rate highly with us.
How to buy a dishwasher
If at all possible, get a full-size dishwasher, as the slimline ones are unfailingly less good, and can be downright crappy, at the budget end of the market. Don't even think of getting a tabletop one.
Measure up, pick a budget and get down the shops to inspect the goods, if possible. We don't recommend slimline dishwashers unless space is really at a premium; they're just never as good.
As long as you don't overload your machine, and keep it topped up with salt and rinse aid, you should get decent cleaning results for years, even from the better cheapo machines.
But how do you know which ones are better? Easy. These are the 10 best dishwashers, with our favourite first and then 9 more in (very) roughly descending order. With noted what we think each one is 'best for'.
Take up your tablets, rinse aid and massive bag of cheap salt and prepare to learn T3's choice of what the best dishwashers you can buy today are…
1. AEG ComfortLift FSS62800P
The current state of the art in dishwashing
Specifications
Type: Built in
Size: H 820 x W600 x D550 mm
Energy efficiency: A++
Reasons to buy
+ComfortLift drawer for easy filling+Third drawer for cutlery+Great all-round performance
Reasons to avoid
-A tad over-specced for many users
Today's best AEG ComfortLift FSS62800P deals
AEG has really been cranking up the tech innovation over the past year or so and has now pulled off the unlikely feat of creating a sexy and exciting dishwasher. Well, it's all relative, isn't it?
With three drawers – the usual two plus a very low profile cutlery drawer at the top, in which you lay your knives, forks and – more importantly – irritatingly massive utensils, flat. Soft grip 'spikes' hold your precious glassware equally safely.
The A++ energy and A cleaning/dryinh performance are as good as you'd expect. Drying is thorough but not to the extent that you won't ever need to wipe the odd glass when it's finished. However, the fact that the door opens by 10cm during the final stage, to gently let condensation out, is jolly clever.
However the real pièce de résistance is the multiple award-winning ComfortLift bottom drawer. As its name suggests, this pulls out, then rises up, to about waist height, so you can fill and empty it with ease.
The cutlery drawer is arguably a bit overly fiddly for standard cutlery, but it is handy for large utensils.
With 13 place settings, a good, 30-minute quick wash, and quiet (44dB) operation, this is the ideal dishwashing choice for tech lovers. It's totally over the top, and we love it.
2. Bosch Serie 8 SMS88TW02G
Best dishwasher for those who require less innovation
Specifications
Type: Freestanding
Size: H 845 x W 600 x D 600
Energy efficiency: A+++
Reasons to buy
+Great cleaning and drying performance+Cheaper than the AEG
Reasons to avoid
-Typically dull Bosch styling-Less 'fancy' than the AEG
Today's best Bosch Serie 8 SMS88TW02G deals
This typical reliable Bosch dishwasher uses 'zeolites' for the 'best drying results with the highest possible energy rating'.
No, a zeolite is not a tiny political fanatic wielding a dishcloth, it's a mineral that absorbs moisture, releasing heat in return. In a dishwasher, this means that all that steam created during the washing cycle is magically absorbed by the zeolites and, in the process, extra, naturally-created heat is provided for the drying process. T
his Bosch machine also features a 60ºC programme that is hot enough to remove even the hardest substance known to mankind: dried Weetabix, and at just 42dB, it's pretty quiet, too.
The A+++-rated Serie 8 has the capacity for 14 place settings and features a three-stage Rackmatic system that makes it a cinch to change the height of the upper basket even when fully loaded.
3. Miele G6890 SCVi K2O
Best premium dishwasher
Specifications
Type: Built in
Size: H 805 x W 598 x D 570 **Energy efficiency:** A+++
Reasons to buy
+Lights up when you open the door+Great cleaning+Salt tank in door, not on floor
Reasons to avoid
-Not the cheapest of items
Today's best Miele G6890 SCVi K2O deals
A thing of considerable beauty and cost, Miele's flagship G6890 SCVi K2O dishwasher boasts an A+++- 20% energy rating, uses as little as 6.5 litres of fresh mains water per wash, and adjusts water and power consumption depending on the fullness of the machine.
Opening with just a tap on the door, it lights up once open, and has assisted closing, too. The only way it could be more helpful would be if it could also somehow fill itself, although at this price, we'd argue that it probably should.
Other highlights include app control, 'enhanced cutlery tray', a ridiculous 11 wash programmes including 'Extra Quiet', plus a QuickPowerWash programme cleans and dries in just 58 minutes, with 'A'-rated cleaning performance.
There's AutoOpen Drying so, as with the AEG, the door actually opens slightly at the end of a programme to let steam out, so dishes dry more fully, at least in theory.
Best of all, there's an IN-DOOR SALT CONTAINER container. Anyone who's spent time refilling the salt in its usual, bottom-of-the-washer position will know what a great move this is.
4. Beko DFN28321
An awful lot of dishwasher for your money
Specifications
Type: Freestanding
Size: H 845 x W 600 x D 600
Energy efficiency: A++
Reasons to buy
+Cracking value for money+Plenty of features
Reasons to avoid
-Dull as dish water
Today's best Beko DFN28321 deals
Owned by our favourite Turkish industrial conglomerate, Arcelik and Koc Holding, the Beko brand now lays claim to a decent slice of the European market with a range of budget to mid-priced products that represent excellent value for money.
For the price, this freestanding, A++ rated, 13-place machine comes with an impressively comprehensive assemblage of tech, including an extra lower spraying arm for the pummelling of much detritus, a half-load option that saves up to 25% in energy and water consumption, and a separate wine glass basket replete with special SteamGloss program.
Oh, and there's an additional cutlery tray that's long enough for a night of the long knives and a top basket that can be adjusted even when fully loaded. Top budget choice.
5. Siemens iQ700 SN278I36TE
Another great high-end model
Specifications
Type: Freestanding
Size: H 845 x W 600 x D 600
Energy efficiency: A+++
Reasons to buy
+Flexible rack system+Dosage assist
Reasons to avoid
-Pretty pricy, clearly
Today's best Siemens iQ500 SR26T891GB deals
This handsome, fingerprint-resisting steel model is a cracker in every respect. The iQ700 isn't cheap but you do get a shedload of beguiling features and functions for your hard earned dish cleaning needs.
As with the Bosch, a 'zeolite' drying process is employed. Zeolite is a clever mineral that converts absorbed moisture into heat energy. In this instance it helps dry the dishes and is especially effective at making glassware shimmer. And speaking of glasses, the machine comes with a specific glassCare function, too, so you can rest assured your expensive flute collection will be gently cleansed and remain intact.
Other tempting features include a space-saving top-mounted cutlery tray (always a better option than a basket), an outstandingly flexible rack system, one of the most user-friendly touch control panels this writer's seen and an ice blue interior light just to make things look pretty.
To cap it off, it also comes equipped with a quiet, brushless iQdrive motor, an A+++ energy rating and, last but certainly not least, Siemens' excellent DosageAssist feature that drops pre-loaded detergent tablets into catch pan where they're thoroughly dissolved before dousing the dirty contents.
If you're a fan of high-quality equipment and overall efficiency, this one justifies its high price.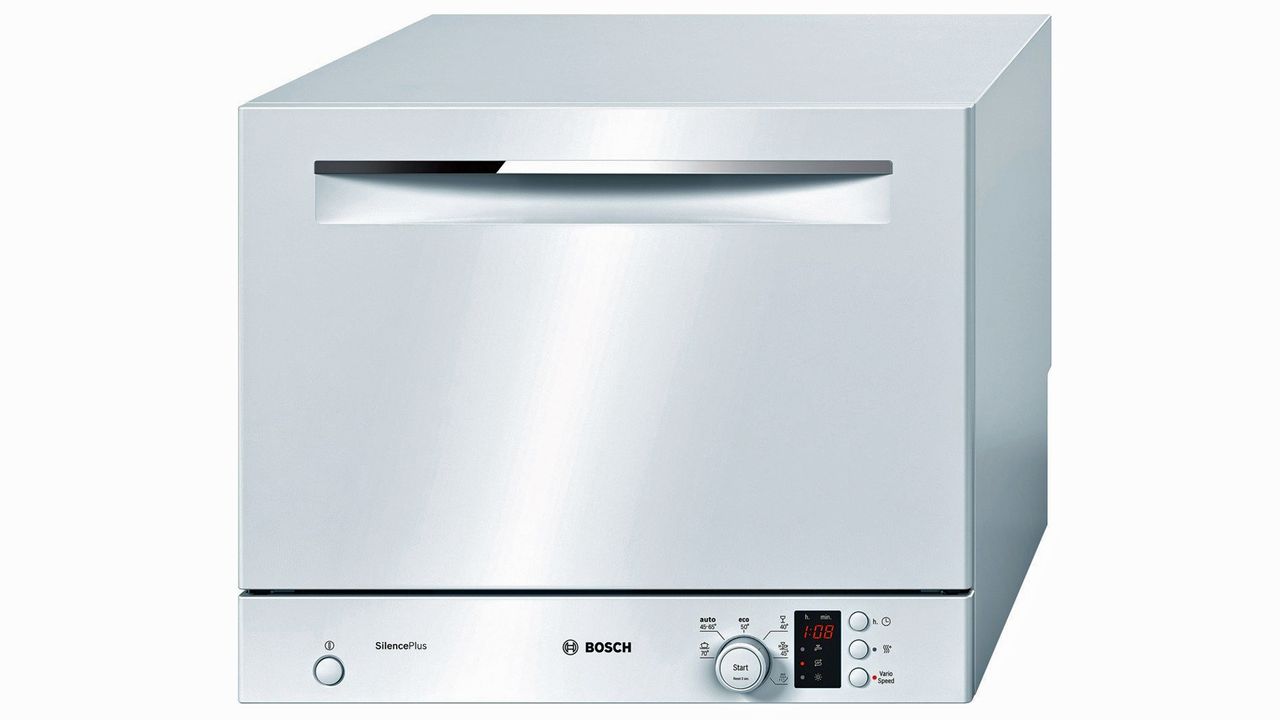 6. Bosch Serie 4 SKS62E22EU
Best tabletop dishwasher
Specifications
Type: Tabletop
Size: H 500 x W 550 x D 450mm
Energy efficiency: A+
Reasons to buy
+Perfect for smaller homes+Easy to use
Reasons to avoid
-Expensive-Basic functions
Today's best Bosch Serie 4 SKS62E22EU deals
Bosch doesn't do things by halves although in this instance, perhaps it does. The Serie 4 is a table-top dishwasher for those who don't have the space but still despise washing dishes by hand.
It comes with enough space to accommodate six average-sized dinner plates, a few side plates, a quartet of mugs, a carving knife or two and a clutch of cutlery.
Like most mid-priced dishwashers, it also comes equipped with a sensor that measures the level of contents within and adjusts water consumption accordingly. And because it's pretty quiet, it shouldn't disturb the peace if you live in a studio or open-plan.
The Serie 4 features five washing cycles from 40 to 70 degrees C, and does a solid job with most things. It's pricy for its size, but if you're allergic to doing the washing but strapped for space, the Serie 4 could be an absolute godsend.
7. Smeg D4SS-1 Slimline
Best slimline dishwasher
Specifications
Type: Freestanding
Size: H 850 x W 448 x D 600
Energy efficiency: A+
Reasons to buy
+Easy to fit by dishwasher standards+Good performance and value
Reasons to avoid
-Too… Many… Programmes…
Today's best Smeg D4SS-1 Slimline deals
This 45cm-wide stainless steel number is very reasonably priced, especially coming from the premium stable that is Smeg. Furthermore, being both slimline and freestanding, it's as easy to install as dishwashers get. Despite its diminutive dimensions, there's still space for 10 place settings – the maximum plate diameter is 30cm – and a bewildering variety of washing programs, from Soak, Rapid (a 27 minute blast), Crystal and Delicate Quick to ECO, ECO Quick, Auto 45-65, Normal Quick, Super, Strong and Fast. AquaTest tech means it can measure the amount of muck that accrues in the water after the first drenching and then adjust both the heating and water usage during the rest of the wash accordingly – unusual in a slimline dishwasher.
8. Hotpoint Ultima FDUD 43133 X
Best for hygiene freaks
Specifications
Type: Freestanding
Size: H 850 x W 600 x D 600
Energy efficiency: A+++
Reasons to buy
+A lot of dishwasher for your money+Smell-reduction function
Reasons to avoid
-Smell-reduction function not required due to presence of door
Today's best Hotpoint Ultima FDUD 43133 X deals
Hotpoint's pulled out all the stops with its current range of appliances, and this elegant, tech-filled dish bather is a case in point.
The super-quiet, stainless steel-clad Ultima provides capacity for a 14-place smorgasbord and comes with its own tranche of washing cycles, from a quick 30-minute dose to a delicate wash for fragile items. It also features zone washing and the obligatory flexible loading basket.
Hotpoint's boffins have also addressed an issue that affects most dishwashers: after smell – you know, that slightly cloying scent of musty water, detergent and dissolved grease that seems to emanate from the machine the moment you open the door.
The Ultima's Active Oxygen process 'releases natural oxygen molecules to purify the internal atmosphere, removing up to 70% of odours even after 24 hours'. Lovely.