I really enjoy paddle boarding. There's nothing quite like that calming feeling of balancing on the water with the wind in your hair – after you've found your balance, of course; otherwise you feel like a wobbly mess. I'm keen to get my own, but the best paddle boards are often expensive, which is why most people hire them. Not to mention the whole 'where will I store it' issue.
The FunWater Inflatable Stand-Up Paddleboard takes away all these dilemmas – it comes with a 10-litre travel bag, making your board easy to store when not in use, and you can get your hands on it for under £200 in the Amazon Prime Day sale, so I'll definitely be treating myself.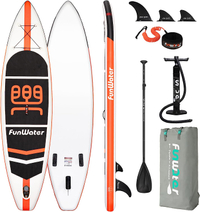 FunWater Inflatable Stand-Up Paddle Board: now £179.95 at Amazon (was £229.95)
Save £50 on this inflatable paddle board, which comes equipped with all the tools and accessories you need to get you going on the water.
It's perfect for those who are new to SUPing as it comes equipped with everything you'll need to get you started, including a high-pressure pump, safety leash, three fins for your board, and an adjustable aluminium paddle. Oh, and FunWater has also chucked in a waterproof phone case in there too.
This paddle board also has a lot of ticks for me personally, too. As well as having a combined 85% five and four-star review rating, it's got some great features, like the front elasticated cords where you can store your essentials (as paddle boarding can be hungry work), a grooved anti-slip pad on the base, for extra stability and grip, plus an easy grab handle so you can carry your board into the water. It only weighs around seven kilograms, which is very light, so when you are carrying it around in the backpack, it won't be too heavy on your back either. The paddle size can also be adjusted, so everyone can use it. It looks like I'll be making a paddleboard purchase after all!