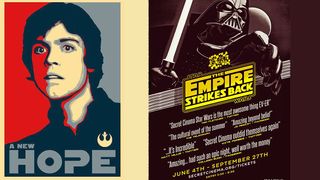 Hey! We're going to Tatooine!
Main Image Paul Cochrane
T3 was invited to join the rest of the rebel scum at this year's Secret Cinema: The Empire Strikes Back extravaganza. This is a spoiler-free look at the clandestine film club's latest outing, so if you haven't been yet, don't worry, this won't ruin any surprises.
Secret Cinema first kicked off back in 2007 with a screening of Gus Van Sant's Paranoid Park. In its early years, the gimmick was that nobody knew what the film was going to be until they arrived at the screening location (though they could often be guessed from a series of pre-show clues).
More recent shows have changed format to include a pre-announced film, plus a much more 'immersive theatre' approach, replete with sets, actors dressed as Marty McFly or whoever, and so on.
Ticket prices have accordingly gone up to a whopping £75 (£50 for accompanied under 18s).
Obviously unperturbed by the price, in 2014, over 80,000 people attended Secret Cinema's Back to the Future event in Olympic Park. This ran into initial controversy when the venue wasn't ready for the opening night, leaving hundreds of ticket holders disappointed. Secret Cinema has clearly learnt from its mistakes, because there are no such problems this year.
This time round Secret Cinema has opted for The Empire Strikes Back, which ties in nicely with the latest instalment of the Star Wars saga (The Force Awakens) which is heading to cinemas later in the year. Read on for our search droid's findings.
Secret Cinema Presents Star Wars: The Empire Strikes Back runs now until September 27 2015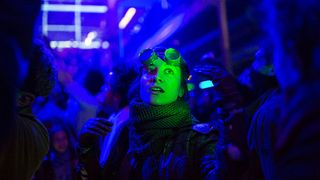 You must learn the ways of the Force if you're to come with me
Image Marianne Chua
As everyone knows, the first rule of Secret Cinema is that you don't talk about Secret Cinema.
To prevent spoilers from leaking and to stop dickheads ruining the experience for everyone else, mobile phones are placed in sealed silver pouches for the duration of the show. An idea that we would dearly love to see adopted in every cinema across the land.
You're not allowed to bring food or drink in with you but there are plenty of "retail experiences" dotted throughout, selling booze, food and merch. Unsurprisingly, rations are not cheap, and you can't pay cash for them. Take a cash card with you.
It's worth noting that as it's a major production with built-up sets and lights, the venue gets pretty warm so wearing military rebel chic is preferable to a full wookie costume. Open toed shoes are a no-no due to the "alien terrain" you'll encounter.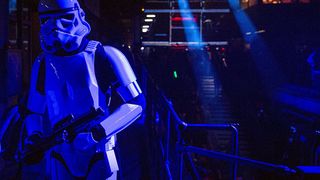 Everything is proceeding as you have foreseen
Image Will Cooper
The live show aspect of the current Secret Cinema is inspired by the original Star Wars: A New Hope, leading neatly into the second film (The Empire Strikes Back, in case you didn't know) so you can probably take an educated guess at some of the things you might see.
If in doubt as to where the venue is, just follow the people in costumes when you arrive at the allotted tube station.
The initial part of the evening is pretty full-on with actors (who never break character) ushering you through to the main event.
While we can't reveal too much, you can see from the photos one of the major set pieces of the show is the "wretched hive of scum and villainy" - the Mos Eisley space port, on the planet Tatooine, complete with cantina.
You'll see a variety of familiar characters from the Star Wars universe including bounty hunters, Jawas and some fairly menacing Stormtroopers.
The scale of the venue is epic, with rebels and Imperial troopers moving you through to different spaces as the evening progresses. There was some slight confusion at one point as to where we were all supposed to be and what we were looking at, but things soon became clear. Just remember to look up.
The technical aspects of the props and production are spectacular, but while there were a few lucky ankle biters present who'd been taken along by kindly, deep-pocketed parents, this is basically a big playground for adults, complete with booze. This immediately puts it head and shoulders above whatever Madame Tussauds serves up along ostensibly similar lines this year.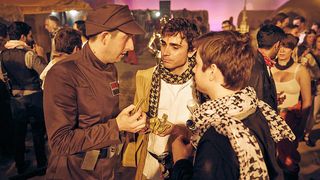 You're all clear kid…
Image Paul Cochrane
Once the performance/retail experience/getting trollied element of the evening is over - this lasts about 2 hours - there's a chance to buy popcorn before the film starts. Then it's time to join Luke Skywalker on the ice planet Hoth.
Several key elements of the film are played out by actors on the sidelines to varying degrees of effectiveness, while extra light effects enhance the film's action scenes.
The screen itself was well placed with decent audio - something that you don't always get at pop-up cinemas. The spartan plastic seats weren't overly comfy but that added to the "rebels on the run" vibe. In a way.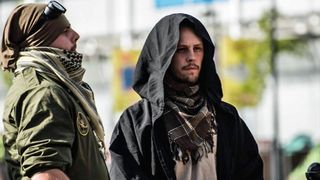 Let's blow this thing and then go home!
Our verdict you seek then?
As normal English people who generally cower from any kind of audience participation, we were sceptical about the 'live show' aspects of Secret Cinema. But, lo and behold, we were in fact pleasantly surprised and impressed with the result. It's entertaining, the sets are amazing, and you can get more or less involved with the "performance" as you see fit, depending on your social embarassment levels.
That said, it is a damn costly night out. Once you add costumes - these are de rigeur, verging on obligatory - food, and drink to the ticket price and you're easily looking at upwards of £100, and potentially well over £200, if you're a cosplay super fan.
However, you can really see where the cash is spent when you look at the lavishness of the sets and the size of its cast.
If we had one major reservation, it's that watching the film itself on plastic seats feels like a bit of an anti-climax after such an incredible, live build-up. But if you're a Star Wars fan and you've got 75 notes to burn, you won't be disappointed. In fact you'll probably be cheering along like a giddy child.