When you're a serious gamer, you wouldn't lose a round of Overwatch or a game of Rocket League on purpose, would you? So why settle for anything but one of the best Xbox controllers? You could be leaving wins on the table. Luckily enough, the Xbox Elite Wireless Controller Series 2 is on sale, and at a best-ever price too.
That's right, the Xbox Elite Wireless Controller Series 2 is currently just $109 on Amazon, the cheapest it has ever been. Whether you're a PC or Xbox Series X owner, you need to consider this pad. Just don't go throwing it if you're still struggling.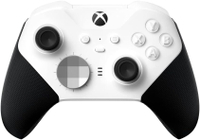 Xbox Elite Wireless Controller Series 2 - Core Edition (White): was $139.99 now $109.46
Easy on the eye and a performance powerhouse, the Xbox Elite Wireless Controller Series 2 offers stacks of performance upgrades to the standard pad.
Give your thumbs a treat with Improved battery life, re-mappable inputs and adjustable joysticks to make a big difference to your gaming quality of life.
Other than looking smoother than an ice rink, the Elite Controller Series 2 offers a host of improvements over the regular pad. Most importantly, it allows you to play for longer with the battery life jumping from 30 to 40 hours, plus it's now rechargeable (finally!). It also offers features that will give you an edge in specific gaming genres.

Shooter fan? The hair triggers will help you win that firefight. Street Fighter obsessed? Get the perfect Hadouken every time with the improved Dpad. Playing something like Red Dead Redemption 2 that has so many different controls? Well, lucky the Elite Controller has two extra inputs on the rear and 20 of the 24 inputs are customisable.
There is also a 'hardcore' version of this controller that costs more, but functionally it is the same. It just comes with extra thumbsticks and a travel case, probably not worth it. Use your backpack instead and save yourself some more money.
If you're worried about siblings, roommates or friends messing up your perfect set-up, don't be. Each controller can have 3 different profiles set up that you can switch between, meaning you can keep things just how you like them.