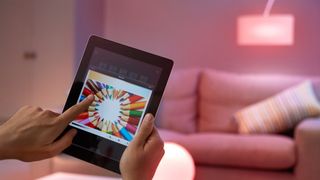 Introduction to T3's ultimate smart home
Home automation is no longer something coming in the future, it's here right now in for form of smart home devices. Spearheaded by Nest, Philips Hue, Samsung and loads more, these products let you add a bit of science-fiction to your home.
These are the best pieces of smart home tech you can buy in 2017.
Whether it's turning your lights on from asmartwatch, automatically unlocking your door as you approach, checking what caused your washing machine to suddenly stop (from your phone), smart home tech not only makes basic things easier, but it also massively improves functionality (when it works).
While turning your lights off with an app is cool, the real killer feature about this next wave of home-based tech will automatically do things for you.
Nest are real front-runners here, with its 'Works with Nest' programme that combines multiple products to create a truly automated home.
For instance, when you wake up your Jawbone Up fitness band will ping your Nest Learning Thermostat to heat up your room.
It's nifty, very clever and actually useful, something which older smart home products never really were.
Apple has also entered to smart home invasion, unleashing its HomeKit at the tail end of 2014. This is similar to what Nest has done, though, for example, you'll be able tell Siri to turn your lights and heating on. Natty.
So, read on and learn about everything you need in order to turn your regular home into the house of the future...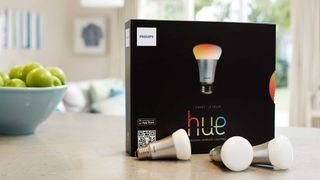 Best colour bulb - Philips Hue
Mention smart colour changing light bulbs and one name comes to mind - Philips Hue. It pretty much kickstarted the segment in 2012, with premium bulbs, dimmable and colour-controllable via a smartphone app.
There are competitors now, but it's still ahead of the curve with Siri voice control - how futuristic - and a number of different bulb styles and compatible products including the excellent Hue Lightstrips.
Price: £60
Runner up: Another strong contender in the smart bulb segment is LIFX (pronounced Life-X), which, unlike Hue, doesn't require a hub plugged into your router. There's also voice control via Google Now, so these may be a better choice for Android owners.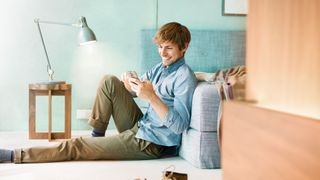 Best white bulb - Osram Lightify
Osram may be unknown in the tech world, but it's a major player in lighting. That means these may not be the 'smartest' bulbs - there's no voice control - but they are the brightest lights we've tested, and give off a good 'quality' light.
They do require a small hub to be plugged into a wall socket (but not your router).
Price: £60
Runner up: Philips Hue Check out other great smart bulbs here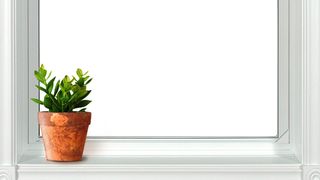 Best window/door sensor - Aeon Window and Door Sensor
Window and Door sensors are all much of a muchness. We like the sensors from Aeon as they're slightly thinner and more attractive than most out there.
Theses sensors from Aeon are Z-Wave compatible, which is one of the more widely adopted smart home platforms.
Of course, most smart home kits will include window and door sensors, so it's best to use those, and if you require more, buy compatible ones.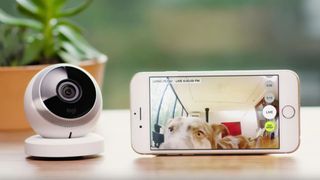 Best lifestyle camera - Logi Circle
No word of a lie, we met Logi and their guy said, "We're not sure if anyone's buying these cameras, but everyone seems to be making them, so we figured we would, too."
Make of that what you will, but its camera is very good, if of questionable usefulness. A neat little electronic eye - it really does look disconcertingly like an eyeball from certain angles - it can run off the mains or on its battery, for "up to 12 hours", although more like 4-5 if you're checking in on its video surveillance regularly.
Circle starts shooting when it detects motion or you dial in via the app, filming in perfectly adequate 720p. Thanks to its mic and speaker, you can also communicate over it, which is great if the idea of talking to someone via a disembodied robot eyeball appeals to you.
The best thing about Circle is it's an entirely foolproof, simple way to monitor your children, pets, flatmates or disgustingly promiscuous, cheating spouse. The not-so-good thing about it is why would you want to do that? But that's your call.
It's definitely a 'social' camera rather than a security device, and just about our favourite in that field, narrowly beating out Withings' Home.
Price: £160
Runner up: Withing Home or Nest Cam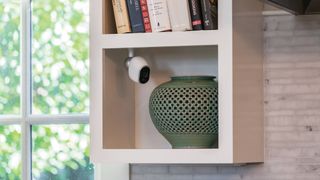 Best security camera - Netgear Arlo
The key point about Netgear Arlo is that it's completely wireless - the Arlo runs on battery power (which lasts around 4-6 months) - so there's no need for a power cable. That means you can place it in the most useful location, not just where your plug sockets happen to be.
That does require a low-powered Wi-Fi hub to be plugged into your router, but this allows you to access your video feeds from anywhere you have an internet connection.
If the Arlo detects motion, it'll record a clip and send you a smartphone notification. As it's battery powered, Arlo is more suited to checking in rather than constant streaming.
There are several mount options, the standard being a magnetic dome, allowing you to quickly and easily switch location of the cameras. It's even waterproof, so can be placed outside. There's also night vision, and 1GB of free cloud storage for clips.
Price: £180
Runner up: Myfox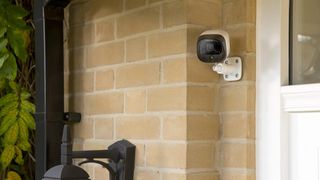 Best security system - Panasonic Home Monitoring and Safety Kit
Panasonic offers a whole range of smart products aimed at keeping your home safe.
The starter kit includes a hub, window/door sensor, and motion sensor. Of course, that's not the kit you want - you'll want the biggest and therefore best.
The Home Monitoring Twin Camera Kit includes a hub, motion sensor, two window/door sensors, smart plug, 4GB Micro SD card, indoor camera, outdoor camera, and a DECT handset. That's enough to give us peace of mind.
Panasonic also offers a few optional accessories, including additional cameras, sirens, water leak sensor, keychain remote and access keypad.
With all this kit your humble abode will suddenly be more secure than Fort Knox.
Price: £350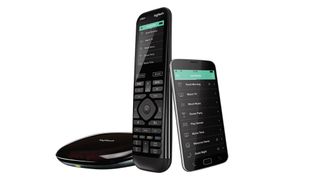 Best multi-remote - Logitech Harmony Elite Remote
Sometimes your smartphone doesn't have battery, or you can't find it - how do you control your smart home then?
Hopefully you'll have the Harmony Elite remote from Logitech at hand. Not only does it handle your infrared and Bluetooth-controlled TV and media systems, but your wi-fi smart home kit as well.
It works with SmartThings, Insteon, IFTTT, LIFX lights, Nest, Sonos, Apple TV, Xbox One. The list is endless.
You can create 'scenes' on the companion app, meaning you can control several devices from the single press on the touch screen. For example tap the 'Good Night' scene and it'll turn your lights off and arm the security system. The interface is not great and there are issues with macros, but it's a powerful device.
Price: £280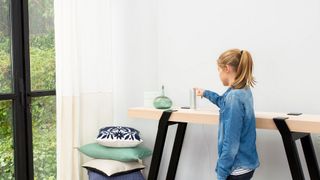 Best temperature sensor - Netatmo Weather Station
If you're looking for a top of the line Wi-Fi weather monitoring kit, you should get the Netatmo Weather Station.
The starter set includes an indoor and outdoor unit, both capable of monitoring temperature, relative humidity, air quality (including CO2 reading), sound pollution, barometric pressure, and general weather type stuff.
You can analyse all the data on Netatmo's app (available on iOS, Android and Windows) in the form of graphs. If that's not enough for you, Netatmo offer a rain gauge, and wind gauge, for COMPLETE weather domination.
Price: £130
Runner up: If you're looking for something a little more amateur, go with the Elgato Eve Room or Weather. These are capable of measuring air quality, temperature, pressure, and humidity, but unlike the Netatmo, use Bluetooth, meaning you have to be within range to receive the data. In fact with the outdoor one, you may as well just go outside.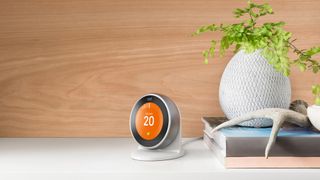 Best smart thermostat - Nest 3.0
Nest is the first smart thermostat that people got really excited about, mainly due to its looks.
If you're not sure what a smart thermostat is (have you been living under a rock?), it allows you to set the temperature and schedules from an app on your smartphone, essentially making thermostat control much easier (and cheaper, as it'll cut down on wasted heating energy).
Nest also claims to learn your routines so it sets itself to use energy efficiently. The latest generation of Nest (3.0) is capable of hot water control as well, and all Nest devices are compatible with 'Works with Nest' third-party products (such as LIFX and Hue bulbs).
Price: £200
Runner up: Nest is our favourite because of the way it looks, but Hive is just as good at temperature control, and also worth your consideration.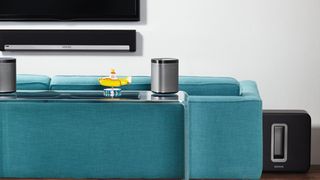 Best multi-room audio - Sonos
When it comes to multi-room audio there is one clear winner - Sonos. The range starts at the compact Play:1, and include larger speakers such as the Play:3 and Play:5.
It can also act as a home cinema system, with the Playbar, Sub, and two Play:1s.
The app is well designed, and allows you to play music from a number of sources, including Google Music, Deezer, and most recently, Apple Music.
Where the Sonos really wins in connected home prowess is with Samsung SmartThings integration. With certain recipes which turn your speaker system into an intruder alarm (or wake-up alarm).
Price: from £169
Runner up: Raumfeld multiroom speakers are more attractive and better sounding than Sonos in our view. However their Bauhaus aesthetic is arguably less universally appealing than Sonos, and they don't connect with other smart home systems.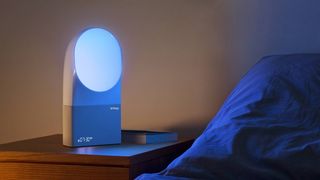 Best sleep tech - Withings Aura
If you're into sleep monitoring, this is the Rolls Royce of that particular, rather specialist, area.
Slide the sensor mat - an unpleasant thing that looks like it's probably something to do with incontinence - under the mattress and it, quite impressively, tracks not just your nocturnal movement but also your heartbeat. As a result it can give presumably more accurate readings of how long you were restless, asleep or deeply asleep each night.
Further sensors measure the room temperature and decibel count, in case you have something wrong with you and can't tell that it's too hot or too noisy for restful sleep. As you can't check either of those things while asleep, we debate the usefulness of this. Maybe in future it'll link to your smart thermostat and crank the heating or air con when the temperature's wrong. Or use robo-cannons to machine gun noisy neighbours and copulating foxes.
The Withings app lets you view your sleep stats, and Withings will also send you an irritatingly perky email every week, congratulating you for being good at sleeping.
By far the most useful part of the Aura is its curiously ship's-funnel-shaped alarm. Because the sensor knows you're coming out of deep sleep, it can wake you gently with its simulated (blue) sunrise and warbling, Brian Eno-style ambient music. Its simulated sunset with accompanying wave noises is similarly good for lulling you to sleep.
Price: £200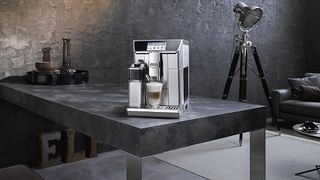 Best small appliance - De'Longhi PrimaDonna Elite
If you want iPad-controlled coffee-making you're better off with this than Smarter's more tech-oriented take on the same thing, which only makes filter coffee, and not amazingly at that. It is vastly more expensive, but that, alas, is the deal with bean-to-cup espresso making.
A simple iPad app lets you choose preset drinks (espresso, macchiato, cappuccino, etc) or make one of your own with your favoured strength and balance of coffee, water, milk and froth.
It works via Bluetooth, which is much more irritation-free than Wi-Fi, although it may rule out firing up your favourite beverage from bed, if you're out of range.
As you'd expect at this price the results are generally good, although if we can be horribly snobby about it for a moment, if you're REALLY into coffee, you wouldn't use a bean-to-cup, you'd get a proper espresso machine and a proper bean grinder and do it yourself.
Still, this does give a much easier route to creating obscure coffee variants, with '100s of different varieties of coffee based drinks all from one machine', as De'Longhi enticingly puts it.
TL;DR: this is in the upper tier of bean-to-cup machines we've tried, and the tablet control and customisation does add a fun extra dimension, especially if you're an entire family of unusually choosy coffee lovers.
We do find this - and De'Longhi's gear in general, in fact - rather ugly but hey, that's just, like, our opinion, man.
Price: £1500
Runner up: Smarter Wi-Fi Coffee Machine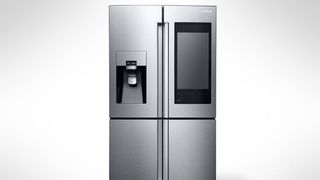 Best large appliance - Samsung Smart Fridge
Large appliances have taken longer to adopt connected tech. There are a few washing machines which can be app controlled, but our favourite large appliance is the Samsung Smart Fridge from CES 2016.
The first thing you notice is the large tablet built into the front, letting you leave notes, watch YouTube videos, create shopping lists etc.
The other tech is inside the fridge. Most notably a camera that takes images of the contents of your fridge. The means you can be in Tesco, and check how much milk you have left, pretty useful, right?
Price: TBC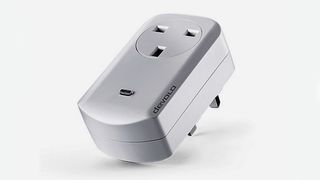 Best smart plug - Devolo
Smart plugs may not seem like the sexiest smart home devices, and that's because they're not. But they are useful, essentially allowing you to turn regular, dumb gadgets into intelligent connected tech.
Classic examples include hair straighteners, slow cookers, or lamps.
Our pick in this category is Devolo. It's Z- Wave compatible, and also gives you details of energy consumption. Attractive it's not, but c'est la vie.
Price: £40
Runner up: Samsung SmartThings Power Outlet, it's one of the smallest, and most attractive plugs around. It also includes a temperature sensor, making it potentially more useful.
Of course, just like window/door sensors, most smart home kits will include a smart plug, so it's best to use those, and if you require more, buy identical/compatible ones.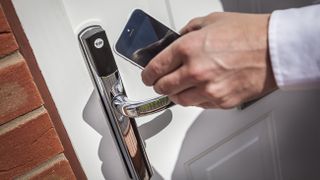 Best lock - Yale Conexis L1
Keys are so old-fashioned, aren't they? In the ultimate smart home you'll open everything with your smartphone, if it has battery (and with a keyfob if not).
You can send keys via the app to anyone - very useful if your friends arrive early, or your child loses their keyfob.
It's also compatible with Z-Wave and Samsung SmartThings, which is great for your home automation recipes. Finally, it's made by Yale, so we fully trust its security credentials.
Price: £269.99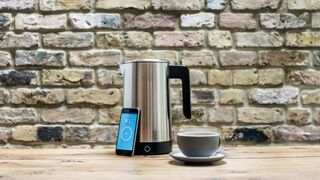 Best "other things" - Neato Robotic Vacuum and Smarter Kettle
A smart home wouldn't be complete if it didn't include a few quirky items, for us, these come in the form of a robotic vacuum cleaner, and Wi-Fi kettle.
The Neato Connected moves in an intelligent way, with excellent cleaning power and a speciality in sucking up hair, both human and animal.
It also now boasts smartphone control, so you can set it off from anywhere in the world. This is pitched as being useful for allergy sufferers, as cleaning can be done while you're out of the house, allowing you to return only once the dust has (literally) settled/been suctioned up. And for anyone else, it's a fun gimmick.
Smarter's Wi-Fi Kettle, meanwhile, surely needs no explanation: it's a kettle, with Wi-Fi. You can thus begin boiling water remotely, or automate this arduous process.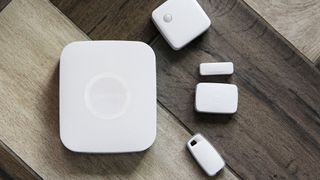 Best multi-hub - Samsung SmartThings Hub
It's 2016, but most smart home products need a hub to be plugged into the rear-end of your Wi-Fi router. That's a pain, because, well... it just is.
Now some products, such as the Philips Hue and Netgear Arlo have their individual hubs (which is even more of a pain). But some systems make use of one hub to connect several products, generally bought as starter smart home kits.
Our favourite is the Samsung SmartThings Hub, which is starting to look like one of the best systems out there. The SmartThings hub connects all Samsung-made smart home products together (that includes a motion sensor, multi sensor, power outlet, presence sensor and moisture sensor).
That's not all though, because the SmartThings Hub also connects third-party products such as LIFX bulbs, Sonos, Philips Hue, D-Link, Aeon and Bose, to name a few.
This then allows you to easily create automated recipes in the SmartThings app, which is available on both Android and iOS.
Price: £199
Runner up: Nest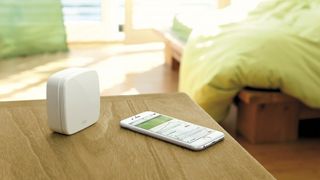 Best System - HomeKit / Works with Nest / SmartThings
Perhaps the most important category here - which system will your smart home run? And there's no clear winner here. Which is frustrating, to say the least.
Apple has HomeKit, and it looks like this may be the best system in the way it's set up - it doesn't require a hub, and thanks to Apple's strict guidelines, you'd hope everything talks to each other nicely.
But in the UK, HomeKit hasn't been widely adopted yet, and there simply aren't that many products that work with it.
Next there's Samsung's SmartThings. In polar opposition to Apple, it's very open, trying to work with a number of other systems. That does make setting it up hugely difficult, we've spent many hours cursing the Hub. But when it does work, it works well.
Then there's Works with Nest, one of the first systems available. It works with a wide range of products, and uses the Nest Thermostat as a central hub.
Which is best? None are fully developed enough yet to decide. Our best advice is to select a favourite, and stick to it.