Drying and styling your hair has been made so much easier, thanks to Dyson. While Dyson is best known for its vacuum cleaners, the brand expanded into hair care in 2016. While the move was unexpected at the time, Dyson quickly dominated the hair care industry with its innovative technology and salon-worthy results.
If you're on the hunt for a new hair dryer, the Dyson Supersonic hair dryer is the best of the best. Right now, the Dyson Supersonic hair dryer is now 23% off at Best Buy, helping you save big on this premium hair tool.
View the Dyson Supersonic hair dryer deal
Originally priced at $429.99, the Dyson Supersonic hair dryer is now $329.99 with this $100 price cut. Dyson deals are extremely rare, so while this isn't a huge discount, you're unlikely to find this deal again for a while. But, if you've been looking for a cheaper Dyson hair dryer, this deal on the Dyson Supersonic is the one I'd pick.
Sitting at the top of our best hair dryer guide, the Dyson Supersonic hair dryer is a high quality piece of equipment that will leave your hair looking and feeling amazing. It's ultra-fast drying with its digital V9 motor and Air Multiplier technology which delivers high pressure and high velocity jets of controlled air.
Engineered for multiple hair types, the Dyson Supersonic hair dryer has intelligent heat control that protects against heat damage and gives your hair a natural shine. With 3 speed settings and 4 heat settings, the Dyson Supersonic hair dryer is incredibly versatile and comes with five magnetic attachments. All of this and more is why this hair dryer got 5 stars in our Dyson Supersonic review.
This Dyson Supersonic hair dryer deal is only available in the Vinca Blue/Rosé color which is beautiful, stylish and limited edition. To view the deal at Best Buy, click the link above or keep reading for more details.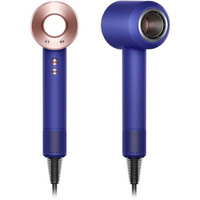 Dyson Supersonic Hair Dryer: $429.99, $329.99 at Best Buy
Save $100 on the Dyson Supersonic hair dryer at Best Buy. The Dyson Supersonic is perfect for all hair types and any drying and styling needs you might have. Available in Vinca Blue/Rosé, the dryer comes with five accessories, including a diffuser, concentrator, wide-tooth comb, gentle air and flyaway attachments.