With the Amazon Spring Sale now in full swing, there are a whole variety of decent deals to pick up. The one that jumped out to me is for the awesome Google Pixel 6a, which is under £285 from now until the close of 29 March.
View the Google Pixel 6a deal on Amazon
Seeing as this Pixel is one of the best Android phones you can buy – I certainly consider it the best budget option of the moment – that £115+ discount is an absolute steal for a handset such as this.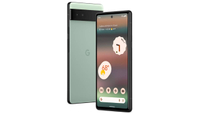 Google Pixel 6A: was £399, now £284.10 at Amazon
If you're an Android user and want one of the best affordable phones, Google is onto a real winner with the Pixel 6a. It uses Google's own Tensor processor, runs super smooth for a budget phone, and looks the part too. At this price, it's the best budget flagship Android phone around.
All three colour options – Chalk, Charcoal, Sage – are discounted, although it's the last of those which comes in at the very lowest price. You'll need to pay a little more for the other two finishes, although I find the Sage the most standout of the lot anyway.
I used the Pixel 6a for months last year and became increasingly happy with it. There is the question over whether you might want to pay more for the newer Pixel 7 or Pixel 7 Pro, of course, but in the land of deals it's money that does the big talking.
Still, the Google Pixel 6a looks great, its cameras are great, and while its price was already great – it's just even better for this flash sale. So if you're in the market for an affordable Android, now is a very good time indeed to consider snapping up this handset.