Early Black Friday deals are flying round left, right and centre, with some cheap fitness trackers right at the forefront – like the Fitbit Sense 2 (now less than £200) and the Garmin Forerunner 55 (less than £130). But the fitness tracker that's currently stolen the limelight is the Fitbit Inspire 2, which you can now get your hands on for just £44 at Argos – an absolute bargain!
In our review of the Fitbit Inspire 2 we gave this fitness tracker four out of five stars and applauded it for it's simple set-up and its decent fitness and sleep tracking capabilities. It may not be the latest Fitbit by any means, but it's certainly a decent first-time fitness tracker that won't empty your wallet.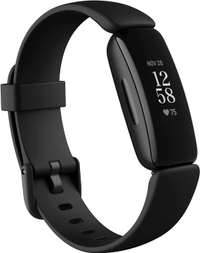 Fitbit Inspire 2: was £49.99, now £44
If there's ever been a time to get a Fitbit – the time is now! Perfect for casual fitness enthusiasts who are keen to monitor their all-day activity, sleep, heart rate and more. Available in black, lunar white and desert rose strap colours.
So, if the Fitbit Inspire 2 doesn't have all the new features that some of its predecessors have, then what does it have? Well, it has goal-based exercise modes, 24/7 heart rate tracking, advanced sleep tools and food and drink intake monitoring. Not forgetting your all-important step count, distance and calories, so a great model if you're keen to track some basic health metrics. Other plus points include it's decent battery life (10 days), sleek looking design and it's comfy to wear.