Black Friday is the perfect time for fitness enthusiasts to purchase items they either need to stock up on or have wanted to treat themselves to for ages. There's been plenty of Black Friday fitness deals flying around already, including cheap Fitbit deals, the best Nike deals, oh, and not forgetting the infamous Gymshark Black Friday sale.
However, if it's a new multi-functional gym bag that you're after, look no further, as my all-time favourite – the Stubble and Co Kit Bag – which now has 15% off for Black Friday. It has so many great features: from its bougie design, to its generous 45 litre capacity (which makes it the perfect travel bag too), to its durable and waterproof exterior. There's also a zip pocket for your laptop (just in case you want to use it for travel and work), a shoe compartment for keeping your workout shoes or dirty gym clothes, and it's made from recycled materials.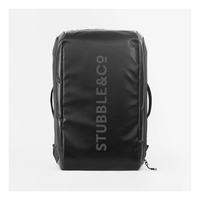 Stubble and Co Kit Bag: was £155, now £131.75
Whether you're off to the gym or heading for a weekend away, the Kit Bag can handle it all. Part-crafted from recycled materials with a waterproof exterior, a 45 litre capacity and plenty of internal pockets (including one for your laptop), this bag provides all the functionality you need, whilst looking good on your back too.
That's not just the amazing deal from Stubble and Co either – there's 15% off across the entire site! Their best-seller Rolltop Bag (was £105, now £89.25) is the perfect bag for work and commuting, while the Adventure Bag (was £195, now £165.75) is your ultimate travel bag.
Overall, if you haven't heard of the brand before I highly recommend checking them out. They have bags for a variety of activities: from everyday use, to outdoors and travel, as well as sport and the gym. They're also a sustainable brand too, crafting their bags from recycled materials, using 100% recyclable packaging and even offering an in-house repair service.