The best workout shoes will not only make you look good in the gym but also offer improved grip and support so you can workout safely and with greater effectiveness. Some workout trainers are best as gym shoes while others will perform better as CrossFit shoes: that's why we tested, reviewed and ranked shoes from every major workout shoes brand, including Under Armour,  Inov-8, Nike, Reebok, adidas and more so you can chose one that fits your workout style.
You can't be safe enough when dangling heavy weights over your head or jumping laterally during an intense HIIT class: you need the best workout shoes to support you. Our in-house experts went the extra mile when testing these gym trainers, putting the shoes through the paces to makes sure we only recommend the best shoes for workout to you.
The fact of the matter is, many modern workouts now incorporate much of the old school Olympic lifting theory and therefore require the best shoes for workouts; ones that offer a stable surface through which to push maximum pooooowwwweeer.
Some will advise you to simply kick off the shoes and tackle the squat rack barefoot, but we'd rather enlist the help of a new breed of workout trainers that neatly blend elements of a lifting shoe (flat sole, sturdy heel etc.) with all of the performance trickery of a the best running shoes.
To complete your workout gear, have a look at the best fitness watch and best gym headphones guides too. Not to mention the best gym gloves and the best weight lifting belts guides.
Best workout shoes, in order of preference
The Under Armour TriBase Reign 3 won in the 'Best Workout Shoes' category at the T3 Awards 2021!
Under Armour didn't switch things up too much with the TriBase Reign 3 but that's completely understandable as these shoes were already the best workout shoes on the market as is. Nevertheless, the new TriBase Reign 3 offers more breathability and better grip than its predecessor.
The Reign 3 inherits most of the best qualities of its predecessor and improves on some to make it even more appealing than ever before. Although these shoes are not the most aesthetically pleasing, they are comfortable to wear, provide plenty of traction and get the job done pretty much perfectly.
At the end of the day, you'll need workout shoes to enable you to perform better in the gym and won't fall apart after a more intense workout session, and the Under Armour TriBase Reign 3 does just that. It's robust, comfortable and damn resilient: just buy them already.
You can read the review of the Under Armour TriBase Reign 2 here.
I fell in love with the Inov-8 BARE-XF 210 V3 while testing them and they will be my go-to workout shoes going forward, mainly because I tend to do more resistance training and less jumpy HIIT workouts. For the latter, I would still opt in to use the Under Armour UA TriBase Reign 2 which is a great all around workout shoe, albeit geared at CrossFitters, just like the Nike Metcon 6.
Is the Inov-8 BARE-XF 210 V3 for everyone? I wouldn't think so. It's great for workouts that doesn't involve a lot of moving around (e.g. running/jogging) and/or jumping around. For box jumps, these shoes are great but for boxing workouts, maybe not so much. If you aren't used to barefoot shoes, running or even just jogging might take some time to get used to. It doesn't take long to get used to the BARE-XF 210 V3, and once you did, you won't want to take them off again.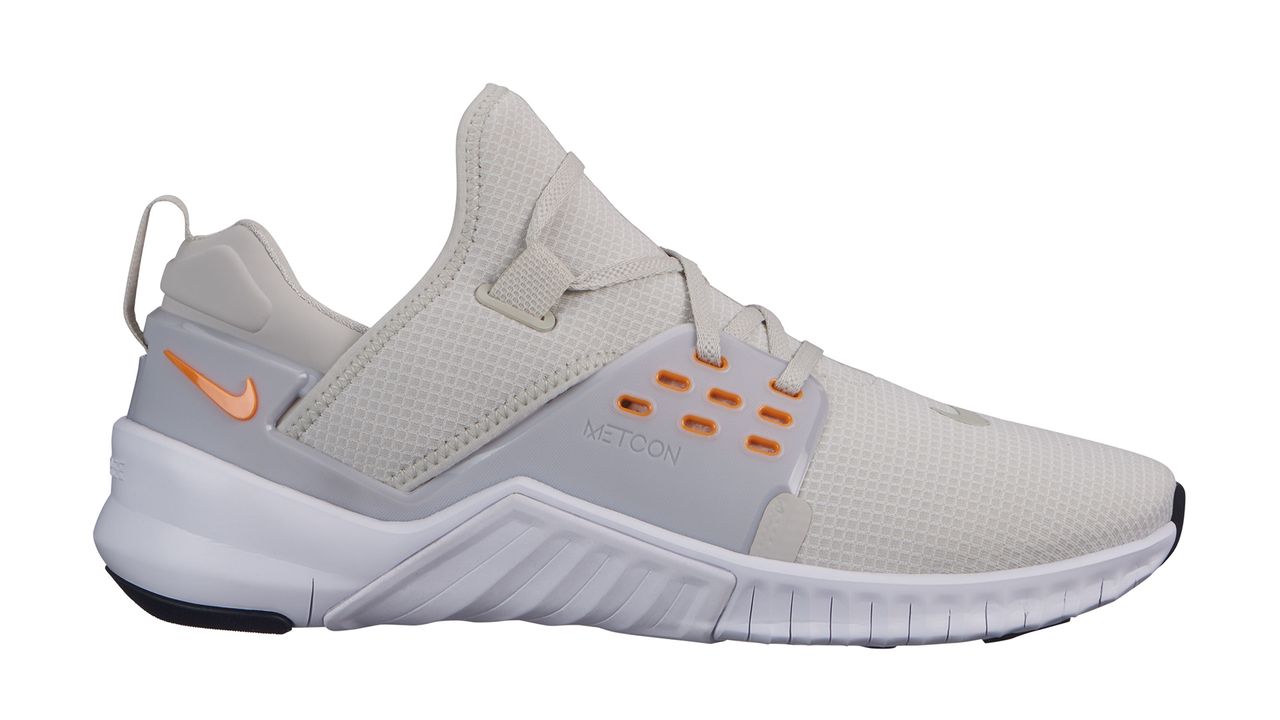 Support, flexibility, a stable platform and good connection with the ground below: these are all attributes that make a great workout trainer and the Nike Free X Metcon 2 features all of these in droves.
Nike's Metcon range is also relatively diverse, spanning those shoes aimed at pure powerlifting (see the Adidas model below) to these, slightly more versatile kicks. We prefer these, simply because you'll be able to perform a greater spread of exercises without changes shoes.
A TPU mesh upper encourages plenty of airflow around the foot, which will appeal to those thinking of adding some high intensity efforts to their workouts, while the bootie construction offers lots of support around the ankle, which is great for rapid direction changes, side steps and sprint training.
Arguably not the most handsome shoe on the market, the Metcon range seems to favour function over form. But that's OK, because everything in the Free X 2 , from the grippy flat sole to the locking mid-foot cage structure, is geared towards offering maximum support for explosive workouts and gets our seal of approval after a series of mixed workouts in the gym. A solid all-round option.
The On Cloud X gym shoes are not only unique in terms of their versatile and comfortable yet supportive design, but they deliver on performance, too, offering some impressive responsiveness.
Okay, so they might lose points for failing to have the same level of support and robust fit that a gym shoe like the Nike Metcon range has, but these kicks excel in the fact they are light, stable and offer a good, balanced and natural feel to move around in. 
If you're looking for a pair of workout shoes that have your back no matter what kind of workout you're doing, the On Cloud X are the ones for you.
Despite being part of a series that was originally designed for heavy lifters, the Nano X1 is more focused on providing support for all areas of the gym floor. Due to its flexibility, it's certainly a great choice if you're a 'jack of all trades, master of none' when it comes to fitness.
So, if it's a super versatile, all-round gym shoe you're after; one that excels in fast-paced impact activities, such as HIIT workouts, jumping and sprinting, then the Nano X1 could be the shoe for you.
That said, while the shoe has a wider appeal than ever, some Nano fans might complain that the X1 doesn't have the same level of support that its predecessors do, making this silhouette less suited for heavy lifting. Still, there's some decent stability on offer in the supportive heel - especially for high impact maneuvers - but probably not as much as hardcore lifters would like.
Buy direct from Vivobarefoot UK  for £115 or Vivobarefoot US for $145
And now for something a little different... where most of the other trainers on this list pile on the features, the Primus Lite III - from eco-friendly brand Vivobarefoot -does the opposite. The third iteration of the Primus Lite is very similar to its predecessor but use less material sources as well as better and more sustainable materials to reduce the impact this footwear has on the planet, without changing the workout experience of the shoes too much (or at all).
Fully vegan-friendly and fashioned from recycled PET plastic waste, they allow for the most natural-feeling workout there is, with the thin, puncture-resistant sole allowing the important nerve endings in the feet to feed back to the brain.
Admittedly, we were skeptical at first, but performing big deadlifts and squats in these is better than going barefoot, or slipping around the gym in socks. The wide shape allows the big toe to stabilise (like it should), while the sole allows the user to make micro adjustments for the perfect platform during big lifts.
Better still, they are stupidly flexible, so assist in reducing potential toe cramp and discomfort when performing split squats or lunges, where the toes curl curl with every rep or movement. 
Weirdly, the latest Metcon shoe has lost the neoprene-esque ankle support of the model we previously adored, but it still retains the broad flat sole, which makes it great for powerful lifting moves.
Updates include firmer foam under the heel for a more supportive platform, as well as additional cushioning for high impact moves. According to its makers, this shoes is 18% more breathable than the Metcon 5 it supersedes, using an improved lightweight mesh for most of the upper.  
There's even a removable Hyperlift insert that lets you adjust the height under your heel from one set to the next, transforming these versatile shoes from a proper lifting platform to a more energetic workout trainer in an instant.
There is a school of thought that suggests the art of lifting eye-poppingly heavy weights deserves its very own shoe. After all, you wouldn't head onto the football pitch in a pair of tennis shoes, so why commit a similar faux pas when approaching the squat rack?
The steep decline from heel to toe and beefed-up torsion bar system at the rear of this Adidas brute allows for a much more stable platform through which to push some serious power.
A single instep strap provides additional rear-foot support and can be quickly and easily adjusted on the fly, mid-set, so there's nothing to stand in the way of a one-rep max attempt.
Alas, these beefcake-makers aren't particularly good for anything else other than heavy lifting, so if you plan to throw a little treadmill time into your workout, you'll likely have to pack a separate pair of running shoes in your gym bag... or risk looking a bit silly
Inspired by boxing boots, these slightly whacky looking Pumas feature of a sort of slip-on bootie construction that feels a lot like wearing a slipper, but offers a lot of stability and support for rapid, multi-directional movement.
We have to say, these don't feel as solid as a lot of the other trainers on this list, while the flimsy elastic laces feel like they could give way with a little punishment. Still, they great and sport a chunky, flat heel, which is great for lifting weights. 
New Balance has opted to hook up with Vibram, purveyors of brilliantly cushioning soles, to create an all-purpose training shoe that's as good smashing the heavy lifts (where a stable footing is required) as it is for soaking up the impact from explosive moves.
If you can get over the slightly bulky look and tight fit (definitely go for a half size up on your regular shoe), they prove really grippy on smooth surfaces and nicely stable for the classic Olympic lifts.
We sometimes train in a small, CrossFit Box-esque gym and its painted concrete floor can get slippery. The soles on these were fantastic for locking into place underneath a barbell when prepping for a deadlift or squat.
 Although the Metcons may be Nike's best-known all-rounder, if you're sweating it out in HIIT or circuit classes every other morning, Nike has gone one better and designed the perfect workhorse shoe for you. 
The Air Zoom SuperRep has been engineered specifically for HIIT training sessions, with features designed to give you a vital boost during intense circuits. The key feature here is the "burpee break" separating the heel from the toe sole, which provides flexibility in the shoe when distributing your weight to different parts of the foot, and the big arcs are supposed to act as "brake pads" when leaping from side to side. 
We were surprised to find the shoe holds up when flat (driving upwards during squat thrusters and kettlebell swings), on our toes (for press-ups and burpees) and on regular impact with its Zoom Air cushioning, handling everything we could throw at it with ease. In terms of lateral movements, we weren't sliding anywhere soon, and we flew into the next move with a spring in our step.
Another TPU mesh upper promotes breathability so the shoe can go from class to class without stinking up your gym bag, and we found the higher ankle a welcome support, especially when performing "locked-in" exercises like squat thrusters. It's a very sci-fi-looking shoe with the bulbous arc over the Zoom Air bubble, but it holds up extremely well under pressure. Great for ClassPass subscribers.
• Read our hands on Nike Air Zoom SuperRep review 
How we picked the best workout shoes
I like to suffer for my art and if I'm not in the gym sampling the latest workout app, I enjoy being shouted at by a personal trainer in my so-far only partially successful quest for a Chris Hemsworth body. Using Centr, the workout app backed by the actor, can help you get there earlier. The Trion app might help too. 
I laced up a variety of workout shoes that are specifically designed for bossing the gym, or nailing an intense bout of high intensity interval training, and hand-picked the kicks that best blended performance, comfort, price and, at least to a certain extent, style.
Overall, the Under Armour TriBase Reign 2 offers the most enticing package, with a super stable heel for better balance during squats and big lifting movements, as well as a flexible sole for greater confidence during split squats or more explosive exercises. They also proved light and breathable while the bootie inner and supportive ankle bar proved excellent for support during sprints and interval training. 
Of course, beauty is in the eye of the beholder and the list that follows is roughly in an order of preference, although the look and fit of certain models will very much be down to personal tastes. Please note that while these gym shoes were tested by a man, they are largely also suitable for women's workouts.
How to buy the best workout shoes
In general, a good workout trainer will have a relatively flat sole, especially at the heel (where it should also be wide). Unlike running shoes, which tend to feature a curve from heel to tip to mitigate heel strike, a workout shoe offers a stable platform for lifting weights.
Some models even have a wider and reinforced heel area, which copes with the excess pressure when tackling a really heavy deadlift or squat and avoids any ankle rolling, while others will be more geared towards explosive movements and high intensity workouts.
Keep in mind what you plan to do, as a shoe that's designed purely for heavy weights probably isn't the most suited to those thinking of incorporating plenty of jumping jacks, box jumps and sprints into their workouts.
Most important of all is fit, and I found that most brands differ in terms of the width and snugness of their offerings. So here's some obvious advice: try them on before you buy. Or buy online and return them within 20 days if the fit doesn't agree with you.
What are the best shoes for gym workouts?
Gym workouts, especially heavy lifts, require a stable platform: we would strongly advise steering clear away from running shoes and using workout shoes with a flat sole. Most CrossFit-style shoes are great for this purpose, including the Nike Metcon 6 and the Under Armour TriBase Reign 3, but for the more adventurous, we would also recommend the Inov-8 BARE-XF 210 V3 or the Vivobarefoot Primus Lite III.