The best running shoes – or best running trainers, as some people like to call them – are an essential piece of running gear. A decent pair of trainers can not only help you run faster but also reduce injury risk and, in some cases, improve running form. Besides, getting a new pair of running shoes can be an excellent motivator to start running for those who find it hard to muster up the energy to exercise.
Whether you're a beginner looking for your first pair of stability running shoes or a seasoned pro trying to replace your completely worn racing shoes with the best Nike running shoes, you'll find the best options here on what probably is the most comprehensive running shoes guide on the internet. At least according to us.
If you are looking for specialised running footwear, make sure you peruse the flowing guides: best women's running shoes for those interested in female-specific running footwear, best trail running shoes for off-road warriors and best waterproof running shoes to keep your feet dry when it's' absolutely pouring down outside.
And just for good measure, you might as well check out the best Brooks running shoe guide while you're at it. Because everyone loves their Glycerins and Ghosts. Also, don't make these three running shoe mistakes if you want to avoid injuries and discomfort. You've been warned.
How we test the best running shoes
By running in them, of course! Matt, T3's resident runner, and our other contributors meticulously analyse each shoe to ensure they are up to code. Some of the criteria that we check: step-in comfort, ergonomics, padding, cushioning, technology involved, design, aesthetics, and, of course, running dynamics.
We also verify manufacturer claims about performance details such as 'twice as fast as its predecessor' or 'improved heel lockdown', where applicable. If it's not possible, we'll refer to these features as 'manufacturer claims'. Another thing we'll examine is how to break in running shoes or if they need breaking in the first place.
It's worth mentioning that most people have different running styles, so running shoes that work for one runner might not work for another. Please keep this in mind when reading our reviews.
Best running shoes to buy right now
The On Cloudmoster is a max cushioned, neutral road running shoe designed to carry you in comfort over long distances. It features the most amount of Cloud elements ever to be found in On shoes which is combined with the springy Speedboard, making the shoe an excellent choice for 10K+ runs.
Despite being the softest shoe On has to offer, the Cloudmoster isn't the softest running shoe; the CloudTec midsole is definitely firmer than Nike's Zoomx or Adidas' Boost technology. That said, the Cloudmonster is far from being uncomfortable, although the toe box could be roomier.
On designs shoes that are nice to look at and the Cloudmonster is no exception. The colours and over-the-top lettering make the shoes stand out from the crowd, especially compared to brands such as Brooks Running (Brooks has some cool shoes, too, just have a look a the Brooks Aurora-BL).
The On Cloudmoster is recommended for runners who prefer a bit of firmness and need some hip trainers for long-distance runs. Let the monster go the extra mile for you.
Read our full On Cloudmoster review
Just how good of a running shoe is the Cloudmonster? Well, it sure won the Best Running shoes category at the T3 Awards 2022!
The New Balance Fresh Foam X 1080v12 surpasses its predecessor in every way – the shoes are more comfortable, responsive and supportive than ever before.
The Fresh Foam X makes all the difference underfoot. This new foam is softer yet offers more control over your stride than Fresh Foam; it's basically the best of both worlds.
The Hypoknit upper allows plenty of room in the toebox if that's what you need but also offers support. Airflow in the shoes is also sublime – the Fresh Foam X 1080v12 not once felt stuffy or too warm, even when they were used for tempo runs on hot days.
As an icing on the cake, the New Balance Fresh Foam X looks sexy enough and feels comfortable enough, so you can wear them for other things than just running. These are some versatile running shoes indeed.
Read our full New Balance Fresh Foam X 1080v12 review
The ASICS Gel-Nimbus 24 is a max-cushioned everyday running trainer for people who need shoes not to look good on Instagram or show off in your running group but for running. These shoes are for pounding the pavement mile after mile in comfort, clocking up the miles and building strong legs. People who take running seriously and appreciate if their legs are in working order the day after a long session.
The combination of FF BLAST+ and FLYTEFOAM technologies, as well as rearfoot and forefoot Gel, make landings smooth and toe offs energetic enough to keep you going mile after mile. The engineered mesh upper and Ortholite sock liner create a cosy atmosphere in the shoes.
The Gel-Nimbus 24 is slightly more expensive than its predecessor, but it's also a tad bit lighter. Finally, ASICS also started using more sustainable materials in its shoes: the upper and the outsole of the Gel-Nimbus are now made of recycled materials (to some degree).
Do yourself a favour and invest in the Gel-Nimbus 24; your feet will thank you for it.
Read our full ASICS Gel-Nimbus 24 review
The Nike Air Zoom Pegasus 39 is a superb daily trainer for runners who don't mind their shoes looking fly.
Nike perfected the Pegasus formula by doubling the Air Zoom units, adding more React foam and including the Flywire technology for better lockdown. The outsole now has more rubber where needed and less where it's not necessary, reducing the overall weight down a notch.
The Pegasus 39 can be used for any type of running, but it enjoys itself the most at moderate paces; however, joggers will find it equally as comfortable to wear as people who run a bit faster.
Read our full Nike Air Zoom Pegasus 39 review
We are inundated with max cushioned running shoes, one better than the other. Yet, the Adidas Solarglide 5 offers something familiar yet fresh – an exciting new re-start of a franchise that aims to replicate the success of the Ultraboost series.
As noted in our Adidas Solarglide 5 review, thanks to the Bubble Boost midsole, these max cushioned shoes are delightfully soft and energetic. The stack height has been increased slightly compared to its predecessor, which softens landings, and the weight has also increased – all the extra Boost! – but the overall performance of the shoes is very similar to what you'd expect of similarly built running trainers.
The L.E.P. torsion system makes the Solarglide 5 more accessible to beginner runners: it helps with foot placement, conserving energy and reducing the risk of injury.
Adidas has doubled down on its efforts to make the Solarglide 5 more sustainable; the yarn used for the upper now contains more recycled plastic.
Best of all, despite all the improvements, the Solarglide 5 costs the same as the Solarglide 4! Essentially, you get a new and updated Ultraboost-esque running shoe for a little bit over two-thirds of the price of the Ultraboost 22. What a bargain.
Browse our adidas discount codes to bag a saving on your purchase.
As Brooks' Blue Line senior manager Nikhil Jain examined to me, the main aim of the Hyperion line – the Tempo is part of this – is to reduce 'deviation from the ideal stride' which in turn results in and better energy return and less fatigue, even after long runs.
Running in the Brooks Hyperion Tempo indeed feels light and responsive. The midsole is springy but not to a degree where it would hinder performance: my best attempt to characterise it would be to call it 'supportive bounce'. The nitrogen-infused DNA Flash midsole reduces impact force and accommodates a smoother transition from heel to toe.
The upper has an excellent fit, not race tight but not loose either. The slits at the front of the woven upper allow air to enter, improving airflow in the shoes. This is to reduce swelling during long runs and improve comfort levels in general. A perfect everyday trainer overall.
How does the Hyperion Tempo stack up against the React Infinity Run 2? Find out in our versus article, aptly named Nike React Infinity Run 2 vs Brooks Hyperion Tempo.
Read our full Brooks Hyperion Tempo review
In our Puma Velocity Nitro 2 review, we said these are excellent daily trainers for slower runs. The Velocity Nitro 2 focuses on comfort and visibility and offers all its great features for an affordable price.
There have been some subtle technological updates since the first iteration of the shoes, and Puma seemingly paid more attention to ironing out the minor issues with ergonomics. Don't fix it if it ain't broke, right?
The shoes are especially well-suited for low-light conditions as they feature reflective strips in multiple areas. Wearing the Velocity Nitro 2 won't turn your legs into two shining beacons, but motorists will certainly be able to better notice you when you're out and about early morning.
You won't beat any PBs in the Velocity Nitro 2, but for recovery and slower, longer runs, there aren't many shoes we'd recommend more than this one.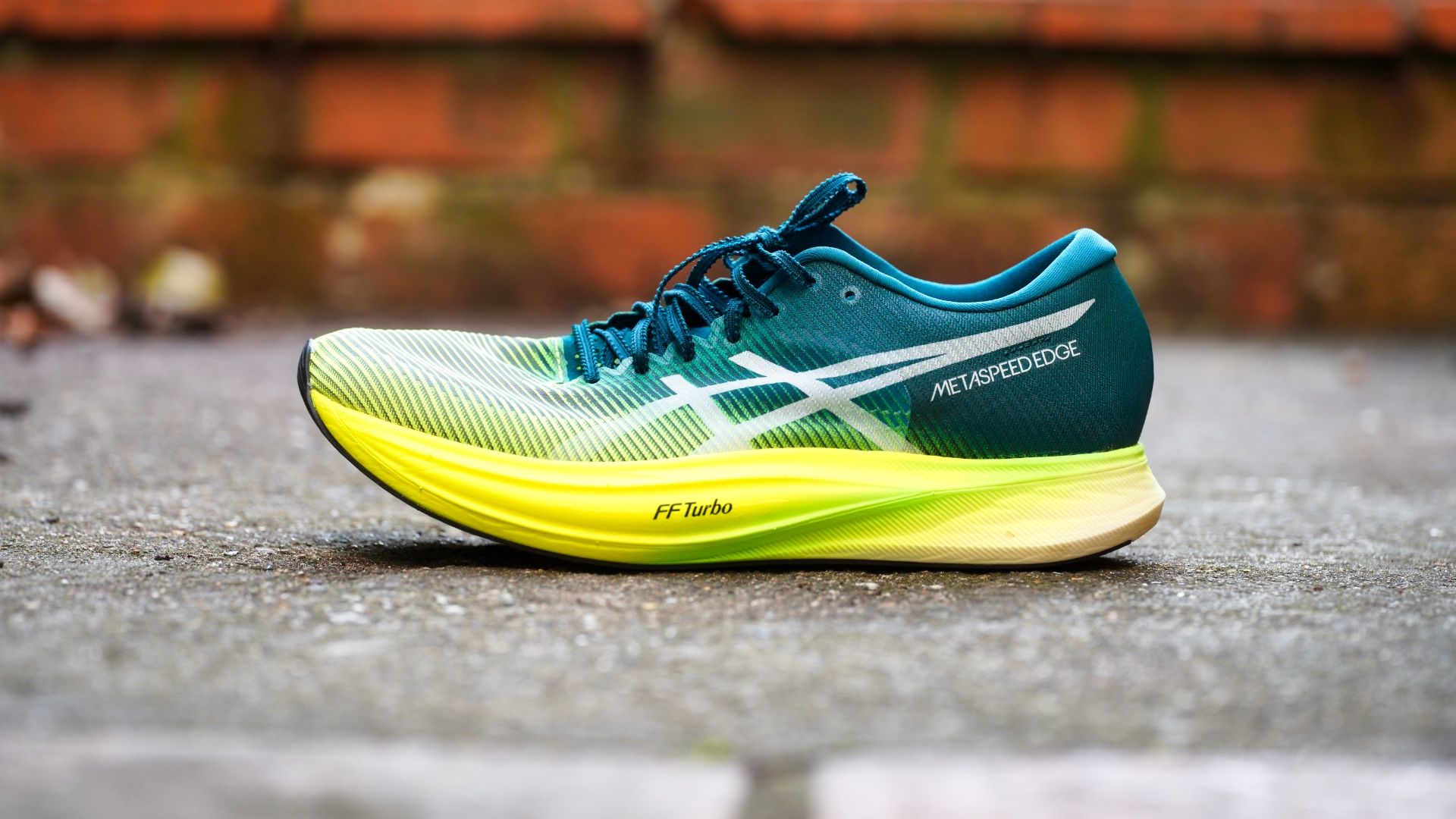 The ASICS METASPEED EDGE+ has been completely revamped to help cadence-style runners run faster. The shoes have been designed for sub-3-hour marathon runners, but slower runners can also enjoy the speed boost the METASPEED EDGE+ provides.
The increased stack height and the position of the carbon plate make the EDGE+ a competent racing shoe for those who attend races in the hope of beating their PBs over the 26.2-mile distance. Some suggest the EDGE+ is more suited for half-marathon distances while the SKY+ is best for marathons; it's probably the same difference unless you're super fast.
The FF BLAST TUBRO foam is light and responsive, providing excellent energy return at any distance – and now there is more of it underfoot compared to the EDGE v1. The upper is more comfortable, and the laces are also different. Long story short, the ASICS METASPEED EDGE+ is an entirely different shoe than its predecessor but all in the right ways.
Read our full ASICS METASPEED EDGE+ review
Also consider: the ASICS METASPEED SKY+ provides a similar running experience to the Nike Vaporfly, which means the shoes feel less in control than the EDGE+, but in return, you get better bounce and, probably, better energy return over long distances.
If you already have the Endorphin Speed 2 and it's in good condition, we'd say don't worry about upgrading to the Speed 3. If you have the Speed 2, but it's starting to fall apart, getting the Speed 3 would be a good idea (it's only a tad bit expensive).
If you haven't tried the Endorphin Speed range before, the Speed 3 is an excellent entry point to the series; it's even slightly better in terms of heel lockdown! The reworked upper is cosy and accommodating without feeling baggy. There is also plenty of airflow in the shoes to keep the temperature as low as possible when you're out on a long run.
The PWRRUNPB foam is still lovely and soft, which helps preserve the legs, but the nylon plate is not stiff enough to push you forward quite as much as carbon plates. Is this an issue? Not really. The Endorphin Speed 3 is faster than non-plated shoes; it's just not as fast as stuff like the Nike ZoomX Streakfly and the likes.
Read our full Saucony Endorphin Speed 3 review
The Hoka Mach 5 is a testament to the relentless innovation that drives the success of Hoka. There is really nothing to criticise about the shoes, which is an achievement in itself. Shoe updates don't get much better than this.
After the success of the Hoka Mach 4, Hoka could've just kicked back and relaxed for a while by only applying minor tweaks to the shoes. Instead, the brand went ahead and released the Mach Supersonic to test the waters with the PROFLY+, then added the new foam in the Hoka Mach 5, reducing the weight and improving the running experience.
Thanks to the addition of the new foam and the reworked upper, the Hoka Mach 5 feels very different from its predecessor in a strangely familiar way. You get better energy returns and a smoother ride in a shoe you can use for training and racing – that's as versatile as it gets at their price point. Better still, the Mach 5 is an excellent entry point for newcomers to Hoka!
Read our full Hoka Mach 5 review
The Adidas 4DFWD is not the cheapest running trainer, and admittedly, the limited drop nature of the initial release won't help make these the go-to shoes for most runners. Nevertheless, we'd highly recommend getting a pair if you have the chance, as the 4DFWD represents the next step in running shoe evolution.
As well as that and in line with Adidas' efforts to reduce plastic waste, the 4DFWD is not a bad choice for environmentally conscious runners. Don't get me wrong, buying a pair of running shoes won't save the planet, but if you have to buy new running shoes, you might as well get a pair from a manufacturer that pays some attention to environmental friendliness. Adidas at least tries to make a difference, which is admirable.
All things considered, the Adidas 4DFWD are great running shoes, probably the best running shoes from Adidas at the moment for runners who are looking for something a bit more serious than the Ultraboost 21 but less sporty than the Adizero Adios Pro. And taking into account the normal distribution curve, that's the majority of the runners.
The Adidas 4DFWD was crowned 'Best Running Shoes' at the T3 Awards 2021!
Read our full Adidas 4DFWD review
Thanks to its responsive foam and snug fit, the hybrid fitness shoe Hoka Kawana can be used for light cardio training but it's even better suited for running training, whether it's jogging or something a bit faster.
Considering the shape of the shoes and the technology involved, the Kawana is still very much a running shoe that can also be used for other types of exercise. In this sense, it's not all that different from other everyday trainers on the market that can also be used for cardio training.
The main differentiator of the Kawana is that it's easier on the eyes than some other running trainers. If you don't mind not looking super stylish, feel free to choose the trainers recommended below.
Read our full Hoka Kawana review
What makes the ZoomX Vaporfly NEXT% so effective (and controversial)? Nike threw everything it knew about running shoes out of the window when designing the Vaporfly series. What they came up with might just be the most peculiar-looking road running shoes in existence, but one that gives runners near perfect running dynamics.
There are three critical elements to the design of the Vaporfly NEXT%: the updated ZoomX foam that provides a soft landing without wasting energy on the ground, the full-length carbon plate embedded in the midsole that enables you to turn that landing energy to forward momentum and the VaporWeave upper that helps the shoes fit near perfect on your feet.
One downside is, considering that the cushioning won't be able to perform at 100% efficiency forever, you are looking at spending a lot of money for road running shoes you will probably wear a few times a year. My opinion? It's still worth it.
Read our full Nike ZoomX Vaporfly NEXT% review
I love these shoes as they are comfortable, fast and look wicked. New Balance is famous for its soft cushioned shoes, and the FuelCell RC Elite v2 really hits the nail on the head with that.
The integrated carbon plate does its job perfectly, and the combination of the soft foam and the carbon plate ensures a sublime racing experience. This plush running escapade is further enhanced by the breathable knit upper that not only does what it says on the box – let's air in and out of the shoes – but also looks sexy AF.
The refined upper feels even more supportive than the one found on the shoe's predecessor. The outsole has also been updated too, and instead of featuring those little rubber triangles that may or may not provide grip, the FuelCell RC Elite v2 now has a lovely, coloured outsole that still doesn't offer the best traction on the market, but at least it's somewhat better than how it used to be.
The Under Armour Flow Velociti Wind 2 is an iteration of the original concept, not a revolution. The Tatami Stitched heel, the new sockliner and the weight reduction all bring minor changes to the shoe that's still very much a firm and light running trainer.
The biggest question UA needs to ask itself is who should wear the flow Velociti Wind 2? Is it for racing or fast training? The firmness puts more strain on the legs, so we can safely assume the shoes are not to replace long-distance marathon racing shoes such as the Nike ZoomX Vaporfly NEXT% or the On Cloudboom Echo.
Is it for training? It's a bit too firm for that. Taking this firmness into consideration, I can imagine the Flow Velociti Wind 2 remarketed eventually as a racing flat; all UA has to do is reduce the drop of the shoes, and it's good to go.
The Under Armour Flow Velociti Wind 2 is an excellent running shoe, as long as you accept its qualities and approach it with caution. Beginners might find the shoes too firm and tight but runners who want to move away from the softness will like the Flow Velociti Wind 2.
Read our full Under Armour FLOW Velociti Wind 2 review
I remember when the OG On Cloudboom was announced: it promised to be a fast and firm running shoe, two things I like about racing shoes. Unfortunately, the shoes ended up being too tight and too firm to be actually useful, which is a massive shame.
Luckily, On learned from the mistakes of the Cloudboom, and I can see the evidence of this tweaking in the On Cloudboom Echo. It's still firm and tight but doesn't overdo either of these qualities. That said, it's still on the firm side, so if you're not a seasoned runner, running with the Helion 'super foam' might feel uncomfortable at first. Strike that; it will feel uncomfortable at first.
It's not like On wasn't famous for its firm running shoes even before the Cloudboom Echo was released. Back in the day, naive old me thought that just because a midsole was named 'CloudTec', it meant the shoes would be soft to run in. Boy, how wrong I was!
Firmness aside, the On Cloudboom Echo is an excellent racing shoe for those who prefer a stiffer ride. As much as I love soft, high-stack running shoes, running in the Cloudboom Echo felt a little less demanding on the shins as they worked a little on stabilising the legs on landing.
The slight downside of the firmness is that it's hard to utilise the energy return of the Carbon Speedplate, similar to how it's not easy to feel the rebound when running in the also firm Saucony Endorphin Pro.
At least the On Cloudboom Echo is a bit more environmentally friendly: the upper is made of 100% recycled material.
How to buy the right running shoes
With so many different types of running shoes available to buy, it's no wonder one can feel completely overwhelmed just by thinking about getting a new running trainer. To make a decision at least a little bit easier, we collected a few pointers that might help you when buying a new pair of shoes.
Have your gait analysed: you can do this in a brick and mortar running shoe shop or work it out yourself by performing the classic 'stepping on a piece of paper with wet feet' test. There is also the NURVV running insole that can tell you exactly how much you pronate.
Be mindful of sizing: not all running shoe sizes are created equal. Some brands are infamous for their sizing methods; for example, New Balance shoes tend to be half a size under, so if you wear a size 10 normally, you might want to get a size 10.5 New Balance. Also, racing shoes are usually tighter than trainers. The best women's running shoes may also be narrower and lighter than unisex or men's options.
Take the running surface into account: obviously, you need different shoes for the tarmac and the trail. That said, some shoes will perform well on all sorts of terrain, such as the Nike Air Zoom Pegasus 36 Trail, while others will excel on one more than on the other.
Go the distance (or not): if you prefer shorter distances (5K-10K), you won't need industrial amounts of cushioning under your feet. For mid-distances (10K-half marathon), you might want to think about having more support and a durable upper to keep your feet in line when your form falls apart at mile 19. As for long distances (anything over a half-marathon distance), you want running shoes with great energy returns yet lightweight and responsive.
Have a purpose in mind: there is no point getting a Nike Vaporfly if you don't race, and it is equally as silly to get a Brooks Glycerin for high-performance runs. If you're planning on having only one pair of running shoes, make sure you keep in mind the main principle you will use them for and make a purchase accordingly.
Use running shoes for running: it is tempting to have just one pair of shoes for road running, trail running and workouts. We recommend using the appropriate shoes for all occasions. The best trail running shoes will protect your feet when running on uneven terrain, while the best workout shoes will provide grip and stability in the gym.
Running shoes vs trail running shoes: what's the difference?
For the unacquainted, running shoes and trail running shoes can look pretty similar: similar enough to think they are interchangeable and work well on both the road and the trail. In reality, both types have specific characteristics that make them perfect for the running surface they were designed for and not-so-great for others.
Take running trainers, for example. These shoes work best when used on hard, smooth surfaces, such as the road: the cushioning is fine-tuned to reduce the impact force when landing on the tarmac, and the upper is tight to keep the foot 'locked in' as you run. The 'stack height of most running shoes is also higher, especially nowadays, to improve energy returns. The outsole also tends to be smoother to increase the surface area of the shoes for better grip.
On the other hand, trail running shoes thrive on uneven surfaces. Off-road shoes have massive lugs on the outsole to claw into soft surfaces (e.g. mud, grass) and usually have an insert in the midsole to protect the feet from rocks and other unexpected obstructions (this insert is aptly named 'rock-shield'). And since the trail is more often slippery and wet than the road, trail shoes have better weather protection and are also heavier in general than road shoes.
To provide an analogue, road shoes are racing cars with their light chassis and fast ergonomics, while trail shoes are 4x4s: robust and heavy but will keep you safe in the forest. Before you buy new running shoes, consider where you will use them the most to avoid disappointment (and injuries) later on.
Is it worth buying expensive running shoes?
Just because a pair of running shoes is expensive, that doesn't mean they are good. That said, cheap running shoes seldom deliver a running experience you might expect from decent running footwear.
What's cheap? If you're taking running training seriously, we would recommend spending around $/£100 on a new pair of running shoes. This might sound quite a lot at first, but running shoes in this category won't fall apart after a few runs and will support your feet for a few years at least.
Is it bad to run without running shoes?
Barefoot running is gaining momentum, especially among athletes who think modern running shoes are detrimental to foot health. Truth to be told, high stack, carbon plate-enhanced running shoes indeed force runners to run in a particular way which might not be the most ideal for at least some percentage of runners out there.
That said, running barefoot takes some getting used to, especially if you usually wear cushioned shoes. Even big-name barefoot brands such as Vivobarefoot (opens in new tab) (retailer link) recommend easing yourself into barefoot running as it requires you to move very differently compared to when you run in cushioned shoes.
It's recommended to start running shorter distances – as in a couple of hundred meters – at first, then gradually increasing the distance as you get more comfortable. It's also beneficial to run on softer surfaces such as grass or sandy beach at first, as these might mitigate impact force better than landing hard on tarmac.
As for running in sneakers, these shoes lack support and cushioning, and by running in them, you can end up hurting your feet more than running barefoot.
In sneakers, just like in running shoes, your sole is far away from the ground. However, the thick foam doesn't provide anatomical support (as in the case of running shoes). If anything, it prevents you from being able to stabilise your body yourself, which will confuse and tire out muscles.