The best women's running shoes can ensure your feet are adequately supported and protected as you exercise. Whether you're new to running – perhaps just started jogging recently – or about to participate in your next race, wearing the best running shoes for women is essential to avoid injuring your feet.
This guide focuses on the best running shoes for women specifically, but we also have a guide to best running shoes in general, which covers men's and unisex options. If you're going off-road, you might also want to check out our roundup of the best trail running shoes.
More and more people are getting into running at the moment. As well as being an activity that can take place outside and in a socially distanced way, it's also one of the best exercises to help you get fit when you're unfit.
Don a pair of the best running headphones to boost motivation and distract you from the pain, and perhaps splash out on a running watch to help you see your progress, then hit the pavement.
Best women's running shoes to buy in 2022
When your shoes are as versatile as the Mach 4 – click on its name above to read our full review – you can run long in them and rely on them to look after your legs. They're also able to take on tempo or harder sessions and still feel fast. If you like max cushioning, something Hoka One One is especially famous for, you'll appreciate the stack height of the Mach 4, and better still, these ultra-light women's running shoes can help you both in terms of comfort and injury prevention too. But thanks to its springiness, the Mach 4 can also enable you to go fast, offering the best of all worlds.
Some other running shoes with carbon plates might feel too firm, so if you want some softness without a squidgy feeling, then opt for the Mach 4. At RRP, this shoe is also a little cheaper than similar models from other brands, such as the women's version of the Saucony Endorphin Speed.
There's really not much left to add beyond a strong suggestion that you put these very near the top of your next potential shoe purchase list.
These shoes are for those long miles when you want to prevent fatigue as long as possible and ensure a comfortable run. From the first miles, they adapt to your feet and provide premium comfort, with the soft feeling of the upper being sustained however long you run. With both superior cushioning and a soft, padded upper for comfort, you won't notice you are wearing them.
While this isn't a fast shoe, we suspect if you are a fan of Brooks as a brand and are looking for a training shoe for your weekend long runs, you are going to think these are pretty special. These are an excellent choice for long runs and recovery days and offer a superior cushioned run.
It's worth mentioning that this model has a lot of fans, not just amongst runners, with many healthcare workers and those in similar professions who spend long shifts on their feet, giving them a five-star rating.
P.S.: ever wondered what's the difference between the Brooks Glycerin 19 vs Brooks Launch 8? We'll tell you.
The Reebok Floatride is our current top pick if you're looking for the best cheap ladies' running shoes. They're not flashy, but they have all the basics you need from a great everyday running shoe, including excellent cushioning for urban outings and a very natural feel.
The energy foam midsole delivers lightweight, responsive cushioning, while a light mesh upper provides support and ventilation. It's also the perfect shoe for the gym and cross-training.
Dedicated runners will want to invest in something more advanced, but these offer excellent value for a basic running shoe, especially as they look just as great in a café as in the gym.
Nike leads the global R&D of running shoes, and the Pegasus Turbo 2 takes the top spot in our round-up of the best running shoes for women. Like its predecessor, the Turbo 2s feature Nike Zoom X foam, but you'll find the Turbo 2s feel lighter and more streamlined than the Pegasus Turbo.
You'll still feel the exceptional energy return and plenty of speed, but this model has been updated with a feather-light upper. At the same time, innovative foam brings revolutionary responsiveness to your long-distance training. As soon as you slip this shoe on, you'll feel the difference in the lightweight upper. There's plenty of speed in this model, but it's a versatile shoe that will transition just as well to longer training and marathons.
The Hoka One One Clifton 8 is an excellent women's running shoe. The latest iteration of the Clifton series kept all the features that made the Clifton 7 great, such as the comfortable upper and the ample amount of cushioning, but also brought improvement in the form of the lighter midsole and added rubber for more traction.
Better still, the Clifton 8 looks fresh but distinctively Hoka: it's chunky but not in a bad way and without being heavy either, which is an achievement in itself. The improved, lighter EVA midsole feels a little less bouncy than the previous iteration, which has a (not positive) effect on energy returns, but this doesn't mean that running in the Clifton 8 will make you sluggish.
And since you probably won't be using the Clifton 8 for racing, it's not the end of the world that it's not super responsive. At least it's comfortable: the also updated breathable mesh upper feels snug but not restrictive, doing its job of keeping the midsole under your feet just fine.
There is only one slight issue: Hoka One One has another all-rounder shoe that's just better than the Clifton, which is the Mach 4, the best women's running shoes at the moment. And since the Mach 4 exists, it really doesn't make sense to get the Clifton 8 unless you really dislike how the former looks. Should you find a good Clifton 8 offer, it's certainly worth considering.
Next up is our pick of the best running shoes for women is the ASICS Gel-Kayano 27. The Gel-Kayano series is a fan-favourite stability shoe, and the 27s deliver even better performance than their predecessors.
The Dynamic Duomax technology provides ample support on the medial side, and so does the external heel counter, locking the feet in position to help reduce pain and discomfort during runs. This helps make the Gel-Kayano a comfortable shoe for daily running, especially for overpronators.
This design features Space Trusstic technology in the midsole (specifically the narrow part of the sole that connects the forefoot and the heel area), which provides added stability and reduces the overall weight of the shoe.
Despite this, the Gel-Kayano 27 is not a light shoe, partially thanks to the extra stabilisation elements such as the external heel counter and the added padding, which is essential to deliver that 'Gel-Kayano feel'. Don't let this put you off, though, as this shoe will certainly help you run more injury-free.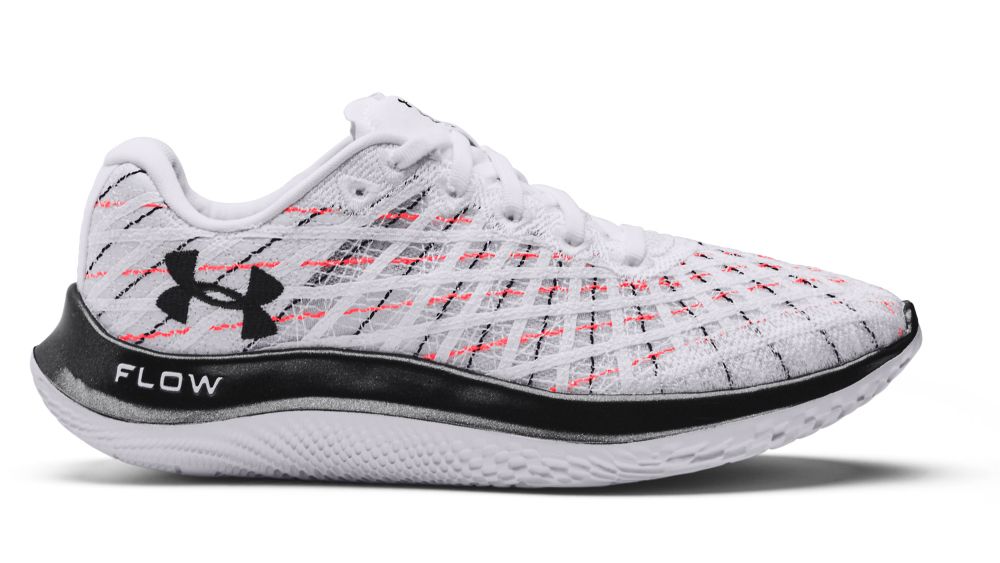 The Flow Velociti Wind will give you impressive traction, feel fast and responsive, propelling you forward, and offers lots of other tech in a very lightweight shoe. They keep you feeling lighter on your feet, so you can run for longer and are meant to go fast.
This all-around trainer is hugely popular due to being so lightweight, giving great rebound, being innovative and easy to run in. They push you forwards, making them ideal for your tempo runs.
Is the Under Armour FLOW Velociti Wind the very best women's running shoe out there? It's certainly an all-rounder and an exciting shoe, with the potential to support you over longer runs or adapt when you want to change up a gear. The FLOW Velociti Wind offers a lot; visually stunning, high-performance and lightweight.
The Gel-Nimbus 22 is the second pair of ASICS shoes we've featured in this best women's running shoe roundup. Just like the Gel-Kayano 27s, the Gel-Nimbus 22s are durable and comfortable, but they're designed for longer mileage. Hence, if you're looking to increase the distance you run and want to cover long distances regularly, these are the ASICS for you.
Compared to the Gel-Kayano, the Gel-Nimbus is less stable, but you'll still be supported thanks to the resin TRUSSTIC used in the middle part of the sole. This structural support prevents the shoes from twisting, helping your feet land more evenly in each stride.
You'll also be comfortable underfoot thanks to FlyteFoam, ASICS' softest foam cushioning with gel and foam cushioning in the heel and mid-sole to shock-absorb as your foot strikes the ground.
Another great value ladies' running shoe is the New Balance Fresh Foam Lazr 2 HypoKnit. Exceptionally comfortable, flexible and versatile, these are undeniably stylish as well as high-performing. The HypoSkin upper provides a dynamic, engineered fit that's stretchy and is designed to mould to the natural bendiness of your foot.
The integral tongue allows a seamless interior to the upper in the front of the shoe. The data-inspired midsole design and the Fresh Foam technology offers plenty of comfort for high-impact activity, and there's an Achilles heel pocket that locks the heel in place for a secure run.
The hexagonal shaping of the outsole also provides impressive traction. They're surprisingly light for a well-cushioned shoe. This shoe looks both speedy and attractive; the perfect combination!
Looking for a smarter women's running shoe? Try the Under Armour Hovr Infinite. A sensor embedded into the insole connects instantly to your phone, without the faff of having to wait for your running watch to find a satellite.
It's not all about the tech, though. There are also carbon-rubber traction pods that mean you can run confidently, a compression-mesh Energy Web bringing great bounce with each stride and an EVA sock liner that contours specifically to your foot to provide all-over support. The thick layer of HOVR foam and effective high-impact zones on the outsole also makes this a great marathon shoe.
How to choose the best women's running shoes for you
The best women's running shoes are specifically designed for a woman's foot. Therefore they're usually lighter, softer and ergonomically designed to fit a narrower, smaller foot. That said, if you have bigger feet or wide toes, you might prefer to run in unisex shoes, which can offer a wider toe box to prevent hotspots and blisters. You'll find some of the best below.
With any running shoe, make sure you have at least a finger's width of space at the end of your toes to allow room for your feet to expand as they get hot. Most runners will go up at least half a size from their normal shoe size. If you have a history of injuries, cushioned shoes can help provide a greater impact on each foot strike.
About at-home gait analysis
In simpler times, we'd recommend you take yourself to a specialist running shoe shop to have your gait looked at before purchasing a new pair of running shoes. It's important to find out if you are a neutral runner or you pronate; this is where you need extra support on the inside of your feet to stop them from rolling inwards and putting stress through your leg joints.
If you haven't had this checked yet, don't stress: there's an at-home test you can do in the meantime, and then this guide will help you choose the best women's running shoes for you. We'd still recommend you get your gait professionally checked when you could.
For now, simply dip your foot in water and then stand on a piece of dry paper. If the imprint of your foot has some spacing around the arch of your foot, this is 'normal'; however, if you have no indentation, this suggests overpronation, and a large indentation suggests supination (or under-pronation). Whichever of these is you, look out for the best women's running shoes recommended for these foot types.