If you love to read and consider yourself a bookworm, you need a Kindle in your life. While nothing will beat the feeling of a physical book and pages in your hands, having a Kindle unlocks millions of books, audiobooks, magazines and other titles, all in one handy device.
One of the best Kindles you can buy is the Kindle Scribe and right now, you can get it for its cheapest ever price. This deal comes after Amazon announced its upcoming Prime Big Deal Days sale, and we're already seeing big deals on Amazon devices ahead of the October sales date, like this exclusive Kindle Scribe deal.
Originally priced at $339.99, the Kindle Scribe is now $264.99, saving shoppers $75 with this 22% discount. This Kindle Scribe deal comes with 16GB storage and the Basic Pen for annotations, doodling and note taking.
So, what's the catch? To get this discount, you'll need to be an Amazon Prime member. If you have a Prime account, you can take advantage of this deal now but if you're not, you can sign up for Prime and try it for free for 30 days.
The Kindle Scribe is a large e-reader that doubles up as a notepad so you can use it similarly to one of the best tablets. Its super sized screen is great for reading, writing, sketching and journaling, and it comes with a long lasting battery life and stylus accessory. For more details, read our full Kindle Scribe review.
To view the Kindle Scribe deal, click the link below to head over to Amazon and keep reading for more Kindle deals.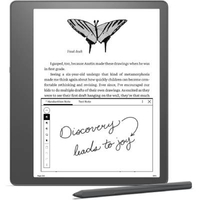 Amazon Kindle Scribe with Basic Pen (16GB): was $339.99, now $264.99 at Amazon
Save $75 (22%) on the Kindle Scribe with 16GB storage and the Basic Pen at Amazon. Doubling as a digital notebook, you can use the Kindle Scribe for reading, taking notes during lectures, journaling your thoughts and sketching doodles. It has an extra large high resolution display that can be completely customised with adjustable lights, fonts and sizes for a better reading and writing experience.
This is the cheapest Kindle Scribe deal but it's not the only one you can find on Amazon right now. If you want extra storage, you can buy the Kindle Scribe with 32GB for $304.99 and you can get 64GB for $329.99.