Have you given up trying to buy the PS5? Well, don't. There's more stock coming and I'm pretty sure most die-hard fans have managed to get one now, so this could be your chance.
Amazon announced on its Twitter page earlier this week that it plans to release stock of the PlayStation 5 on Wednesday, March 30. The stock is due to go live at 8am PST / 11am EST. It's not clear how many units will be available but if past sales are anything to go by, it won't last for long.
Remember though, this is the Digital Edition, so there's no disc drive. What there is though is a sizable 825GB SSD to save all of that game data. And, if you need more space, you can take a look at our best PS5 SSD guide to expand that storage further.
If you miss this chance or are looking for the disc version, take a look at our where to buy a PS5 stock guide.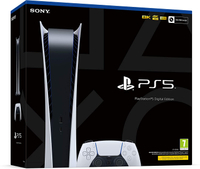 PS5 Digital Edition at Amazon
This next-gen machine is your gateway to a world of amazing games, playable in 4K at up to 120fps. Plus, there's backward compatibility for over 4,000 PS4 games, so yu don't have to give up your favorites. Sale starts on 3/30 at 8am PST / 11am EST.