Amazon's Spring Sale entered its second and final day today, and if you haven't picked up a good deal just yet, now is the time to act. If you fancy a new wearable, we'd like to draw your attention to this Pixel Watch deal that sees the second most popular smartwatch worldwide drop to a sub-£300 price level (just about). And although we're sure the watch will be even cheaper in the future, it will also be less relevant, so you might want to check it out now.
THIS OFFER IS STILL ON! Possibly due to the popularity of the watch, Amazon decided to keep selling the Pixel Watch for £299. Excellent!
One of the best smartwatches around, the Pixel Watch inherited all the best Fitbit features, such as Active Zone Minutes, ECG, and sleep and stress tracking, and added a bunch more. Better still, the Pixel Watch finally masters Google's Wear OS, which wasn't famous for being super user-friendly (or fast) in the past. You also get six months of Fitbit Premium included in the price!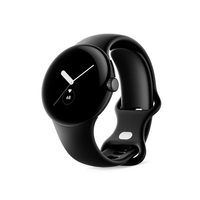 Google Pixel Watch: was £380, now only £299 at Amazon
Admittedly the most popular Wear OS smartwatch, Google's Pixel Watch, has helpful health and fitness features and can measure heart rate, ECG, track sleep, stress and more. Smart features include Google Wallet for contactless payments, turn-by-turn directions using Maps and event notifications from Calendar. Now 21% off – don't miss out!
Want to get an inside scoop on the Amazon Spring Sale deals? Check out T3's selection of the best offers, like this half-price Garmin Instinct Solar deal, or see all the top Garmin deals included in the sale. Sony's WF-1000XM4 earbuds are also on offer, now only £168. Bose's QC Earbuds 2 are also cheaper now.
And if those are no longer available (some of them might be), check out the best cheap Fitbit deals and cheap Garmin deals. These have a number of price widgets embedded, which show the best price based on your location. Alternatively, our buying guides, such as the best hybrid watch and best outdoor watch roundups, also have automatically updated widgets.