When it comes to the best active noise-cancelling earbuds, there's an out-and-out winner for 2023: the Bose QuietComfort Earbuds 2. And thanks to springtime sales, they're now at an even more affordable price point.
View the Bose QC Earbuds II deal on Amazon
In our Bose QuietComfort Earbuds 2 review we described these true wireless 'buds as delivering "absolutely, positively the most effective noise-cancellation of any true wireless earbuds around". That's the real sell of this product, making them ideal in-ears for cutting out the noisy world around you.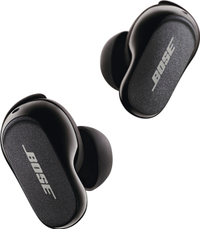 Bose QC Earbuds 2: was £279.95, now £239.95 at Amazon
With active noise-cancelling (ANC) that's truly out of this world, you won't find better earbuds when it comes to ANC technology. The second-gen Bose buds haven't been on the market for long, which is why this £40 price cut is very welcome this early in their lifecycle.
The praise doesn't stop there either: "smaller and better-sounding than the model they replace...the Bose QuietComfort Earbuds 2 are, frankly, the most complete active noise-cancelling earbuds you can buy." So believe the hype.
Sellers are getting competitive, too, as the Bose QC Earbuds 2 are discounted as part of the Amazon Spring Sale, but you can also buy them from John Lewis with the same discount at the time of writing. It's 'buds bargains all round. You can see various sellers in the shopping widget embedded below.
If I was in the market for ANC earbuds right now then these would be an obvious choice. There are some other options, though, such as the Sony WF-1000XM4, also in the sales for even less cash, or the newer and even more affordable Nothing Ear 2. They're all five-star products, so happy shopping in finding the best product to suit you.