When you're looking for a great pair of the best wireless earbuds, the Sony WF-1000XM4 earbuds should be first on your list. Since they launched, the XM4's have topped our guide, offering the most complete package of sound quality, design and usability.
Our reviewer gave it five stars, complementing its "coherent, expressive and engagingly musical sound" and waxing lyrical about the quality of the Sony control app. And right now, you can get your hands on all of this audio goodness for even less, thanks to the Amazon Spring Sale.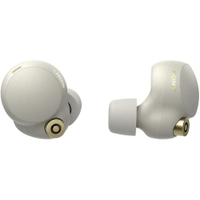 Sony WF-1000XM4: was £250, now £168 at Amazon
The Sony WF-1000XM4 earbuds are an absolute knock-out, delivering superior audio quality and a sleek design. You'll get a full range of customisation options in the Sony app, too.
In terms of specs, you can expect around eight hours of listening time with the ANC enabled. The case is good for a couple of charges, too, giving you around 24 hours of use before you need to find a plug socket. And when you do need to re-charge, they should be capable of going from 0-100% in around 90 minutes, which is decent by earbud standards.
A 6mm driver powers the audio, with neodymium magnets for brilliant detail and a lighter weight. They're also IPX4 water resistant, which means you wont have to worry if you get caught in a shower or use them for a particularly intense workout.
Perhaps the best way to describe these earbuds is as the best all-rounder. Sure, you could get a little extra fidelity if you wanted to spend a lot more; yes, there are one or two units with slightly more capable noise-cancelling. But all of those units have their own pitfalls. Unless you're an absolute fanatic about one particular feature, the XM4's are going to be your best bet.
In terms of pricing, these retailed at around £250 when they were released, though you can routinely find them for closer to £200 these days. At just £168, this still represents a great deal, though. Oh, and you'll have to have the Silver colour, as the Black are still £195.