If you're looking for a rugged smartwatch or fitness tracker, chances are you've already stumbled across one or two of the best Garmin watches. Renowned for their hard-wearing nature and incredibly long battery life, Garmin make some of the best smartwatches in their field.
Usually, that comes with a price to match. They aren't the cheapest of watches out there, but the Amazon Spring Sale has come up trumps for users looking to get a slice of the action. Right now, you can get the Garmin Instinct Solar for just £169.99 – but the sale ends at midnight, so you'll have to act fast.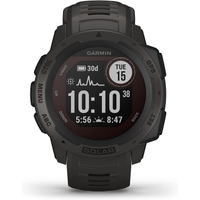 Garmin Instinct Solar: was £319.99, now £169.99 at Amazon
The Garmin Instinct Solar offers all the go-anywhere, do-anything ruggedness and reliability that Garmin are famed for, but in a much more accessible price range!
As you might have guessed from the name, the Instinct Solar features a photovoltaic layer, which can recharge the battery using sunlight. That makes for some insanely impressive battery life figures – our reviewer was getting around three weeks of use between charges, while the Expedition Mode can go for up to 68 days without hunting for a socket.
The display is black and white, but still offers a whole host of information and options to the user. A smaller screen in the upper right-hand quadrant of the dial puts key information right at the forefront.
Elsewhere, you'll get all of the health and location tracking functionality you'd expect from a watch like this. It's built to US Military standards, which should give you an indication of the kind of environments where this watch will feel at home. It's made for outdoors expeditions and features expert GPS tracking capabilities, while also offering creature comforts like smart notifications.
When we initially reviewed it, we gave it four stars. Back then it retailed at around £400, so being able to snag one for just £169.99 is insanely good value for money. If you're someone who spends a lot of time outdoors – whether that's for running, hiking or just exploring – the Instinct Solar is a great option.
Similarly, if you're looking for a smartwatch that can handle extreme environments – perhaps you work in a setting where your watch could get bashed about a bit – the Instinct Solar makes a lot of sense.