The best action cameras have historically been in high demand on Amazon Prime Day, and we expect this to be the same this year. However, instead of sitting around and waiting for a cheap GoPro deal to crop up next week, why not shop around now, especially knowing that the GoPro HERO9 Black is already at its lowest price ever? It might not be the latest and best GoPro, but the HERO9 packs a punch and is keenly priced thanks to this offer.
In our GoPro HERO9 Black review, we said that this camera rocks a front-facing colour screen and boosted specs across the board compared to the previous iteration, and provides a near-Hollywood quality resolution and astonishingly good stabilisation and capture options, delivered in an intuitive package, mean pretty much anyone could pick one up and shoot genuinely impressive 5k video.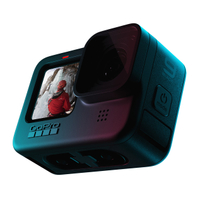 GoPro HERO9 Black: was £430, now £249 at Amazon
The HERO9 enjoys a hefty boost in the image resolution (23.6MP) compared to the HERO8, which in turn opens the door to 5K/30 video and 20MP stills, while a 30% beefier battery means there's enough juice to use some of this power. Don't miss out!
It almost goes without saying, but the GoPro HERO9 Black knocks out incredible quality video and stills. This is partly due to the significant bump in sensor resolution, but the show's real stars are GoPro's backroom work with presets and software tools. Hypersmooth and Timewarp will be familiar to HERO7 and HERO8 owners, but they're both upgraded once again (now both on V3) and deliver noticeably better results even on stock settings.
That impression is boosted when grabbing frames from 5k video, which due to the oceans of resolution available, still comes out at 14.7MP/16:9, like you're running a high-end SLR. The burst function for stills is also impressive, augmented by LiveBurst (from the HERO8), which captures 1.5 seconds of the action before and after hitting the button, ensuring you don't miss the best bit of the action.
This package so far adds up to a powerful and competent device, but GoPro has packed in yet more, with Hindsight and Scheduled Capture tools. The latter is brilliant for time-lapse shots, just set and forget, while the former adds real magic to the mix, enabling you to capture up to 30 seconds of footage before you hit the shutter button – a huge boon for those of us who realise too late that something awesomely video-worthy just happened.