Sometimes, a 42-inch TV is just the right size. Or maybe a 40-inch or 43-inch. Whether you're getting something for a master bedroom or your first place, those sizes are big enough for an immersive viewing experience without needing so much space that you need to get a bigger room. A 65-inch TV (we've got those deals too) might not fit in your space, after all, and all the options at 32-inches (HD-only deals in here) and under are better off in smaller rooms.
While 42-inch TVs typically don't break the bank, outside of the ones with OLED screens, they'll be even more affordable with all the Black Friday deals on offer. Now that the sales season is fast approaching, don't sleep on the best deals on TVs that Black Friday and Cyber Monday have to offer. We've also included 40-inch and 43-inch models where applicable.
Best Black Friday 42-inch TV deals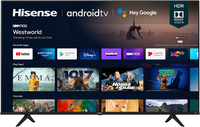 (opens in new tab)
Hisense 43A6G 43-inch 4K TV £429, now £249 at Amazon (opens in new tab)
The Hisense A6G 43-inch 4K TV is a stellar television that not only comes with that higher resolution but with Alexa compatibility for easy control over the TV. It also has Bluetooth connectivity, a voice remote, HDR support and surround sound support. There's 42% off in the sales too, which is almost one percent per screen inch!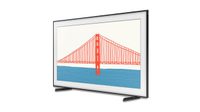 (opens in new tab)
Samsung The Frame 43-inch £1199, now £848 at Amazon (opens in new tab)
If you ever wanted a TV that pretends to be a picture frame when it's off, then Samsung has you covered. This incredibly sharp 4K QLED not only displays artwork when it's off, but comes with quantum HDR for incredible colour and contrast when it's on. It's a premium set, that's for sure, but if you want QLED and you want small then this unimposing set is a great choice - and there's £350 off!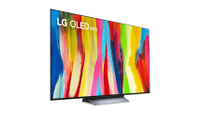 (opens in new tab)
LG OLED C2 42-inch: £1,399, now £899 at Amazon (opens in new tab)
There's over a third off LG's top-tier 2022 OLED model in its 42-inch form, which we think is the best small OLED flagship money can buy. It's only recently that top-grade panels such as this have started to become available in such sizes, so if you're looking for best quality this is your best match.
Top Retailers