[Editor's note 17 November: it actually happened, EE has the Series X on sale for £379 – if you're quick enough to nab one before stock runs out!]
It's becoming pretty clear to me that, as November unfolds, the best Black Friday deals really aren't just reserved for, um, actual Black Friday. And that's got me thinking over my position on Xbox versus PlayStation. As a PS5 owner (and lover), I have an itching feeling that Microsoft could lure me to join team Xbox if there's a deal strong enough.
Why? One word: Bethesda. Ultimately I just really want to play Starfield for umpteen hours on an Xbox Series X. I also recalled that, certainly in the USA, that Microsoft put on a fairly decent $50 off deal for the sales period last year – translate that to Pounds Sterling for this year and my itchy purchase finger would certainly be tempted to press the 'buy it' button.
At the time of writing there are already some stellar gaming hardware deals available: the Nintendo Switch OLED is at its lowest-ever price, while the PlayStation 5 is also available in a cut-price promotion bundled with Call of Duty: Modern Warfare III. I'm non-plussed about the game specifically, but the bundle is cheaper than buying the console on its own!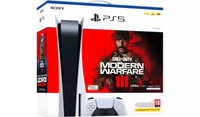 PlayStation 5 with COD MWIII: was £529, now £399 at Argos
It was only last year that it was still fairly tricky to locate a PlayStation 5, while now the console is readily available and for increasingly impressive pricing. This Argos deal places the console plus game under the £400 mark, which is a great deal.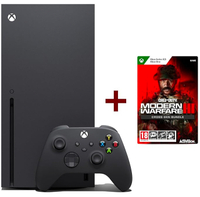 Xbox Series X with COD MWIII: was £549, now £409.99 at Amazon
The same game bundle as the PS5 promotion above, except you'll currently have to pay a little touch more case. Get the price down by another £30 for Black Friday and I'd be looking at a new console purchase to accompany my PS5 under the telly...
Every year the T3 team publishes an article about what we intend to buy over the Black Friday sale. Except this year I'm conflicted. Because among the Sonos deals and Lego deals I already want to buy, I'm sorely tempted to bag Microsoft's console just to play Starfield over the Christmas break.
Originally I hadn't been too worried about Starfield, knowing that Super Mario Bros. Wonder on the Nintendo Switch would distract me (in a very different way!) for a decent chunk of time. Indeed it has and I've had heaps of fun playing the side-scroller, but now I'm ready to move on to my next gaming experience.
Although my bank balance may dictate what I do overall, especially as I could just buy Spider-Man 2 on PS5 and be done with it... for now. But if I can find a 0% interest Klarna credit purchase over three months then, well, a £379 deal price on Series X would likely make me bite...