Microsoft will soon release a new Xbox Series S bundle aimed at those looking to get a current generation console and games, but don't want to shell out a fortune.
The Xbox Series S Starter Bundle includes the entry-level machine plus three-months of Xbox Game Pass Ultimate, giving you immediate access to hundreds of games, including brand new releases like Forza Motorsport and Starfield.
And, as it costs just $299.99 / £249.99 – the usual price of just the console alone – you save the additional $50.97 / £38.97 the Game Pass subscription would usually cost.
The bundle is available to pre-order now for a 31 October 2023 shipping date.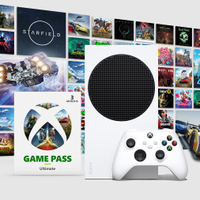 Why choose an Xbox Series S with Game Pass Ultimate?
The Xbox Series S is the smaller, cheaper machine in Microsoft's current line-up. It's not as powerful as the behemoth that is the Xbox Series X, nor does it have a disc drive, but it can still play all of the games released for this console generation.
Graphics tend to be locked to 1080p, although 1440p is possible. It can also run titles at 60fps and even 120fps on a compatible TV, although the latter is rare.
As with the Series X, ray tracing is supported although, again, it's not a feature offered by many games.
You get an Xbox Wireless Controller in the box, along with 512GB of storage and, as it will only run games from its internal SSD (with no disc drive), the addition of Xbox Game Pass Ultimate is nigh-on a necessity.
Xbox Game Pass Ultimate now only gives you access to a library of over 400 games, with many of them able to be streamed rather than needing installed to save you storage space, you also get EA Play membership to download and play Electronic Arts' back catalogue, online multiplayer play, and even access to PC Game Pass which you can use if you own a gaming laptop or rig.
An Xbox Game Pass Ultimate subscription will cost you $16.99 / £12.99 per month once your three-month promotion has expired. It's well worth the cost though.